Last Stop On Market Street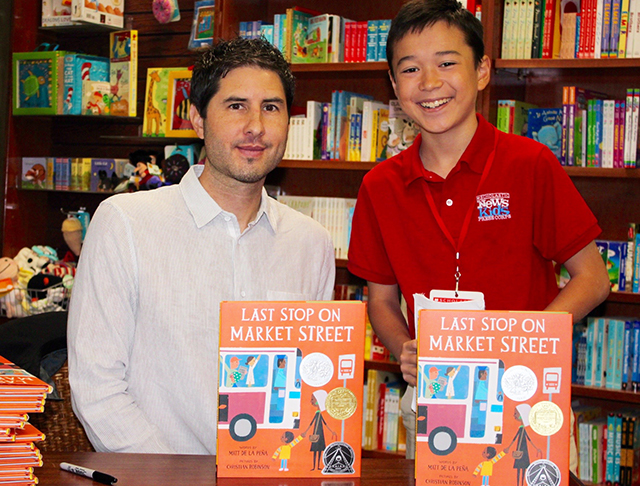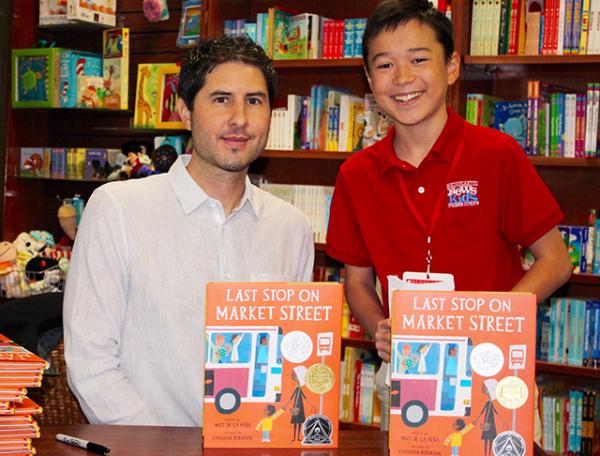 Written by Matt de la Peña and illustrated by Christian Robinson, Last Stop On Market Street won the 2016 Newbery Medal. It also was named a 2016 Caldecott Honor Book and a 2016 Coretta Scott King Illustrator Honor Book.
The book introduces readers to CJ, an African American boy who rides the bus with his grandmother after church on Sundays. Along the journey, CJ notices the sights and sounds of the city.
The last stop is the neighborhood soup kitchen, where CJ and his grandmother volunteer together. Although CJ is envious of other kids for having things that he doesn't, he learns the value of kindness and gratitude. He also learns to find beauty in the world.
I recently had a chance to talk with de la Peña at Wellesley Books in Massachusetts. Here are excerpts from our conversation.
How does it feel to have won a 2016 Newbery Medal? 
It's an incredible honor, of course. I never dreamed that I would win a Newbery Medal. It was outside of all possibility. The thing that excites me the most is the idea that so many readers will be exposed to my diverse cast of characters, which seems especially important in the current political climate. 
What was the inspiration for Last Stop On Market Street? 
I wanted to have a kid who's focused on what he doesn't have (a car, an iPod, a traditional family, etc.) receive gentle nudging from a wise, but not didactic, family member toward gratitude. 
What is the hardest part about writing a picture book? 
Every single word counts. Not one word can be wasted. Not even a syllable can be wasted. And the best picture books are ambitious works. Ideally, you can probe just as deeply as you might with a novel. The hard part is digging deep while maintaining a childlike sensibility.
Why do you think that books with diverse characters are important?
This is an increasingly diverse country. It's time for the publishing industry to get on the train. I never advocate for diverse books instead of what we mostly see today. I advocate for diverse books in addition to what we mostly see today. 
Can you tell us about the illustrator?
Christian Robinson is an incredible, soulful artist and human. I'm incredibly lucky to work with him. 
What were you like as a kid?
I was a basketball junkie. I wanted to be a professional basketball player. The game actually took me to college. But once I was there, I fell for books. 
What are some of your favorite children's book authors and illustrators? 
I think Chris Haughton is amazing. So is Mac Barnett, Kevin Henkes, Kadir Nelson, and Duncan Tonatiuh. 
Are you working on a new project? 
I have two picture books coming, Carmela Full of Wishes and Love, and a young-adult novel, One of Those Lights Used to Love Me. 
Photo courtesy of the author