Kwame Alexander Launches Solo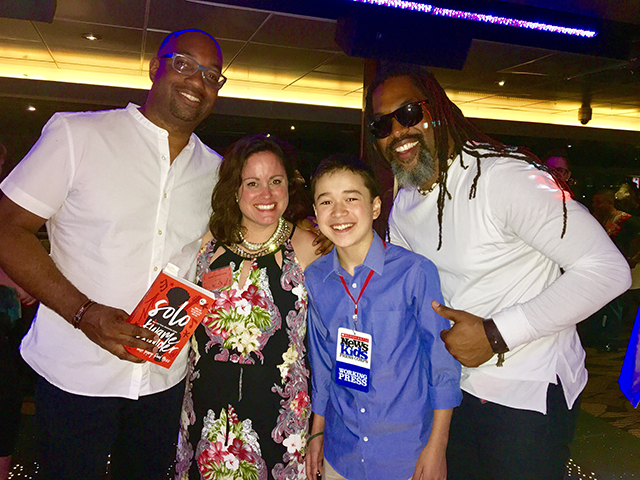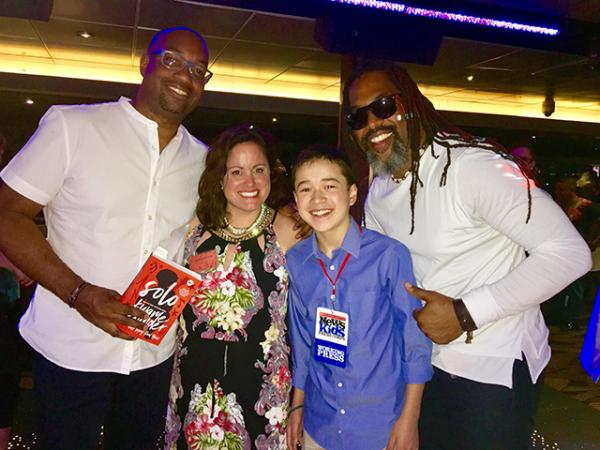 On June 23, friends, family, and fans boarded the Odyssey at Chicago's Navy Pier and set sail with co-authors Kwame Alexander and Mary Rand Hess, and musician Randy Preston. The trio was celebrating a new book called Solo (Blink, August 2017), with live music and poetry readings.
Co-written by Alexander and Hess, Solo is a young adult novel in poetic verse. It tells the story of 17-year-old Blade Morrison, whose father is a struggling musician. Blade tries to find himself through love and music.
Alexander, who lives in Virginia with his family, has written 24 works of fiction and poetry, including The Crossover (Houghton Mifflin Harcourt, 2014), a New York Times bestseller which won a Newbery Medal and a Coretta Scott King Honor Award. Written in verse, the book tells the story of middle-school basketball players.
THE POWER OF MUSIC
I asked Alexander what inspired Solo. "I wanted to write a book that was a tribute to the music that defined my high school years," he said. "I also wanted to write a love story."
Alexander likes 80's classics and soft rock bands, including Tears for Fears, while Hess enjoys listening to such hard rock bands as Guns N' Roses.
"Music is what I listen to when I'm writing," Alexander said. "It gets my creative juices going. It allows me to brainstorm. Music makes me feel good, which is what I want to do when I'm writing books. I want to make my readers feel good. It's empowering."
Hess, who is both a storyteller and a poet, described Solo's message. "You have to listen to the music in your heart," she said. "What is the music telling you? What is your story? Sometimes it takes faith in yourself, unconditional love of family, and a willingness to go on an adventure."
"READING IS COOL"
Alexander, Hess, and Preston recorded a music video for Solo. They filmed it at Chicago's North Avenue Beach along the shoreline of Lake Michigan.
Preston plays the music in the audiobook. When asked about his love of music, the singer and songwriter, who was raised in England and Kenya and currently lives in Maryland, said, "It's like a superpower. It can make people's moods change."
Hess, who lives in Washington, D.C., talked about the transformative nature of poetry. "It is getting down to the bare bones," she said. "You are picking out words that give you emotion, that give you images and beauty."
In addition to his career as an author, Alexander also serves as a literacy advocate, speaking around the country at schools and conferences. When asked what his message was for young people, he said: "Reading is cool. Words can be awesome. Poetry can change your life."
Photo courtesy of the author