Kids "Work" at the White House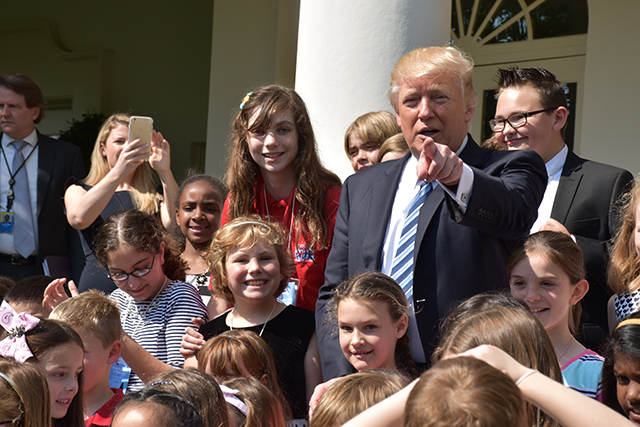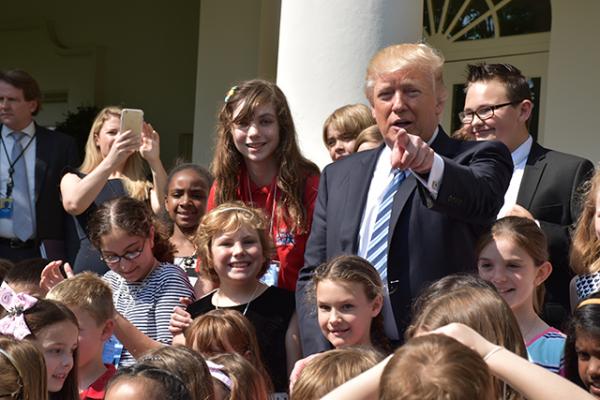 On April 27, the White House opened its doors to about 50 children for a Take Our Daughters and Sons to Work Day event. President Donald Trump spent 15 minutes with the young visitors in the Rose Garden. He autographed special "press" credentials and posed for photographs.
Most of the kids were the children of news reporters or White House staff members. In addition to their visit with the president, the kids got to attend a special briefing with White House Press Secretary Sean Spicer, see some of the historic rooms at the White House, and go bowling.
Spicer did not answer my question about whether he had regrets about unfinished work during the Trump administration's first 100 days. He only wanted to talk about the president's achievements. Spicer did tell me that he hadn't wanted to be a political spokesman until he got to college. "I liked debating things and arguing, believe it or not," Spicer said.
A CANNONBALL AND A BOWLING ALLEY

Presidential adviser Kellyanne Conway was also in attendance. I asked her if there was any difference between trying to convince the president to change his mind and trying to get her young children to clean their rooms.
"President Trump is a resolute and thoughtful leader who makes final decisions after considering various inputs and insights," she said. "Unlike my children in cleaning their rooms, his decisions do impact national security and economic prosperity."
While at the White House, we saw a Civil War cannonball in the former Secretary of War's office. We also toured the vice president's ceremonial office, where Cabinet members are sworn in and past vice presidents have signed their names in a desk drawer.
Then it was time for bowling. President Harry Truman put a two-lane alley in the basement in 1947. Most adults, including reporters and members of the White House staff, never get a glimpse of it.
After the event, I asked President Trump what advice he had for kids who might want to be president. "Work really hard at everything you do," he said. "Listen to your parents. Dream big, and pursue what you are passionate about. If you are passionate, you will ultimately be successful. Never give up!"
Photo courtesy of the author