A Kid Gets the Scoop at the Republican Convention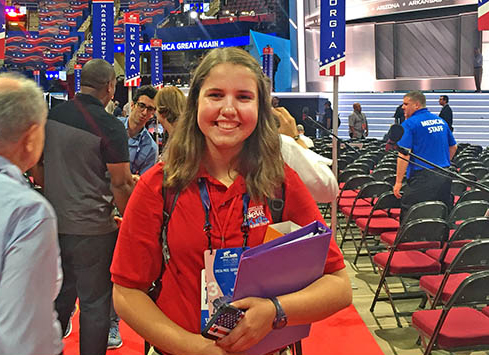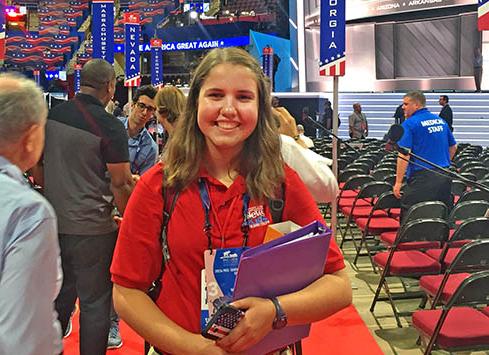 The Quicken Loans Arena, which is home to the Cleveland Cavaliers and basketball great LeBron James, has been transformed into a patriotic extravaganza, with red, white, and blue banners and balloons.
On Wednesday, Trump's son Eric addressed the enthusiastic crowd, saying about his father: "I see in his eyes a man who truly loves his country, who is proud of his country, and who wants his country to be great again."

"REALLY INTO POLITICS"
During the day, YouTube stars, members of the Saturday Night Live cast, and news reporters milled around the floor, preparing for the big night ahead. Young people also played a role, volunteering as pages on the convention floor. They handed out pamphlets and answered delegates' questions.
"Obviously, the best part is to just be here at the convention," said Jacob Russell, 19, a college student from Cooperstown, New York. "I've always been really into politics."
While waiting for the speeches, I got tips from journalists Kelly O'Donnell of NBC News and Carl Bernstein, whose articles in The Washington Post in the early 1970s led to the resignation of then-President Richard M. Nixon.
"Read everything you can, and listen," Bernstein said. "Listen to voters. Listen, listen, listen!"
O'Donnell said, "Be prepared with your questions. Politicians often walk by very quickly."
EXCITEMENT AND CONTROVERSY
Many people in the arena seemed caught up in the moment. Having delegates from every state in the U.S. in the room "is pretty awesome," said Oklahoma delegate Philip Jackson.
But not everyone in the arena was happy. Even though Trump has officially become his party's presidential candidate, many Republicans do not support him. Senator Ted Cruz of Texas, who lost to Trump in the primary elections, refused to endorse his rival in a speech that was met with boos.
Outside the arena, several people marched in protest. They do not like Trump's controversial statements about immigrants, Muslims, and other groups. But many also expressed negative views about Clinton.
Next week, the Democratic Convention will be held in Philadelphia, Pennsylvania.
Photo courtesy of Scholastic News Kids Press Corps