Kid Chef Eliana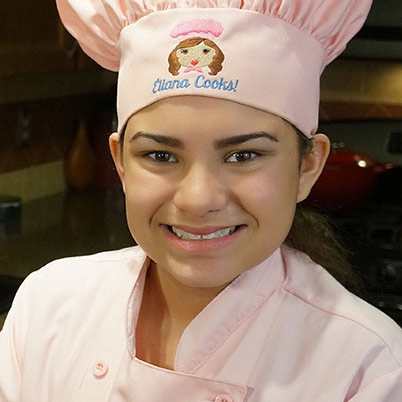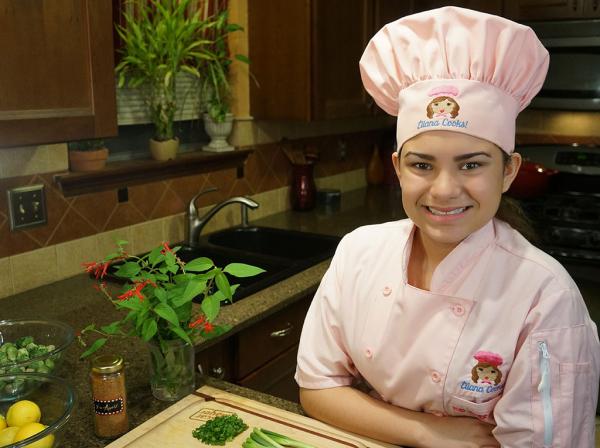 "Every Christmas, holiday, and birthday I always asked for kitchen tools instead of toys," says 14-year-old Eliana de Las Casas. Kid Chef Eliana, who got her first kitchen knife at age 8, has been cooking since she was 4 years old. The young chef hosts "Cool Kids Cook" on VoiceAmerica Kids, an online radio show. The program has more than 125,000 listeners, and its host has already written three cookbooks, including Cool Kids Cook: Fresh & Fit.
Born in New Orleans, Louisiana, Eliana comes from an international family of cooks for whom food is a celebration. Eliana's grandparents are Filipino, Cajun, Honduran, and Cuban, but New Orleans has really influenced her cooking. Eliana often jokes that she is like a gumbo, made of a little bit of this and a little bit of that. 
MAKING SEASONAL FOODS
More than any other dish, Eliana loves to make tacos. "They are such a versatile food," she says. "You can fill them with just about anything and create so many different combinations."
Eliana eats all of the dishes she prepares on Cool Kids Cook. She typically shares between three and five recipes during each program.
"I am very ingredient-oriented, and I love to cook meals based on what's in season, what's at the Farmers' Market, and what's in my garden," she says.
Even an experienced chef like Eliana has had mishaps in the kitchen. Once she burned a crème brulée.
"I had made it before so I thought to myself, This is going to be easy breezy," she said. "Wrong."
When she was caramelizing the sugar on top of the crème brûlée, the button on her blowtorch got stuck, so Eliana couldn't turn it off. Instead, she set her parchment paper on fire. "Luckily, my chef instructor was right next to me, and she was able to control the situation," Eliana says. "I'm so happy I didn't burn down the kitchen!"
FROM THE CLASSROOM TO THE KITCHEN
Eliana, who has met many inspiring chefs, including Giada De Laurentiis and John Besh, is a student at the New Orleans Center for Creative Arts (NOCCA) in the culinary arts program.
Admission to NOCCA is by audition only, and the studies are rigorous. Eliana is at school every day from 8 a.m. until 6:30 p.m. She records her radio show Thursday rights. Many weekends, she has book signings, photo shoots, or cooking demos. Her manager mom, Dianne de Las Casas, helps her juggle her busy schedule.
At NOCCA, Eliana really loves integrated sciences. a subject that combines math and science. "My teachers make the class so fun," says the young chef. "There is so much math and science in cooking, so it's great to have classes that make those subjects a blast."
Eliana wants to create a line of spices, which she is already developing. She also wants to develop cookwear and chefwear for kids and to have her own cooking/talk show. With everything she has done already, she is definitely on her way.
You can visit Kid Chef Eliana online at http://kidchefeliana.com. Her radio program airs on Mondays at 7 p.m. ET on http://www.coolkidscookradio.com.
Photo by Dianne de Las Casas