Judge Rises to Help Others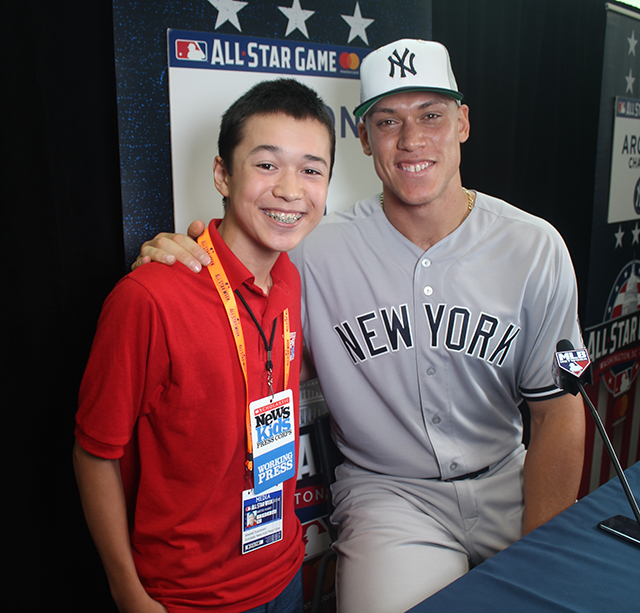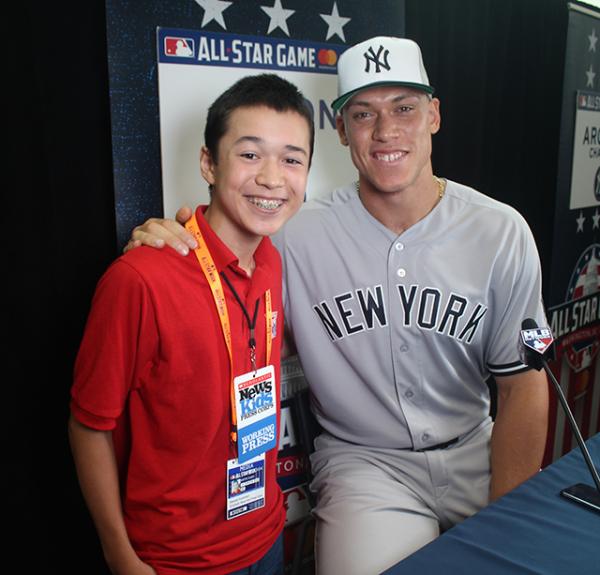 New York Yankees slugger Aaron Judge is making a difference on and off the field. After hitting 52 home runs last season, he was named the 2017 American League (AL) Rookie of the Year. Judge also won the 2017 Home Run Derby. This year, he was elected to start in his second consecutive MLB All-Star Game.
I met Judge, an outfielder who towers over the other players at 6'7", at a media event for the 89th annual MLB All-Star Game, which was held on July 16 at Nationals Park in Washington, D.C.
Batting sixth in the starting lineup, Judge smashed the first home run of the game and helped the AL defeat the National League, 8-6. 
"UNCAP THE POSSIBILITIES"
At the media event, I asked Judge about his philanthropic efforts off the field. He recently put his star power behind #ICanHelp, a nonprofit organization that empowers teens to stamp out negativity on social media. "What the world needs is more people being positive," he said.
Judge's efforts are part of "Uncap the Possibilities," a partnership between The Players' Tribune and Sharpie. In addition to Judge, three other professional athletes are participating in the campaign, each raising awareness about a charity of their choice. NBA point guard Chris Paul is promoting the efforts of the Chris Paul Family Foundation, which supports health and wellness and literacy initiatives in low-income communities. NFL quarterback Aaron Rodgers is working with the Wounded Warrior Project, and Alex Morgan, an Olympic gold medalist in women's soccer, has teamed up with UNICEF Kid Power. 
A ROLE MODEL FOR KIDS

Judge explained what the collaboration means to him. "I think back to when I was a kid, and I wanted to be just like my favorite players," he said. "During the games, I look out into the stands and see young kids wearing Yankees jerseys or emulating the batting stance. They want to be just like us players. Getting to be a role model for young kids is the most rewarding part of my career." 
The hardest part of his career, Judge said, is "the daily grind." Being a professional athlete comes with intense pressure and harsh criticism. To help him stay focused and cope with the demands, Judge leans on his family, teammates, coaching staff, and past coaches. "It's a tough game," he said, "and it's tough to do it on your own."
A network of support is crucial to overcoming obstacles, Judge added. That's why he encourages kids to get involved with #ICanHelp. "Talk to teachers and other students," he said. "Spread positivity on social media, in the classroom, and in and out of school."
Photo courtesy of the author