It's Your World: A Conversation With Chelsea Clinton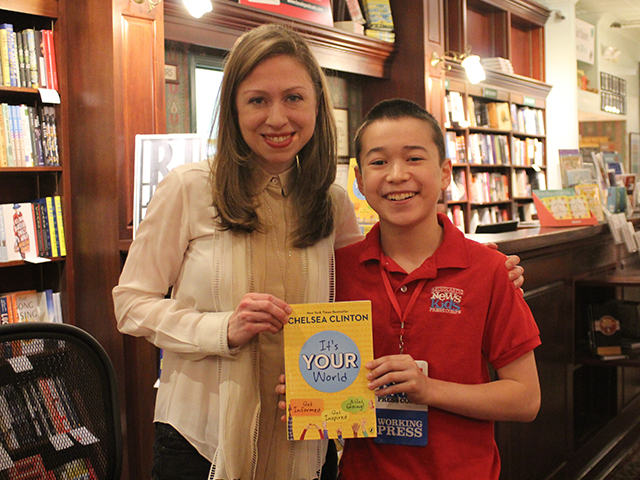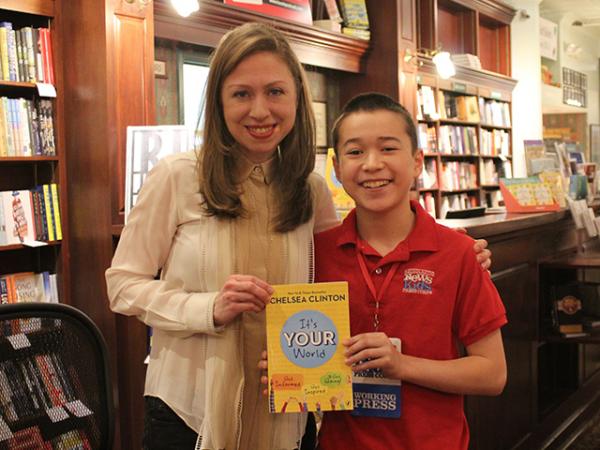 Can young people change the world? "You're never too young to make a difference," says Chelsea Clinton.
The daughter of former President Bill Clinton and Democratic presidential candidate Hillary Clinton recently visited R.J. Julia Booksellers in Madison, Connecticut, to discuss her New York Times bestseller, It's Your World: Get Informed, Get Inspired & Get Going! (Philomel Books, 2015).
Now in paperback, the book explores topics that affect kids everywhere, including food insecurity, lack of access to education, gender inequality, and climate change. Clinton draws on her own experience in community service. As a teen growing up in Washington D.C., she led her school's service club. Today, she is on the board of the Clinton Foundation, a global humanitarian organization founded by her father.
While at the event in Connecticut, I had the opportunity to talk with the former "First Daughter," who lives in New York City with her husband, Marc Mezvinsky, and their two children, Charlotte and Aiden. Here are highlights from our conversation:
What advice do you have for kids who want to help change the world?
Start with what most inspires you or angers you and talk to your family, friends, teachers, and other adults you respect about what you can do—and what they can do, too.
What causes are you the most passionate about?
Anything that affects kids, which, admittedly, encompasses everything: racism, sexism, education, climate change, health, and so much more.
What do you have to say about gender inequality?
It's unacceptable on a moral level. We know that investing in women and girls is the right thing to do and the smart thing to do.
Why should kids keep up with current events?
It's important that we all know what's happening in our communities and in our world because we're all impacted by current events. I want all kids to be engaged and know that they have voices, valuable opinions, and the right to be heard—and listened to.
What are your favorite books?
A few recent favorites are the Deborah Crombie and Louise Penny mysteries. When I was a kid, I loved the Nancy Drew and Encyclopedia Brown series, Harriet the Spy, The Once and Future King, and 50 Simple Things Kids Can Do to Save the Earth.
Photo courtesy of the author