Inside Hamilton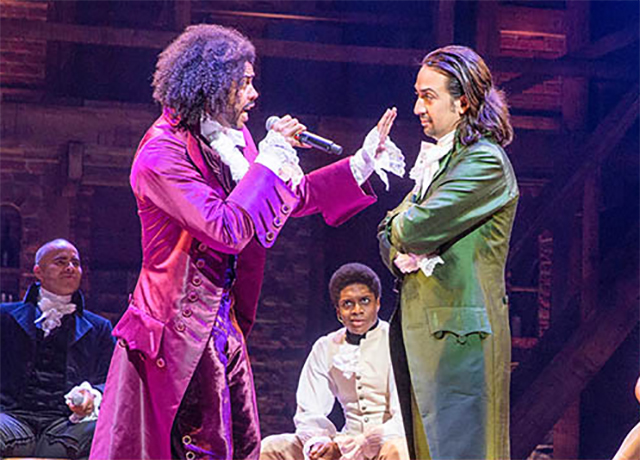 "I'm working on a hip-hop album about the life of someone who I think embodies hip-hop," Lin-Manuel Miranda said nervously in 2009 in the East Room of the White House.
Hip-hop? Few people would have guessed that Miranda, a composer, playwright, rapper, and actor, was referring to Alexander Hamilton, a Founding Father of the United States and the country's first Secretary of the Treasury.
When Miranda began to rap about Hamilton in the East Room, people in the audience smiled and snapped their fingers. Later, they rewarded the artist with a standing ovation.
"TODAY'S AMERICA"
Miranda became fascinated with Hamilton while reading Ron Chernow's biography of the statesman, which was first published in 2004. Soon, the musical genius created his own interpretation of the life of an orphan from the West Indies who became a key figure in the birth of America.
Hamilton: An American Musical won 11 Tony awards on Sunday night, including best new musical. It also earned a Pulitzer Prize earlier this year.
"I think it's become so popular because it makes people feel like real Americans," says actress Phillipa Soo, who plays Hamilton's wife, Eliza. "Lin has done an amazing thing: He has taken an American story and told it through the eyes and ears of today's America, and we feel very connected to it."
In Hamilton, the Founders sing, rap, and dance their way through the American Revolution. Miranda, whose parents were born in Puerto Rico, plays the lead role. Thomas Jefferson (Daveed Diggs) wears a purple suit. Most of the cast members are people of color.
NOT "STATUES"
Why is Hamilton's reimagined story sparking so much interest? "He started from nothing," says Hamilton fan Jane Sherwin, "but made something of himself and created our whole financial system."
Says Miranda: "The thing I want kids to take away is that the Founders were human. Because they were like us, they made mistakes, and they made compromises. They were not these statues or monuments. They were real, living, breathing people, just like us."
Photo by Sara Krulwich/The New York Times via Redux Pictures