Imagining a City of the Future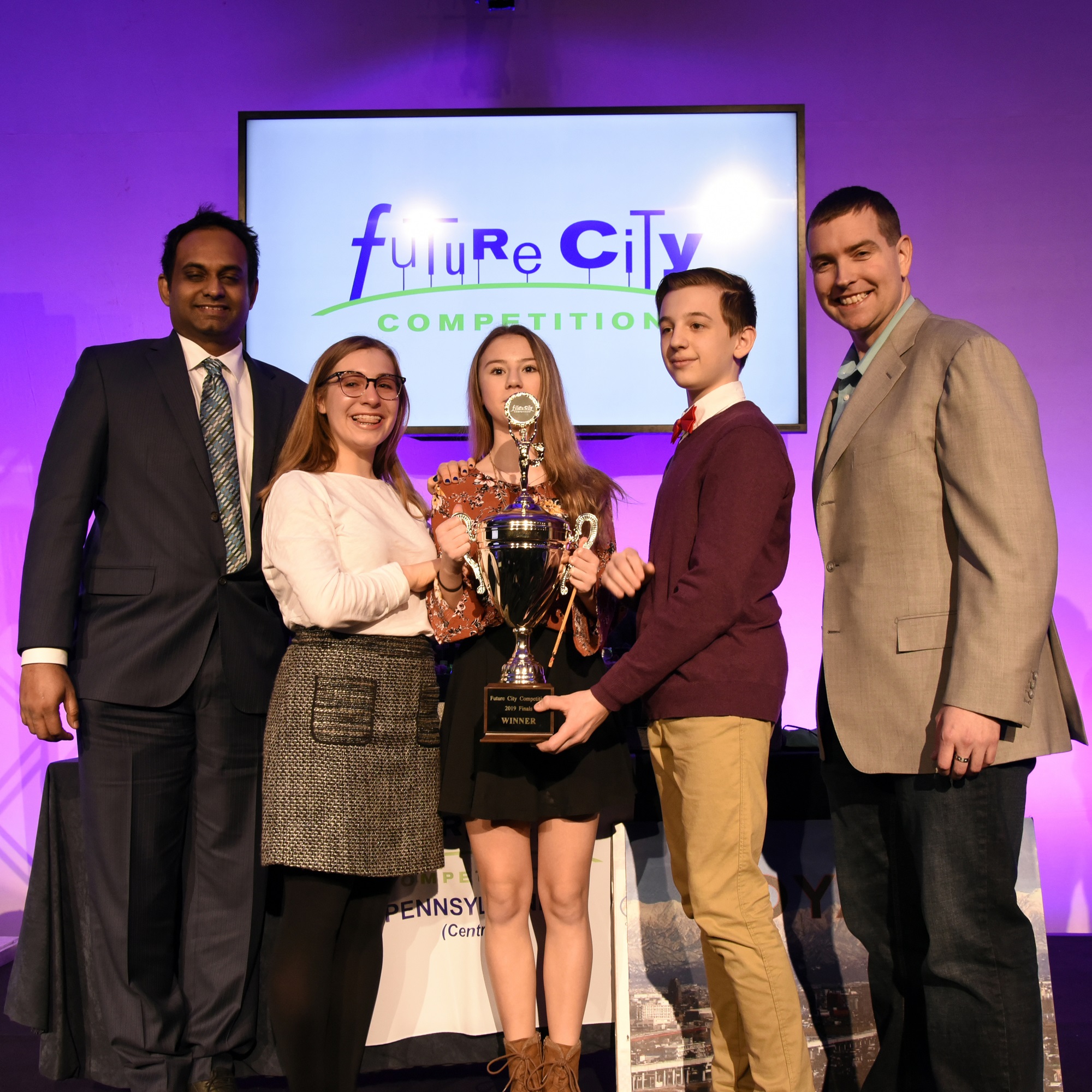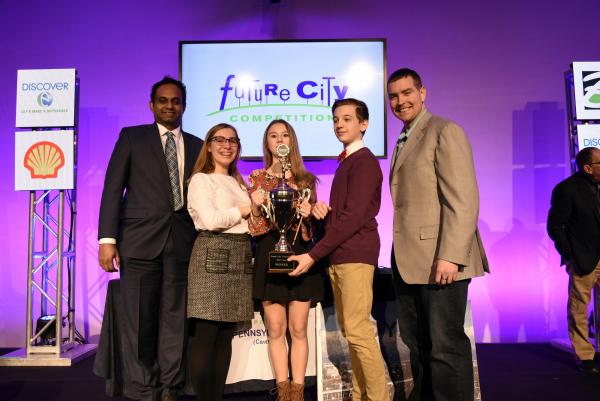 What will the future look like? I recently got to ask middle school students at the 27th annual Future City Competition in Washington, D.C.
Earlier this month, 43 middle school teams from the United States, Canada, and China showcased their ability to think creatively and boldly at the Hyatt Regency Washington. The students had made it through months of regional competitions, which had started with more than 40,000 entrants.
This year's theme was "Powering Our Future." Entrants were challenged to find innovative ways for a city and its power grid to withstand the effects of a natural disaster and recover as quickly as possible. 
According to  Future City program manager Maggie Dressel, this was not a random exercise. "We're not just saying, 'Come up with a crazy idea just for the heck of it,'" Dressel said. "We're asking students to think about real-world issues and then come up with the solutions."
"BRILLIANT MINDS"
Each team had spent four to five months designing and building their model cities with help from mentors. In addition to constructing a city, the students did rigorous research and submitted an essay explaining how their city would function. During the judging, they were given five minutes to present their work.
Teams were allowed to use up to $100 worth of recycled materials, including copper wire, tissue paper, and paint samples. Even toilet paper rolls were put to use.
After several rounds of judging, students from Warwick Middle School in Lititz, Pennsylvania, won the top prize. Their city, "Toyama," is based on a coastal city in Japan. The team included Grace Kegel, Lauren Matt, Xavier Flaiz, Matthew Bacon, Joseph Conrad, Carter Hain, Connor Henry, Paige Misavage, Ivan Tejeda, Liam Zee, Jonah Ahlers, Olivia Boland, Zoe Buchanan, Kyle Charles, Ben Cosmore, Marin Davis, Carolyn Eisenbach, Nate Hovan, Thomas Jeanes, Caden Lausch, Elena Smith, Aiden Troop, Rebekah Trovinger, Maggie Turner, and Nate Wenger.
Educator Mike Smith and 15-year-old volunteer mentor Christian Kegel, who is a Future City alumnus, helped the Warwick team. "When you go through this program," Christian said, "you're forced to work together to figure out the best way to do things."
Among the judges was Shar Govindan, a content creator at Bentley Systems, a software development company. When asked what he enjoyed most about the competition, Govindan said, "The promise that the future is in great hands and a chance to see all these brilliant minds showcase their brilliant ideas. They're going to make the world a better place."
Why are kids uniquely suited to create an ideal future city? "Creativity," said software designer Christian Flagg, also a judge from Bentley, one of the engineering competition's sponsors. "Kids are a lot more playful than adults."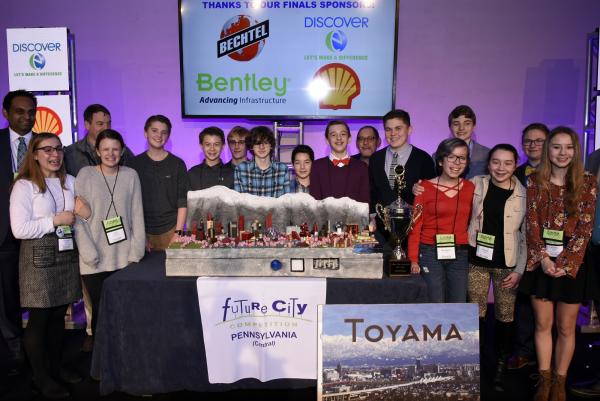 AN "AMAZING EXPERIENCE"

Some of the more creative innovations included earthquake-resistant buildings, firefighting A.I. robots, and tunnels designed to transport people quickly and efficiently.
While observing the entries, I had the chance to speak with Thanisha Vadgama, Hershal Patel, and Rebecca Beaudry, who are from North Carolina. The finalists imagined Mumbai, India, in 2120, with renewable energy from a variety of sources, including graphite. Their design would enable part of the city's power grid to work even when another part was down.
The project taught the students a great deal about their interests, they said. Thanisha enjoyed the more artistic elements, including "making the model and working on the essay and script." Rebecca said that she enjoyed "getting to learn all about the futuristic technologies and engineering principles."
What was the most rewarding part of building a model city? "Being able to repurpose materials," Rebecca said.
The top prize winners from Warwick took home $7,500 for their school's STEM program and earned a trip to U.S. Space Camp in Huntsville, Alabama.
"My takeaway from this amazing experience is, 'I can do it,'" said Grace Kegal, a member of the winning team. "It's all possible." 
Photos courtesy of the Future City® Competition