If My Love Were a Fire Truck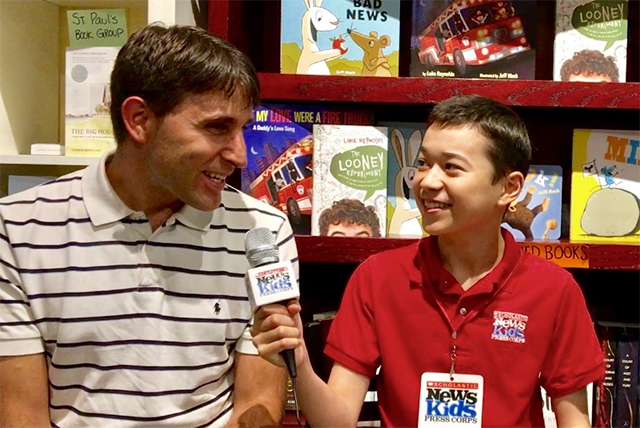 WATCH THE VIDEO
Click below to see Maxwell's interview with Luke Reynolds and Jeff Mack.
A father's love is like a fire truck, a rocket ship, a blue whale, and a marching band. These are some of the similes described by author Luke Reynolds and illustrator Jeff Mack in their new children's book, If My Love Were A Fire Truck: A Daddy's Love Song (Doubleday Books For Young Readers, 2017).
Reynolds teaches seventh-grade English at a public school in Harvard, Massachusetts. He wrote the middle-grade novel, The Looney Experiment (Blink, 2015), and also writes professional books for educators.
Mack lives in South Hadley, Massachusetts. He has created several picture books, including Good News, Bad News (Chronicle Books, 2012), Look! (Philomel Books, 2016), and his newest title, Mine (Chronicle Books, 2017).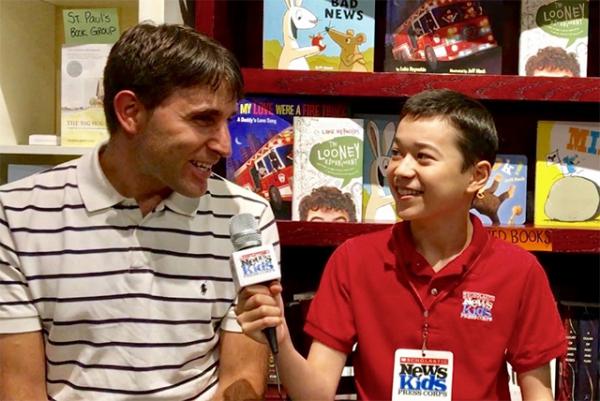 I recently had the opportunity to interview Reynolds and Mack at a book event at Blue Bunny Books in Dedham, Massachusetts. Here are some of the highlights of our conversation, which has been lightly edited:

Luke Reynolds
What was the inspiration for If My Love Were A Fire Truck: A Daddy's Love Song?
My younger son, who was one at the time, would not go to sleep. He was crying and crying, and I was rocking him. All of a sudden, this line just came to me: If my love were a fire truck, its sirens would flash all night. I just kept singing that line. After a while, I noticed that my son had fallen asleep, but I was still singing.
Can you tell us about a teacher or mentor who encouraged you?
When I was in fifth grade, I had this teacher named Mr. Looney. That was his real name. On the first day of class, he held up a spelling book, and we all groaned. Then he chucked it across the room, where it landed in a trash can. He proceeded to do these crazy, creative writing lessons with us. I fell in love with writing that year. I fell in love with teaching, with English.
What is your advice for aspiring young writers?
Write, write, and write. Don't worry about how good it is or how bad it is. Just write tons and tons of stuff. I think the amount of stuff I've had published is about three percent of what I've written.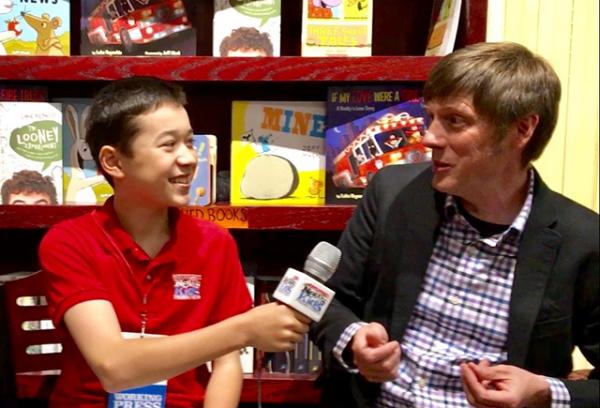 Jeff Mack
How did you get the job illustrating If My Love Were A Fire Truck: A Daddy's Love Song?
I got the job because of my book, Look!, about a gorilla and a boy. The art director really liked the style. I loved all of the chances to illustrate these great, different things, like blue whales, construction equipment, rockets, and dragons.
What were you like as a kid?
I was pretty anxious, and I always wanted to work on projects. I loved to make comic books, and I loved to build pinball machines out of cardboard boxes. My mom would bring them home from the grocery store. They were always breaking, but I would just keep working. I wouldn't want to eat dinner, and I wouldn't want to go to bed. My parents had to take them away from me to get me to stop working and to do other things. So I think that probably gives you an idea of what I was like as a kid, and it's kind of what I'm like now.
What is your message for promising young illustrators?
If your drawing doesn't come out right, put it in the "crumple folder," and leave it there for a while. Then come back to it a few hours or a day later. There's a good chance that when you get an emotional distance, you might see some things in that drawing that you missed before, and you might like it a little better.