Honoring Women Who Fought for the Right to Vote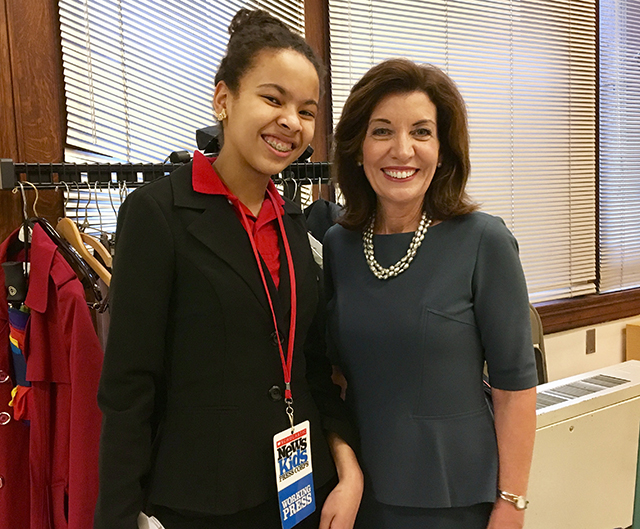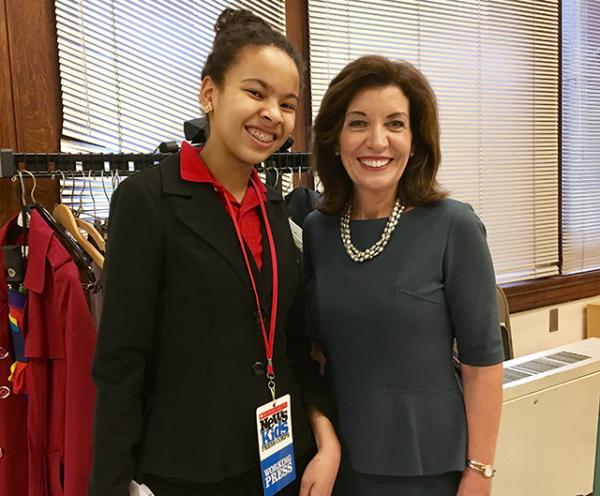 "Because of this patch, there will be young girls throughout the Girl Scout organization, all over the State of New York, who will be able to uncover the incredible history that we have with respect to women's rights," said Kathy Hochul, Lieutenant Governor of New York.
Hochul was speaking in Lower Manhattan on March 27 at the unveiling of a Girl Scout Suffrage Centennial Commemoration Patch. Women in New York gained the right to vote in 1917, three years before the Nineteenth Amendment was passed.
The unveiling event, which included a reception with Girl Scout cookies, was held at the National Museum of the American Indian. Hochul, the keynote speaker and chair of the New York State Women's Suffrage Commission, said that she was proud to be part of the event.
WOMEN'S HISTORY
All seven New York Girl Scout Councils will participate in the patch program. It will enable girls to learn about the history of the women's rights movement and how it affects them today.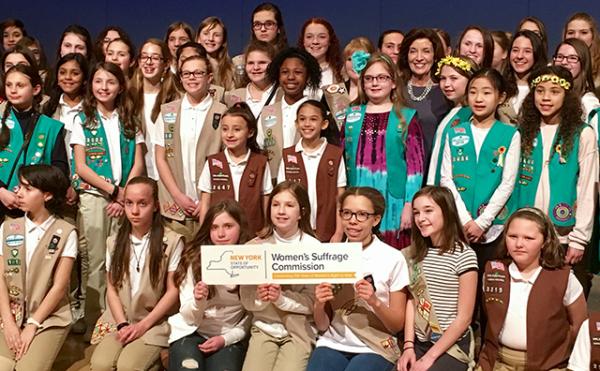 "I've gained a ton of leadership and service opportunities that have expanded my horizons [and helped me] reach out to my community and ultimately change the world," said Stephanie Fortune, a 16-year-old Girl Scout.
"It's important that people realize how much work it took for women to get the right to vote because a lot of people take that right for granted," added Samantha Siciliano, 14.
WHAT WILL YOUR LEGACY BE?
Pippa Lee, 10, and Stori Small, 11, from Troop 3484 led the audience in reciting the Girl Scout Promise. For Stori, being in the Girl Scouts is "a team effort. It's really empowering to be with other girls, fighting for what you think is right."
Involvement in the Girl Scouts allows participants to ensure a better future for everyone. "Just as we're celebrating the legacy of very courageous women from a century ago, I'm posing the question, 'What will people 100 years from now say about us?'" Hochul told me in a brief interview. "It's going to get girls to do something that perhaps they wouldn't have known or had a chance to discover on their own."
A "PASSION FOR SERVICE"
New York State Girl Scouts who participate in the patch program will learn about Elizabeth Cady Stanton, Susan B. Anthony, and other women's suffrage leaders; important sites in the movement; and the meaning of civil disobedience. Participants will also create a suffrage banner, among other activities. 
"Our hope is that this patch program will encourage all of our girls to have a better understanding of the significance of participating in our democratic system—from exercising their right to vote, to running for office, to serving their constituents with the same passion for service and values that they learned as a Girl Scout," said Mary Buszuwski, chief executive officer of Girl Scouts of Northeastern New York.
As Stephanie Fortune said, "It's thrilling to be a part of this."
Photos courtesy of the author