Honoring a Rock and Roll Pioneer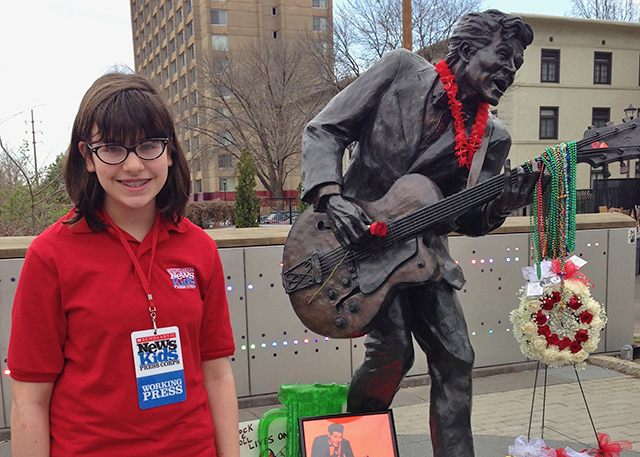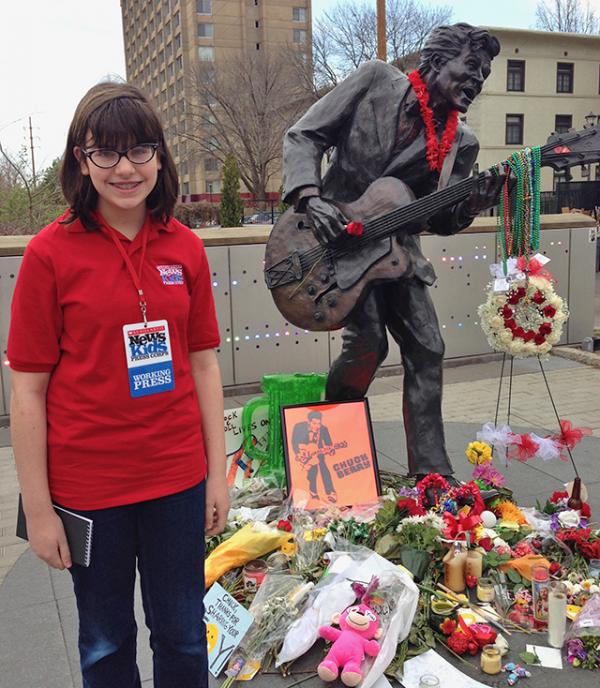 When Chuck Berry, a rock and roll pioneer, died on March 18 at age 90, the world mourned the loss of the musical genius.
I visited Delmar Boulevard in St. Louis, Missouri, to talk with local fans about one of the state's most famous sons. A statue of the legendary guitarist, singer, and songwriter stands across the street from Blueberry Hill, a diner where Berry performed each month until recently.
"Personally, I'm in awe of what he accomplished in his career, and how he kept playing well into his 80s," said music critic Annie Zaleski. "It was a joy to see someone who loved being onstage so much, and who never lost his passion for music."
Surrounding the statue were flowers, candles, stuffed animals, and more. Musicians around the world have been remembering Berry's influence on modern music.
"The next generation of performers was so heavily influenced by Chuck Berry," said Joe Schwab, owner of Euclid Records in St. Louis. "Bands like the Beatles, the Rolling Stones, and the Beach Boys were all based in one way or another on his music. Those bands went on to influence the next generation of rockers, and on and on and on."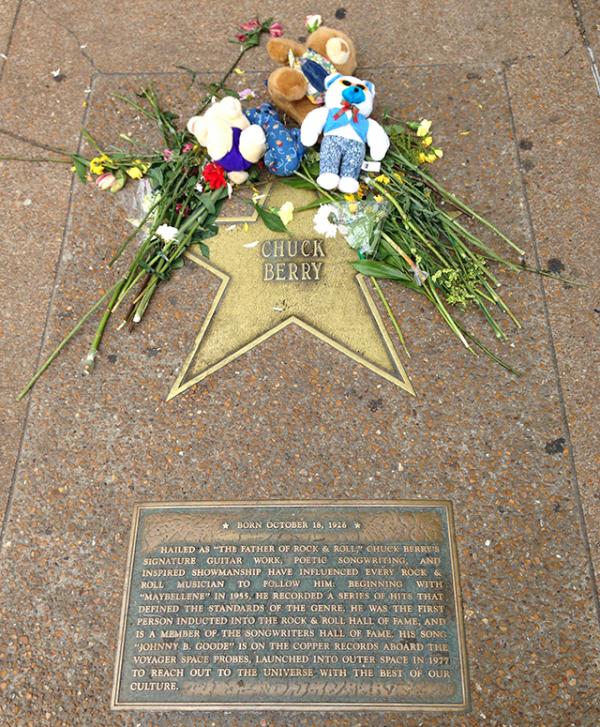 "A TRUE POET"
Berry wrote dozens of songs that are famous around the world, including "Maybellene," "Roll Over, Beethoven," and "Johnny B. Goode." He was renowned for his charismatic stage presence and delighted audiences with his dance moves, including his signature "duck walk."
Berry, who was African American, faced daunting racial barriers growing up and during his career. But teenagers loved his music and flocked to him.
"He was a dynamic songwriter and player," Zaleski said. "His guitar playing especially was exciting, energetic, and even a little dangerous. He was a true original, a one-of-a-kind artist."
Berry was one of the first artists to create music in the rock 'n' roll genre. His clever lyrics and unique style captivated adults and teenagers alike.
"Aside from Chuck Berry's influence as a performer, his song lyrics were far more sophisticated than many of the other performers of his time," Schwab said. "His lyrics are rollicking and yet expressive. He was a true poet."
Berry's final album, CHUCK, will be released posthumously on June 16.
Photos courtesy of the author