A Historic Parade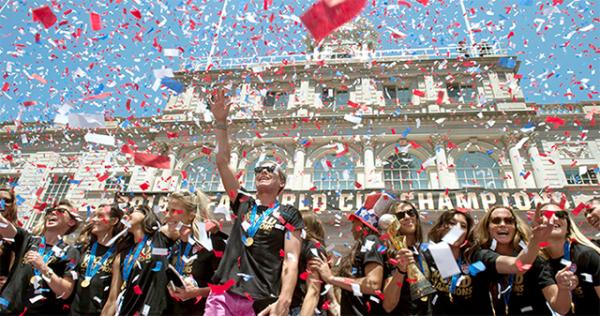 Floats carrying the 32 players rode up a stretch of Broadway known as the "Canyon of Heroes," where parades are usually reserved for men. Presidents, astronauts, and winning sports teams like the New York Giants and Mets have been honored there, but this was the first time a women's sports team got a parade.
"U-S-A! U-S-A!"
Along the parade route, fans waved signs and smiled beneath patriotic face paint. When the crowd's roar grew louder, members of the team joined in, chanting, "U-S-A! U-S-A!"
For players and fans alike, the victory over Japan was one to savor. The U.S. team suffered a heartbreaking loss against Japan in the 2011 World Cup finals.
Alexandra Smith, 15, from New Jersey, was in the crowd cheering for her favorite players. "I play soccer, and I've been watching it for as long as I can remember," Smith said. "This is a real accomplishment for the team."
"THE POWER OF WOMEN"
As Smith spoke, the final float rounded the corner. Bill de Blasio, the Mayor of New York City, along with players Carli Lloyd and Megan Rapinoe, waved to the crowd. The roar only got louder. Smith grinned and raised her turquoise smartphone, snapping a photo. "This is so cool," she said, turning back around. "Our team just proved that women can do just as much as men can."
A few hours later, at a ceremony at City Hall, Mayor De Blasio made a similar observation. "When they brought back that trophy," he said of the women's soccer team, "they also brought back the message of the power of women."
New York City—and the entire country—had 23 new names to add to the Canyon of Heroes.
Photo by Bryan R. Smith / AP Image