High Voter Turnout in Pennsylvania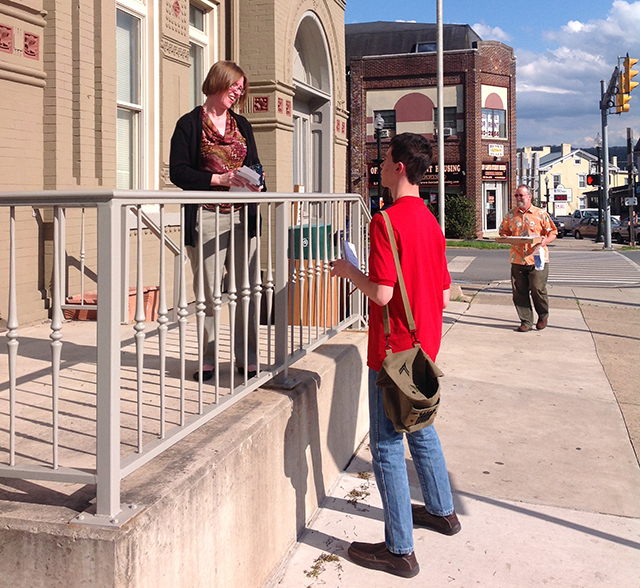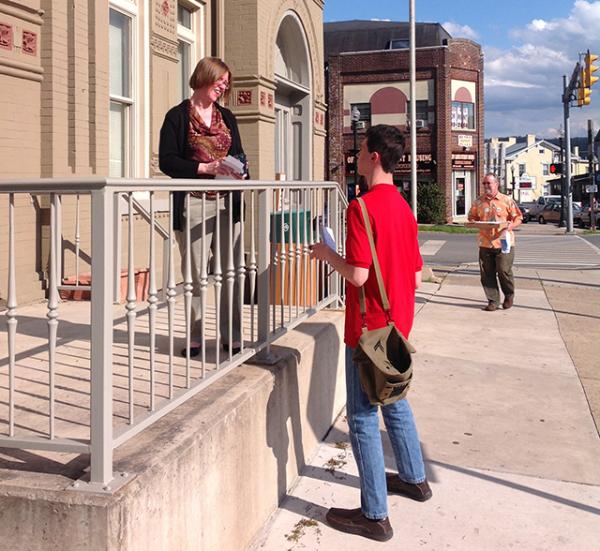 Of the five states holding primary elections on April 26, Pennsylvania had the largest number of delegates at stake. Each of the presidential candidates visited the state in recent weeks, trying to convince voters that he or she should be the next president of the United States.
In addition to Pennsylvanians, voters in Connecticut, Delaware, Maryland, and Rhode Island went to the polls on Tuesday. After the results came in, former Secretary of State Hillary Clinton, a Democrat, and New York City businessman Donald Trump, a Republican, emerged as the big winners in their respective parties.
Clinton won in Pennsylvania and three other states. Her challenger, Vermont Senator Bernie Sanders, only won the comparatively small state of Rhode Island.
"Whether you support Senator Sanders or you support me, there's much more that unites us than divides us," Clinton said in her victory speech in Philadelphia. Clinton now has 1,650 delegates of the 2,383 needed to win the Democratic nomination.
Donald Trump won all five states, significantly increasing his lead in the delegate count over Texas Senator Ted Cruz and former Ohio Governor John Kasich. "This to me was our biggest night," Trump said in his victory speech in New York City. "I consider myself the presumptive nominee." Trump has earned 953 of the 1,237 delegates needed to secure the Republican nomination.
"DOUBLE THE TURNOUT"
In Pennsylvania's Columbia County, all three of the polling stations that I visited reported higher than normal turnout for a primary election. "We've had double the turnout," reported Nicholas McGaw, Judge of Elections for Ward 2 in Bloomsburg.
Because Pennsylvania's primary is closed, people who are registered as Independents are not eligible to vote. Meg Geffken, a poll worker in rural Sugarloaf Township, said that Independent voters represent their largest block of regular voters. Election turnout was still high. "I never saw so many cars here this early," Geffken said, looking at the polling station's parking lot at 8 a.m.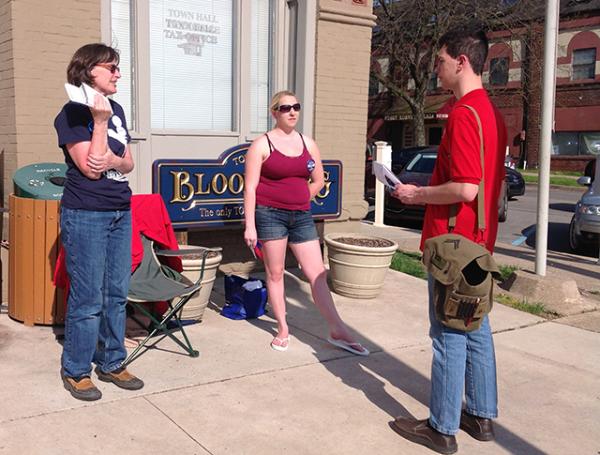 Jill Carlson, who was handing out pamphlets in Bloomsburg in support of Bernie Sanders, said, "This seems more like a general election turnout."
Carissa Jones, a Republican, was distributing information at the same polling station. Noting the high turnout, she said, "I think both Bernie and Trump draw a lot of interest to younger voters. They're getting passionate about it."
HAVING A SAY
This reporter spoke to many first-time voters and to people who have never missed an election. "I've voted in every election since I turned 18. I'm 36 now," said Jamison Dippel. When asked which issue mattered most to him, Dippel replied, "There are a lot of issues regarding money inequality."
Emerson Noss, a freshman at Bloomsburg University, said that he had decided to vote in his first election "to make sure that my voice is heard."
Will Clinton and Trump get enough delegates to earn a place on the November 6 ballot? Voters in Indiana will have their say next, on May 3.
Photos courtesy of the author