A Helping 3-D Hand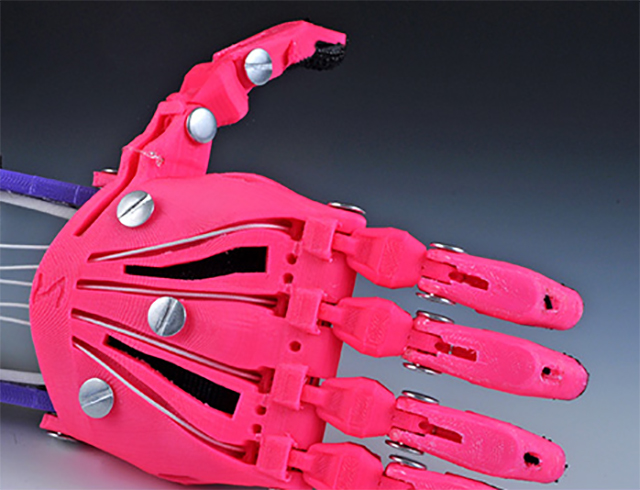 It all started in 2013, when Shea Stollenwerk, then eight years old, asked for a new hand for Christmas. Shea was born with a partial right hand, which restricts her ability to do things that other kids take for granted.
"My mom went online" to look for help, says Shea, who lives in Mukowango, Wisconsin. Shea's mother, Ranee, soon learned about a community of artists, designers, and scientists who are making big breakthroughs with prosthetic (artificial) hands.
Frankie Flood, a professor at the University of Wisconsin in Milwaukee, was among the designers who saw Ranee's online request. Flood enlisted help from fellow professor Adream Blair and their students, who were learning how to make designs using a 3-D printer, a device that can create layers of material, like plastic or metal, one on top of the other, to produce solid objects.
"We made a mold of Shea's hand out of plaster," Flood explains about the beginning of the process. "We made a cast, and then we 3-D scanned her hand."
A LOW-COST SOLUTION
Flood emphasizes that Shea's "robo-hand" is not like devices that medical professionals make for people who have lost limbs. Such devices can cost thousands of dollars, whereas a "robo-hand" can be printed for less than $50.
While being fitted in Flood's laboratory, Shea got to choose the color of her new hand. She went with bright pink. She now has a pink hand, a purple hand, and a purple and pink one, and can do things that she couldn't do before, like peel potatoes, pick up objects, and catch a ball.
Flood and his team have since built hands for six other local children. Indirectly, they have helped dozens more, by posting their designs online so that people around the world can print them out. Flood is also working on prosthetic legs for military veterans who were injured on the battlefield. "Without a covering, the [prosthetic] leg is kind of ugly and plain," Flood says. "Soldiers want something that will restore the shape of their leg and make it cooler to look at when they're playing sports."
As for Shea, the aspiring musician can now play her viola with help from an adaptive device that Flood's team created. "Nothing is ever going to hold her back," Shea's father, Steve, told a local reporter. "She is going to do what she wants to do, and we are going to be there to help her."