He's Got Game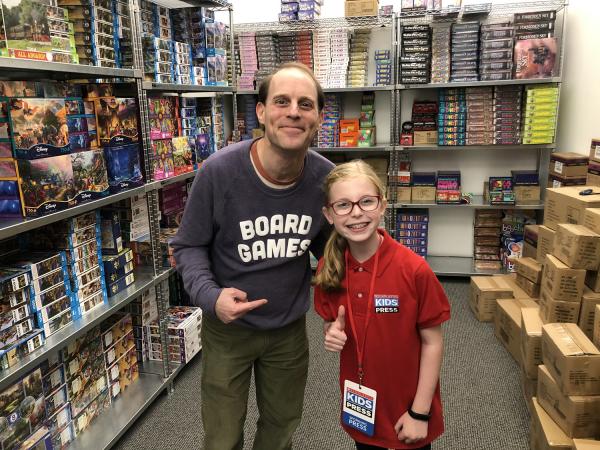 "A good game can really take the pressure off of any situation and bring families and friends together," says Jason Schneider, a product developer at international game company, GameWright.
I recently visited Schneider at the company's headquarters in Newton, Massachusetts. "Most people these days are missing out on the sacred art form of eye contact," he observed. "Our job is to help people socialize."  
Since its founding in 1994, GameWright has created more than 150 games, including "Rat-a-Tat Cat," "In a Pickle," and "Sushi Go!" The company's products have won more than 300 awards.
The games are not played with batteries or screens. "We spend so much time using devices," Schneider said. "If we can keep batteries, screens, or even plugs out of our games, then we've created an environment where kids and families want to spend time with each other."
KIDS CAN BE GAME DESIGNERS, TOO
Part of Schneider's job as product developer is to evaluate game ideas that people send in. "Sleeping Queens" was designed by six-year-old Miranda Evarts. "I believe that everybody has a solid concept of a good game out there," Schneider said.
Miranda submitted a game featuring a Rose Queen, a Rainbow Queen, and a Pancake Queen. Schneider was intrigued and had to hear more. "It's been one of our bestsellers ever since it came out," he said.
Schneider believes that games are much more important than people realize, and that they can make a positive difference. "We hope that the world is going to be a kinder and better place," he added. "The more you get to play with people, the kinder you are as a person."  
Photo courtesy of the author