Grace Lin Wants Books to Be Your Friends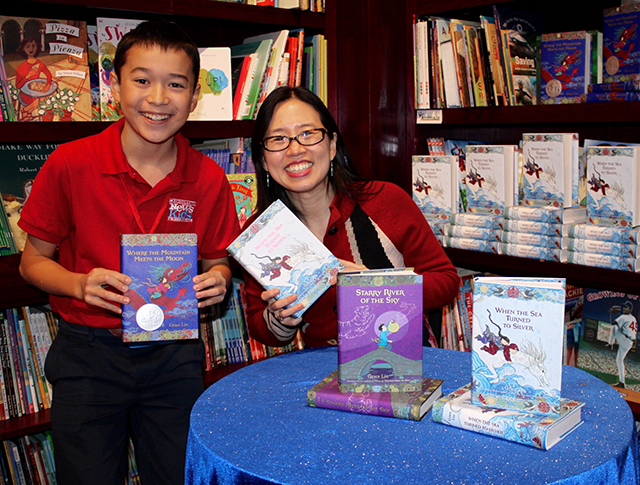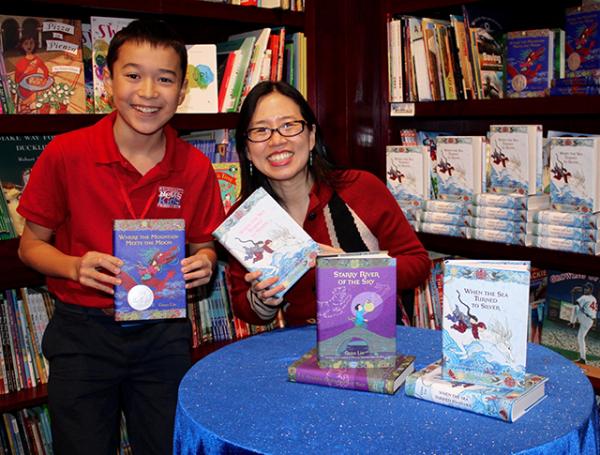 Born to Taiwanese immigrants, children's book author and illustrator Grace Lin grew up in New York State. Her most recent children's book, When the Sea Turned to Silver, was a New York Times bestseller and a 2016 National Book Award Finalist. Inspired by Chinese folklore, the novel is a companion to two of Lin's earlier titles: Starry River of the Sky and Where the Mountain Meets the Moon, which won the Newbery in 2010.   
Lin recently visited Blue Bunny Books in Dedham, Massachusetts, where she acted out a Chinese folktale and showed a group of enthusiastic young fans how to draw a dragon. Before the event, I sat down with Lin. Here are excerpts from our conversation:
When did you decide to become an author and illustrator?
In sixth grade, I got fourth place in a book contest and won $1000. After I won $1,000, I decided that I wanted to become a children's writer and illustrator forever.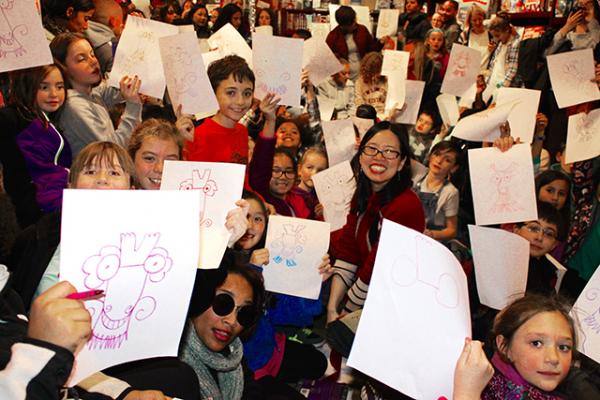 Your books are mostly about the Asian-American experience. Why do you think it's important to have diverse characters in children's books?
I write about the Asian-American experience mainly because those are the books I wish I had when I was younger. When I was growing up, and especially where I grew up in Upstate New York, we were the only minority family in the town. I always felt that I was alone. What added to that feeling of isolation was the fact that there were no books that had anybody who looked like me.
Books are a really important thing to help kids see themselves. If you can't find people like you on television and in magazines, at least you should be able to find them in books.
Your picture books feature Asian holidays. What is your favorite holiday?
My favorite holiday is the Moon Festival. Basically, it's like a Chinese Thanksgiving. You gather with your friends and family and think about the things that you're grateful for.
When the Sea Turned to Silver was a National Book Award Finalist. How did you feel going to the ceremony [last November]?
I went into the awards ceremony feeling a little bit sad because the presidential election didn't turn out the way that I wanted. I felt a little depressed, but going to the ceremony lifted my spirits. It was a lot of fun, if only because I could get dressed up in a fancy dress and walk the red carpet.
As a professional author, what have you learned about yourself?
I've learned that I'm a lot of tougher than I thought. I've also learned that I'm a lot more persistent than I ever realized. I never thought that I was a person who would stick to something—and stick and stick and stick.
You have to be persistent to be an author or you'll never get anything done. I never really thought I had thick skin, but you have to because not everybody is going to love your book. There's always going to be somebody who doesn't like it. I've learned that I can survive when someone doesn't like my book.
If you were having a literary dinner party, which five authors from the past and present would you invite?
E.B. White, who wrote Charlotte's Web; L.M. Montgomery, who wrote Anne of Green Gables; Natalie Babbitt, who wrote Tuck Everlasting; Louisa May Alcott, who wrote Little Women; and Maud Hart Lovelace, who wrote the Betsy-Tacy books.
What message do you have for your young readers?
A lot of people ask if I'm ever going to write adult books, and I always say no. The books I love the most are children's books. Those are the books that when I was younger, I felt like they were my friends. When I grew up and wanted to make books, I decided to make books that would be a friend to a young reader. My message to young readers and writers is that I hope you make lots of friends.
Are you working on a new project?
Yes, I'm working on a picture book called A Big Moon Cake For Little Star. It's different than my other picture books and is for a younger audience. I hope people like it.
What do you like to do in your spare time?
Before I had my daughter, I used to ride my bike a lot and bake cupcakes. Now that I have a four-year-old, I really spend most of my time chasing her around.
Photos courtesy of the author