Google Hosts Young Tech Enthusiasts
WATCH THE VIDEO
Click below to learn about Manat's visit to Google.
Imagine more than 150 students in a room full of the latest technology—everything from robots to virtual reality viewers to 3-D apps. That is Google I/O Youth. (I/O is short for Input/Output.) The event took place on May 16 at Google headquarters in Mountain View, California, before the start of Google I/O.
Google I/O is an annual conference for software developers from around the world. The developers come to Northern California for two or three days to interact with the newest generation of Google technologies.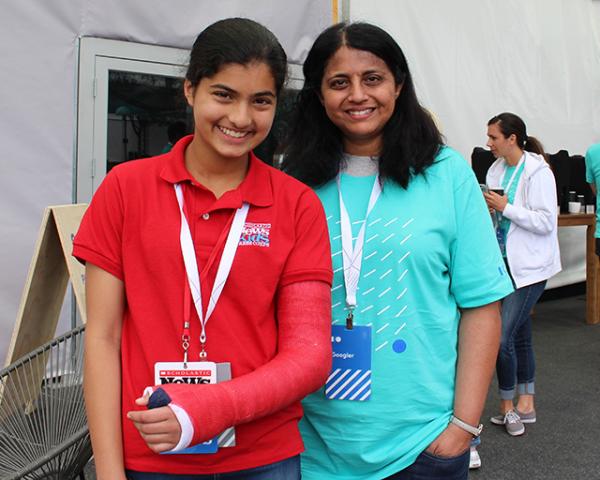 "DEVELOPERS OF TOMORROW"
Now in its fourth year, Google I/O Youth gives kids a chance to stretch their imaginations and explore the possibilities of the virtual world.
"We think kids are the developers of tomorrow, and we want to empower them," said Pavni Diwanji, Vice President of Engineering, Kids and Families at Google.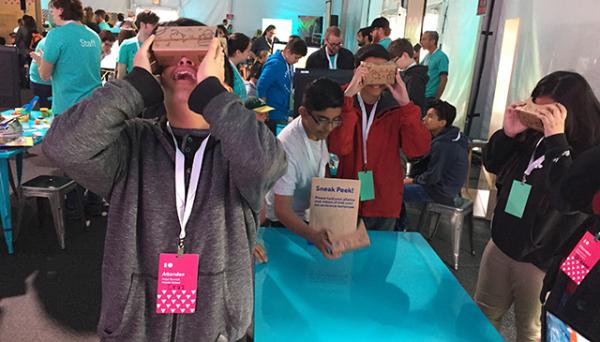 After a keynote address by Diwanji and Yoky Matsuoka, Chief Technology Officer of Nest, students rotated through five stations. They got to try technology-based activities ranging from coding to creative storytelling.
Using the Toontastic 3-D app, young participants used animation to create stories of their own. "Our goal is for kids to learn storytelling, which is a lifelong skill," said Thushan Amarasiriwardena, the creator of Toontastic.
"IN ANOTHER WORLD"
At the Science Journal station, students were given straws, cups, and popsicle sticks. Using the materials, the students built wind spinners and measured rotations per minute to see how fast the spinners could go.
Sandbox, a conglomeration of new technologies, was a crowd favorite. Kids experimented with mechanical toys, tried on virtual reality (VR) viewers, and created game controls using tinfoil and Play-Doh.
"The VR was just breathtaking, especially how good it looks in there," said Cruz G, a seventh grader from Peter Burnett Middle School in San Jose. "I felt like I was in another world."
"I CAN BE THE ONE WHO BUILDS ROBOTS"
Most of the young participants had never visited the campus of a hi-tech company. The experience inspired some students to think about the future.
"It gives me a visual idea of what I can do when I grow older," said Ava Tellez, a sixth grader at James Denman Middle School in San Francisco. "I can be the one who builds robots and teaches kids how to code in Scratch." (Scratch is a free programming language and online community.)
Google I/O Youth introduced kids to amazing technology tools. It also offered them a chance to see role models in action and dream big.