Giving Back on MLK Day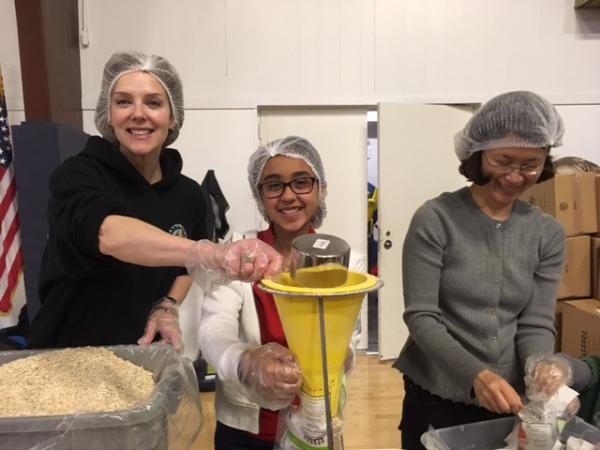 What word or phrase comes to mind when you think of Martin Luther King Jr., the civil rights leader whose birthday Americans honor each January? 
"Freedom," "love," and "liberty," said volunteers at the Martin Luther King Jr. Day of Service food packing event in Englewood, New Jersey, on January 16.
"This is where we give back to the community," said Deborah Adkins from Teaneck. "It is a day on, not a day off." Adkins is one of many members of the Alpha Kappa Alpha Sorority, Iota Epsilon Omega Chapter, who participated in the event, which was organized by Maya Gunaseharan, Director of Student Activities at Dwight Englewood School, and Ted Swartwood, Regional Manager for Outreach Inc., a nonprofit organization.
"We provide ingredients to any organization that wants to package meals for the hungry," Swartwood explained. "Then we work with local food pantries. We distribute to them as needed, so they can help the hungry."
GIVING BACK
Children, teens, and adults packaged food on assembly lines, measuring and weighing out dehydrated soy, oats, and apples for breakfast packs, and cheese, noodles, and protein for mac and cheese.
"I think it's important to do service," said Nya Marshall, 14, of Alpine. "Dr. Martin Luther King Jr. gave back to the United States. Now it's our turn to give back to people who don't necessarily have the things that we do."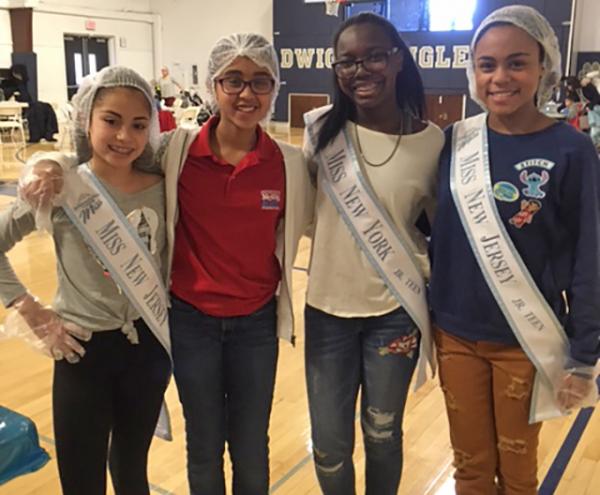 This is the third year that Gunaseharan has organized the food packing event. More than 150 volunteers packaged 33,912 meals in the span of four hours. "This is a really great community-building activity," Gunesharan said. "People of all ages, with different experiences and backgrounds, come together to respond to people in need. It's a great way to honor the legacy of Dr. Martin Luther King Jr."
According to the Community Food Bank of New Jersey, more that one million people in the state are food insecure. The event at Dwight Englewood School was one of many held across the state and country on MLK Day to put food on the table for needy families.
Photos courtesy of the author