The Girl Who Loved Colors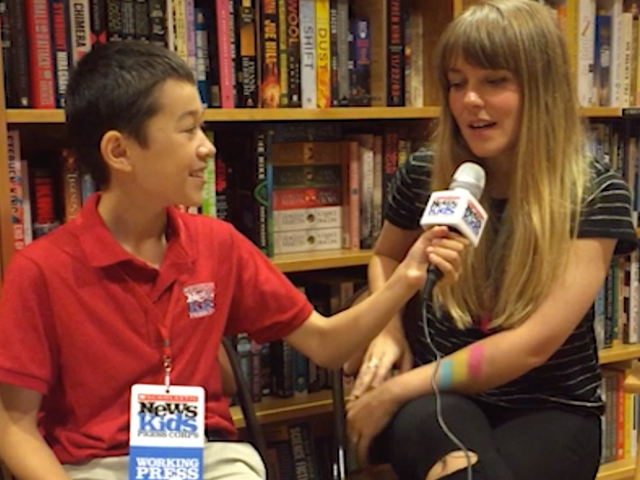 WATCH THE VIDEO
Click below to see clips from Maxwell's interview with Julia Denos.
Inspired by her love of words and art, Julia Denos wrote and illustrated Swatch: The Girl Who Loved Colors, a picture book published in 2016 by Balzer + Bray. The story is about a little girl named Swatch who loves bold colors. She tries to tame them, but they are meant to run wild and free. Like her character, Denos loves colors. "I love how they mix together," she said.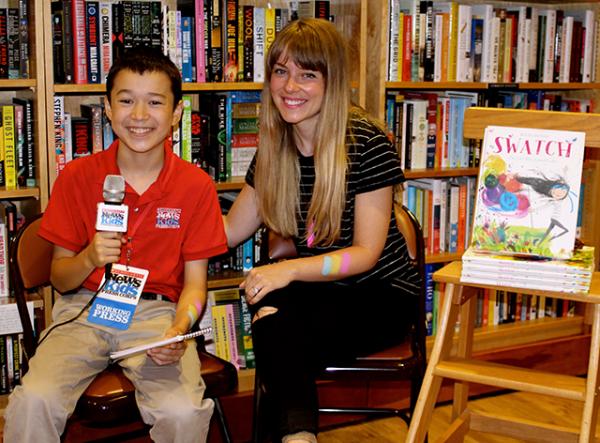 Denos, who grew up in Connecticut, lives in Quincy, Massachusetts. She has illustrated numerous book covers, some middle grade chapter books, and four other picture books: I Had A Favorite Dress by Boni Ashburn, Just Being Audrey by Margaret Cardillo, Grandma's Gloves by Cecil Castellucci, and Dotty by Erica S. Perl.
I had the opportunity to interview Denos at Newtonville Books in Newton, Massachusetts. She talked about art and shared some fun tidbits about herself. Here are excerpts from our conversation.
What inspired you to write Swatch?
I really have always loved colors since I was very young. I thought it would be cool to have a book where there is a strong, fierce girl who is also hanging out with some wild colors.
When you were little, what did you want to be when you grew up?
I actually wanted to be an astronaut.
When did you decide to become an artist?
When I was in second grade, there were some really awesome artists and authors who came to my school. When I saw them making the books that I loved so much, I thought that would be a really cool job.
How would you describe your artistic style?
I think it's a big mishmash of everything. I like to use a lot of mixed media, which means that I use paint and crayons and pencils and all different kinds of paint brushes and splatter paint. So I think it would be called the "Julia mishmash."
Who are some of your favorite authors and illustrators?
Ludwig Bemelmans, who wrote and illustrated the Madeline picture books. I also love Barbara Cooney, the author and illustrator of Miss Rumphius.
What is something most people would be surprised to find out about you?
I can Irish step dance. Sometimes, when I hear a good fiddle, I'll just start breaking into my routine.
What project are you working on now?
I'm illustrating a book called Just Being Jackie by Margaret Cardillo. It's about the life of [former First Lady] Jackie Kennedy, from the time she grew up to the time she became an editor.