Former Teacher Wins a Seat in Congress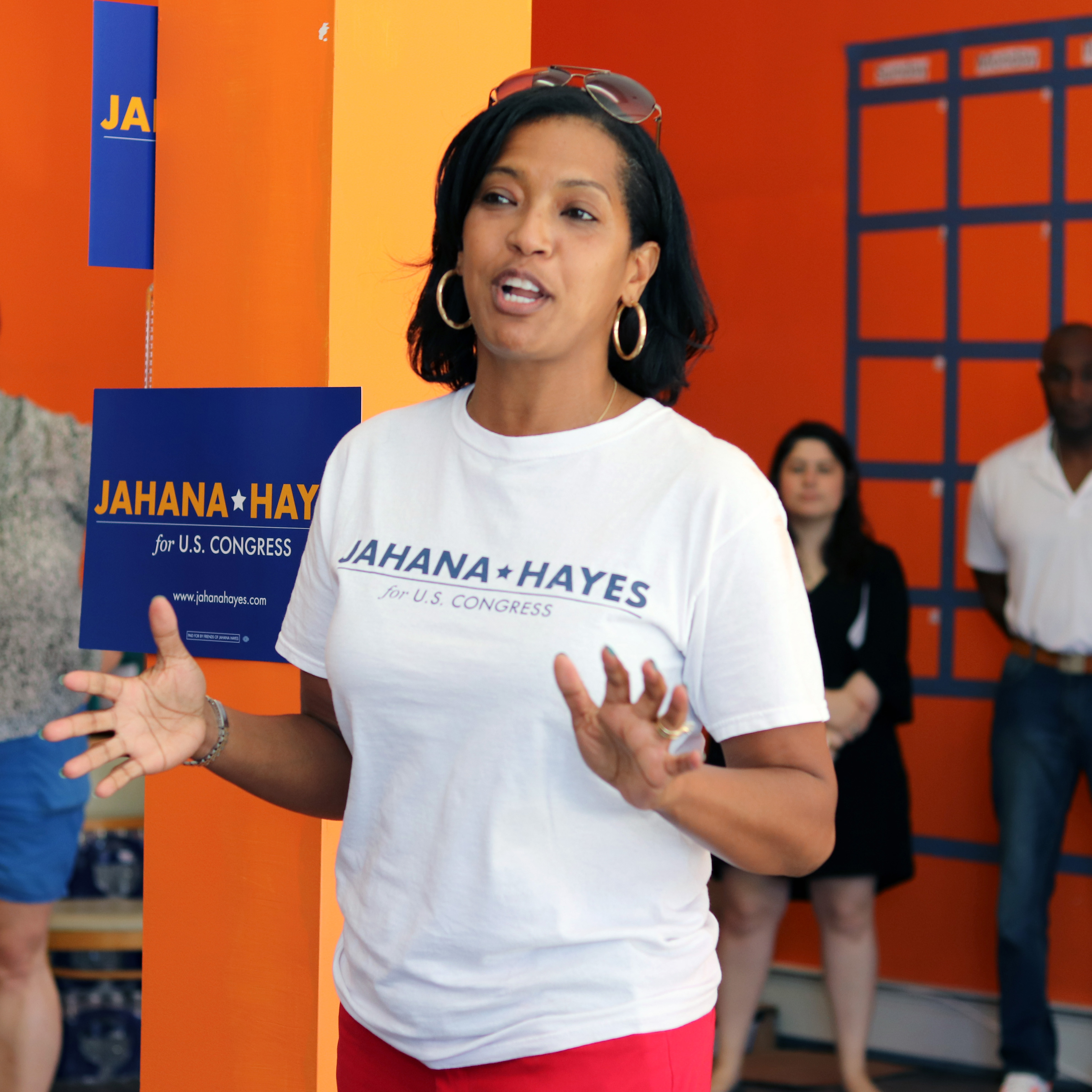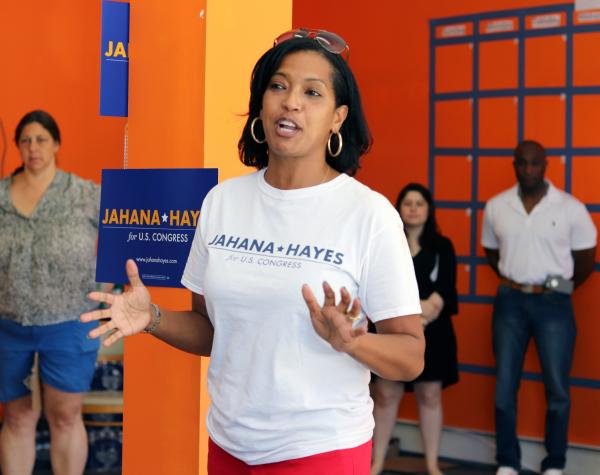 On November 6, Jahana Hayes made history. She became the first African American woman elected to represent Connecticut in the United States Congress.
Hayes grew up in a housing project in Waterbury, Connecticut. Her mother struggled with drug addiction, leaving her to be raised by her grandmother.
At age 17, Hayes became pregnant. Despite many obstacles, she went on to earn a Master's Degree in education and serve as a high school history teacher in the town where she grew up.
In 2016, Hayes was honored as the National Teacher of the Year. President Barack Obama presented her with the award at the White House. "Sometimes, the less you have," Obama said, "the more valuable it is to see yourself giving, because that shows you . . . the influence you can bring to bear on the world."
Hayes, who is married with four children, began to think about how she could use her influence more widely. Encouraged by the support she received from former students and members of her community, she launched a successful run for Congress.
On the night of the election, Hayes reflected on her campaign. "When I started this, I knew that I couldn't do it alone," she told an enthusiastic crowd. "You know what I believe in. But the votes show that you also believe we are so much better together."
LOOKING TOWARDS THE FUTURE
Since Election Day, Hayes has had a hectic schedule, meeting with constituents and new colleagues. One recent morning, however, I was able to step out of science class at my middle school in Brooklyn, New York, to talk with her. I asked Hayes about her life, her teaching career, and her goals as a U.S. Representative. Here are highlights from our conversation, which has been lightly edited for brevity and clarity:
What inspired you the most during your teaching career?
I believe in the power of education. I had so many great people who helped me in so many ways, and I saw how much that benefitted me. I knew I had a responsibility to do the same for others.
People always think that it's the giants in the field who inspire you. But for me, it was the small acts—when I saw kids see some measure of success, or parents feel excited about helping out in my class, or the custodian coming in to talk with kids about where he grew up. 
Why did you decide to run for Congress?
As a teacher, I told my students that they have a responsibility to help in their communities, so we did a lot of community service. When I was named National Teacher of the Year, I realized that you're always waiting to learn more. But you never stop learning. It's never the perfect time. Travelling around the country and the world, and talking to so many people and learning so much, helped me to see that I can do something valuable here.
How do you think the many women elected to Congress will change the conversations in Washington, D.C.?
The fact that so many women were elected in 2018 will really force people to prioritize what makes it to the floor [of the House] and the things that we're discussing. It will also give a perspective that has been deeply lacking. When we're talking about issues that affect women, families, and communities, there is some information that has not been present. I think that these women will bring that information forward in a very different way.
Many of the women are being elected for the first time, so they're still intimately connected to their communities and the struggles that people are having and the conversations that are occurring. This is an opportunity to have more authentic discussions about the issues affecting women.
What are your top priorities as a new Representative?
Education will always be at the core of everything I do. I think that we can solve our problems through educating people, but not just in schools, colleges, and post-secondary education. We have to start looking at career training and retraining, and teaching people how to advocate for themselves.
We need to teach people the power of the vote and what they themselves can do in their communities. I also know from the campaign that affordable health care is a huge concern for people from every background and demographic. We have to adapt our healthcare system so that more people are insured.
I'm passionate about keeping our schools safe and working on comprehensive gun reform legislation. If I only had one term, I would want to be the author of a bill that keeps schools and communities safe and allows kids to go to school and learn and not have to worry about being threatened or traumatized.
I'd also like to see Congress make sure that everyone has access to the opportunities out there. We have to make sure that we're meeting the needs of all people, not just the top 10 percent.
What would you say to young people interested in politics?
You matter. There is a place here for you. On my campaign, I had so many students and young people, and even people not old enough to vote. They did something meaningful, and it worked. They saw that when you work hard, it pays off. I want them to continue to work and not feel like their voice doesn't matter or what they bring to the table is not important. I want kids to know that I can't do this without you, and I look forward to engaging you and opening doors so that you can come through.
Who are your political heroes?
John F. Kennedy was a person who believed in service. President Barack Obama has tremendous empathy and humanity and civility, which is something I admire.
You really have to measure people on the time period they're in. We have had some elected officials who served in some very tumultuous times. History doesn't always get that right, but they made the best decision they could with what they had at that time.
I admire anyone who is willing to fight for people who don't have a voice. It is not always politicians. Malala Yousafzai shows so much strength and determination, and a steadfast hope in what is right. People like her inspire me.
Photo courtesy of Jahana Hayes