The First Presidential Debate of 2016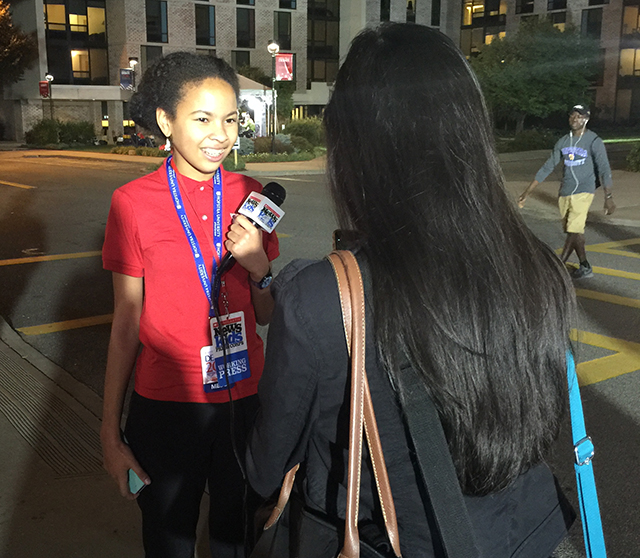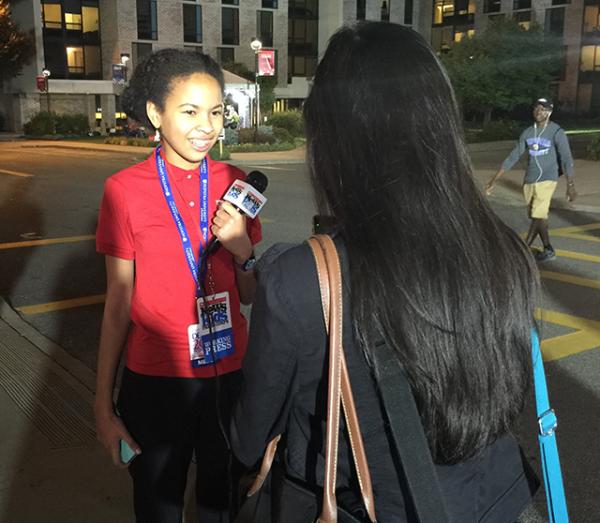 At the first presidential debate between Republican Donald Trump and Democrat Hillary Clinton on September 26, I had the opportunity to interview students at Hofstra University in Hempstead, New York, where the debate took place.
Early in the evening, the campus was abuzz with excitement and activity. In the student center, young voters and reporters talked, checked their phones, and tapped on laptops. I saw a giant social media screen, trays of snacks, and an area where students could decorate red, white, and blue Mason jars to take home.
Since Trump, who was once a reality TV star, has made several inflammatory comments during the campaign, many students weren't sure what to expect. "He's definitely one of the most interesting candidates we've ever had, so it's a unique debate," said Tekla Simon, 19.
With the election just weeks away, many of the students, who are voting in their first election, said that they were still undecided. "I'm on the fence a little bit, but I think that the debate tonight is definitely going to push me one way or another," said Haley Kulesca, 19.
At 9 o'clock, everyone got quiet. The debate was about to begin. The first thing I noticed when the candidates walked out on stage was that Clinton wore a red pantsuit (the color of the Republican Party), while Trump had on a blue tie (blue is the color of the Democratic Party).
Moderator and NBC Nightly News anchor Lester Holt asked the candidates questions on issues that ranged from national security to the racial divide in America.
The debate was pretty feisty. There were many cheers, and some oohs and ahhs from the crowd. As the night wore on, it was clear that Clinton had a lot of support among the students.
WHO WON?
Who did the students think won the debate? "Hillary!" said Emily Gibbs, 18, emphatically. "Trump got very loud and attacked, kind of like a child does when they feel attacked."
Emily and her friend Victoria Jenkins were covered in buttons that represented various campaign issues, including climate change. "Donald Trump definitely surprised me with his composure and his self control, but Hillary definitely won," said Victoria, also 18.
Chris Burke was celebrating his 18th birthday on debate day. He felt that Donald Trump won because he "was very sophisticated when it came to economic and foreign issues."
Chris had been undecided until after the debate. Trump showed him that "he has what it takes." Chris's friend Connor Schwartz thought that it was "honestly, too close to call." 
It was truly a night to remember, and I had some great stories to share the next day with my classmates. We are already preparing for our opportunity to take part in the election process as voters in just a few years.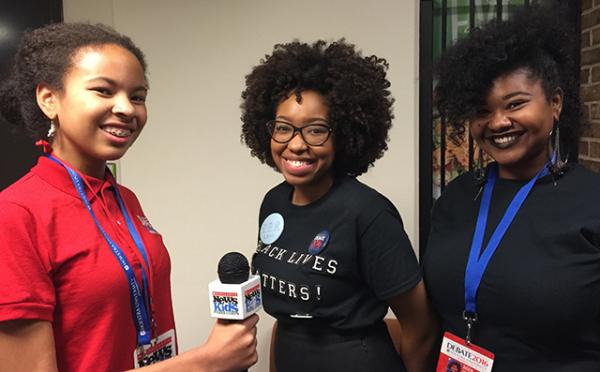 Photos courtesy of the author