The ESPYs Honor Athletes and Heroes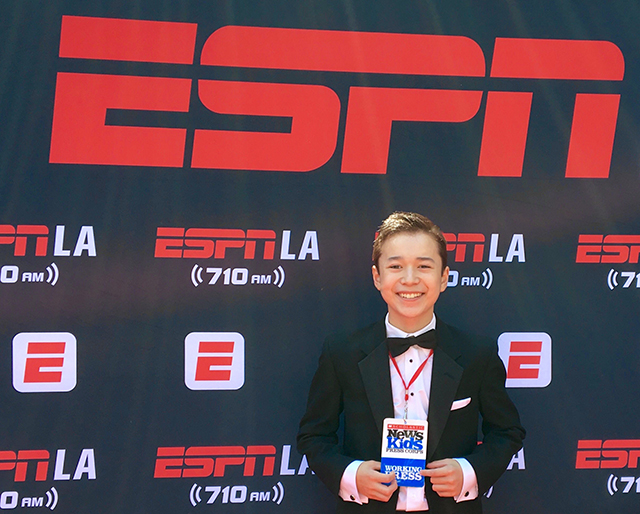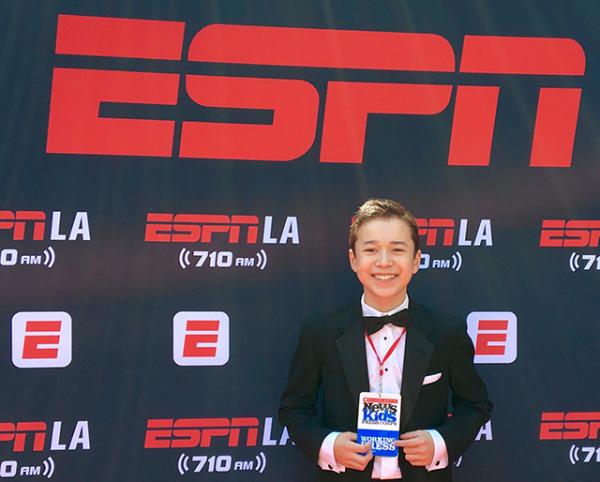 On July 12, two-time Super Bowl champion Peyton Manning hosted the ESPY Awards at the Microsoft Theater in Los Angeles, California. The 25th annual event, which honors the best athletic performances of the year, was broadcast to millions of people at home.
After a nominating committee selects the top athletes in each category, fans vote online to decide the respective winners. National Basketball Association (NBA) superstar Russell Westbrook, a point guard for the Oklahoma City Thunder, was named Best Male Athlete. Olympic gold medalist Simone Biles was voted Best Female Athlete for her stellar performance at the 2016 Summer Games.
Biles also won the award for Best Female Olympic Athlete. Swimmer Michael Phelps, the most decorated Olympian in history, was named Best Male Olympic Athlete.
Kevin Durant's outstanding play in the NBA Finals earned him the trophy for Best Championship Performance. His team, the Golden State Warriors, was voted Best Team.
CELEBRATING SPORTS
Before the ceremony, I had a chance to talk with ESPN executives and reporters. I asked them what they liked most about the ESPYs. "The unexpected is what I'm looking forward to," said ESPN sportscaster Sean McDonough. "There's always some big surprise. It's always a very emotional night."
John Skipper, president of ESPN, explained the purpose of the ESPYs. "What we're looking to do is to celebrate the year in sports, but also celebrate people who've done big things," he said. "It's just to sort of take inspiration from what sports can mean to people—from athletes and teams to people who do good things."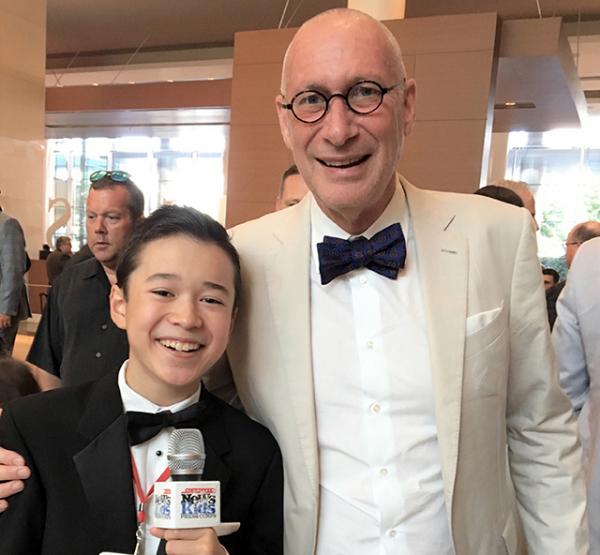 Former First Lady Michelle Obama received a standing ovation when she took the stage to present the Arthur Ashe Courage Award. She honored the late Eunice Kennedy Shriver, who founded the Special Olympics in the 1960s.
The Special Olympics is the world's largest sports organization. It sponsors athletic competitions for children and adults with intellectual disabilities.
Shriver's son, Timothy Shriver, now chairs the organization. He accepted the award on behalf of his mother. "This movement that she created almost 50 years ago is not done yet," he said. "We've got a lot of work to do for equality."
HONORING HEROES
Not just professional athletes were honored. World Wrestling Entertainment (WWE) star John Cena announced the recipient of the Jimmy V Perseverance Award. It went to New Orleans Saints superfan Jarrius "Little JJ" Robertson. The 15-year-old, who suffers from a chronic disease called biliary atresia, has undergone two liver transplants. Despite his health struggles, Jarrius has inspired millions of people with his upbeat attitude, resilience, and strength. He and his family work tirelessly to promote organ donor awareness.
Former Daily Show host Jon Stewart told the story of real-life hero Air Force Master Sergeant Israel Del Toro, who won the Pat Tillman Service Award. Del Toro was injured in an explosion while serving in Afghanistan. He suffered burns over 80 percent of his body and was given only a 15 percent chance of survival.
But Del Toro beat the odds. He now participates in adaptive sports and has set world records in the shotput, discus, and javelin. After his injury, he re-enlisted in the Air Force and still serves as a training instructor.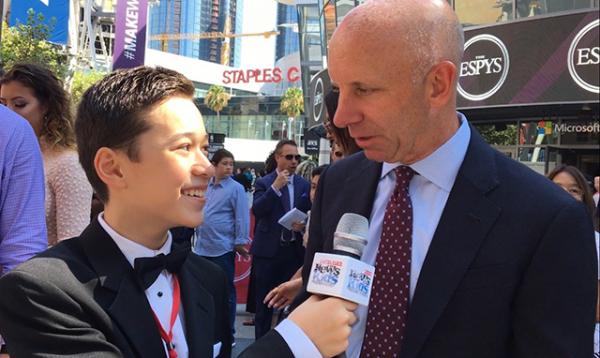 Kevin Merida, editor-in-chief of ESPN's sports blog, The Undefeated, summed up the spirit of the evening. "I don't care how old you are, your race or ethnicity or gender or religion," he said. "You can gather in the sporting arena and root for a team and be together."
Photos courtesy of the author