Escaping the Flames in Paradise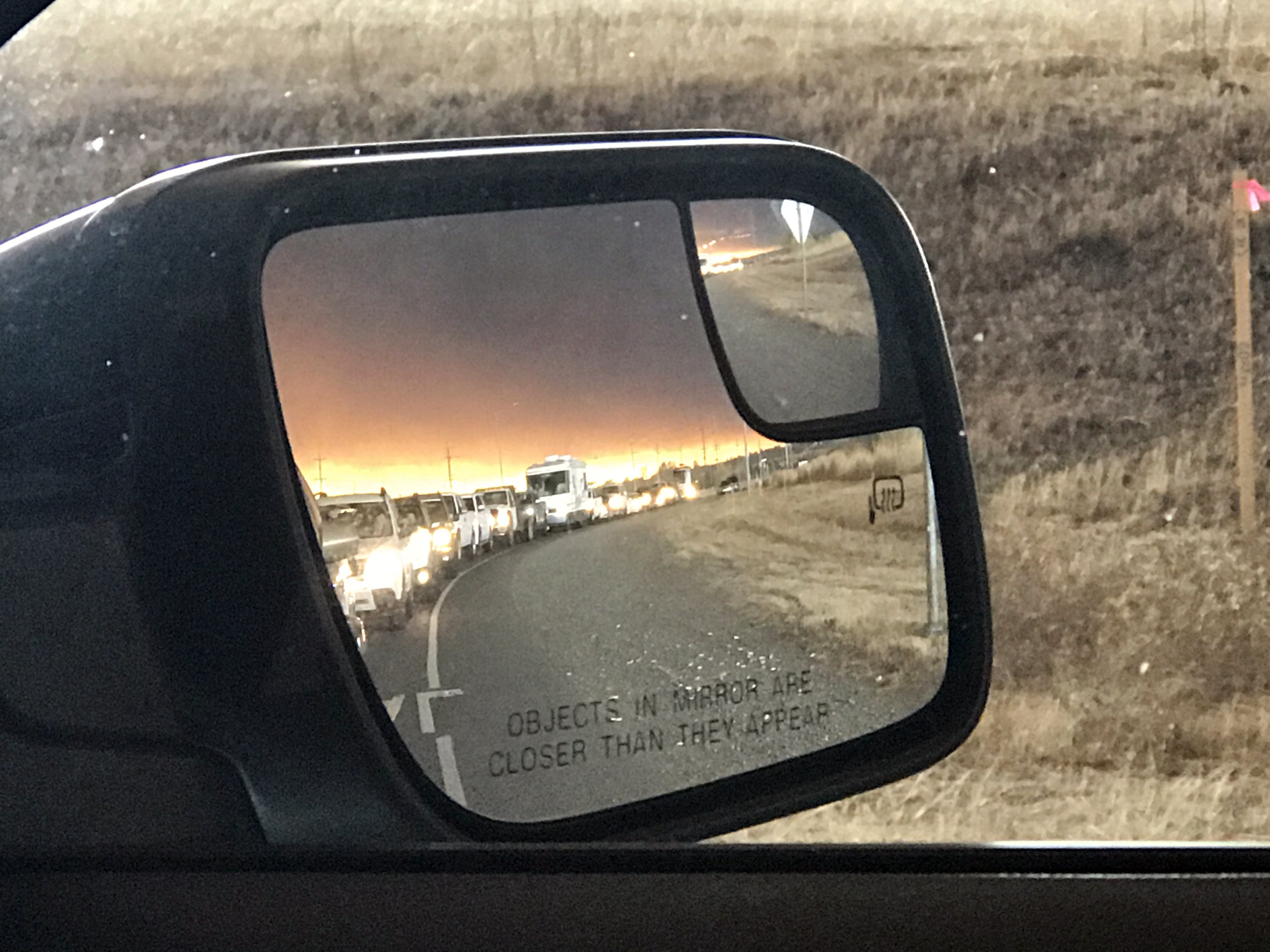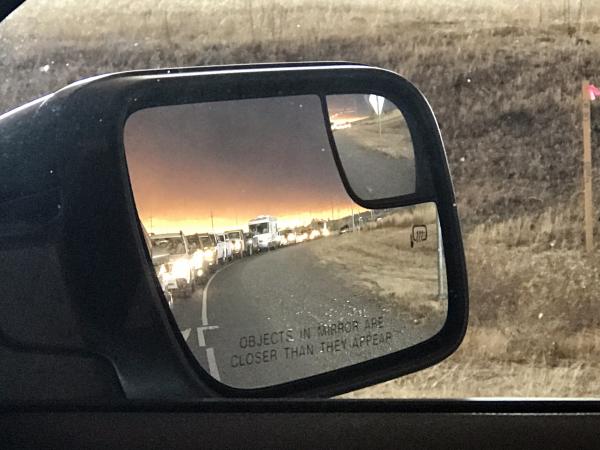 On the morning of November 8, 2018, a devastating fire hit Paradise, California. Because the blaze started on Camp Creek Road, it became known as the Camp Fire. At least 85 people were killed and nearly 14,000 homes destroyed. It was the most destructive fire in California's history.
By the time the fire was contained 17 days later, it had ravaged 153,336 acres and caused an estimated $7 billion in damages. "Terrain played a role," said Scott Kenney, a spokesman for the California Department of Forestry and Protection (Cal Fire). But fierce winds were the driving force.
"The rate of fire growth was comparable to burning 50 football fields a minute," Kenney added. The winds caused the fire to jump canyons, roads, and even emergency firebreaks that had been dug to try to stop the blaze from spreading.
According to Cal Fire, 80 percent of Paradise was destroyed. Investigations are still underway, but Pacific Gas & Electric (PG&E) has said that its equipment probably ignited the fire. The utility has filed for bankruptcy.
THE FUTURE OF PARADISE
Like many rural areas of California, Paradise is still vulnerable to fires. Dry air gets pushed from the East over the Sierra Nevadas and whips down to the bottom of the mountains, where Paradise is located.
"This is not a one-time occurrence," said Kenney. "The potential [for another wildfire] will always exist. That is a reality living in rural California. There are many parts of California where fires start and burn within the burn scar of a previous fire, sometimes dating back many years."
The three main factors for a fire to start and spread, Kenney added, are fuel, weather, and topography. "As the community rebuilds and grows," he said, "so will the surrounding vegetation."
Still, many families want to return to Paradise. Community leaders are hoping to rebuild a safer town that is less vulnerable to catastrophic damage. It's not if a fire strikes again, it's when.
FOUR FAMILIES
I recently contacted four families to learn about their experiences during and after the fire. Here are their accounts, which have been edited for brevity and clarity.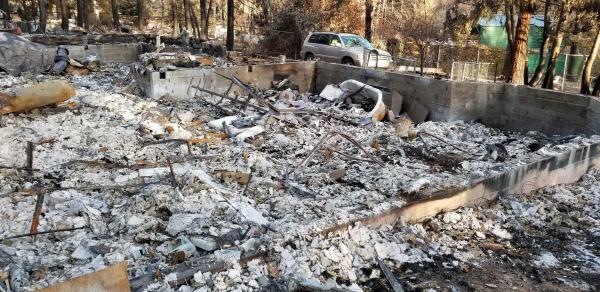 THE NAIRZ FAMILY

—Written by Jodi Nairz
That morning, I was at home with my two children. My husband called from work to tell us that there was a fire nearby and to pack a few things, but not to be too worried.
At 8:45, we received the mandatory evacuation notice, so my two children and I hurriedly loaded up a few belongings, our dog and our cat, and left. The sky was dark, and the wind was blowing so strong that we knew this was not an ordinary evacuation.
It took us seven hours to drive out of town. On a normal day, it would take 30 minutes. At times, there was fire on both sides of the road, and we would be stopped in traffic just watching the fire.
My husband tried to come home to help us, but by the time he got near, the streets were blocked off by police, and he had to turn around.
We were on two different roads leading out of town and talked by phone all day, comparing stories. Both of the streets we were on were surrounded by fire.
The scariest part of the day for me was when we were stopped on a small street for about an hour. It was noon, but the sky was so dark that it seemed like midnight.
We could see an orange glow to the right of us, over some trees in the distance. After a while, people started to get out of their cars and talk to other drivers, trying to decide what to do.
My daughter noticed that the orange glow was getting brighter, and we knew that the fire was getting closer. We got our dog on his leash and put our cat into a pillowcase and started to walk. We were so scared. Thankfully, the cars started moving right then, and we were able to drive out. We drove through smoke so thick that I couldn't see the road. My daughter had to keep talking to me while I drove so that I wouldn't panic.
When we returned to our house, it was completely gone. Our trampoline stand is still there, but the black part we jumped on melted away. My son's toy shovel and tools are still in the yard, but our fence is gone. We have decided not to sift through the rubble. Still, we'd like to find my wedding ring.
I homeschool my children. Right now, we're living in a trailer. We homeschool in our trailer or at the laundromat on days that we need to do laundry. My husband owns a business in Chico [about 15 miles away], so he can still work. I work as a homeschool teacher, so I'm able to work and meet with other homeschool families.
We're planning to move back to Paradise and rebuild our home. But we have to wait for the cleanup to take place. It could be up to a year.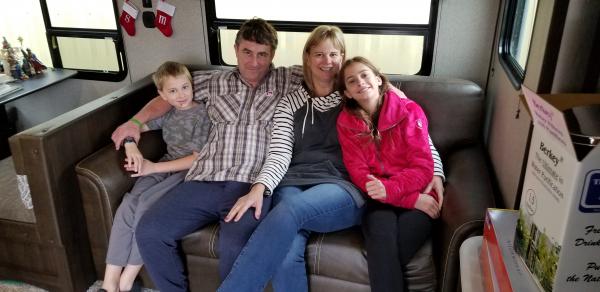 After the fire, so many people helped us. My cousin in Sparks, Nevada, let my family live with him for the first three weeks. Since the smoke was so bad in Chico, we were thankful to be where there were blue skies. And it was a lot of fun to live with my cousin.
Several churches adopted us and gave us Christmas presents and gift cards. Thanks to a California Highway Patrol toy drive in Chico, children affected by the fire got new toys. Their goal was to collect 2,400 toys, and they ended up with 14,000.
Sierra Nevada Brewery in Chico offered free dinners to people affected by the fire, and we were able to have dinner with two other couples and their children a few days after we were evacuated. It was wonderful to have a nice place to eat and meet with friends we hadn't seen since the fire. These are our closest friends, and my children's best friends. A company donated a beautiful nativity set to us that I will treasure for years. We have so many more stories like these.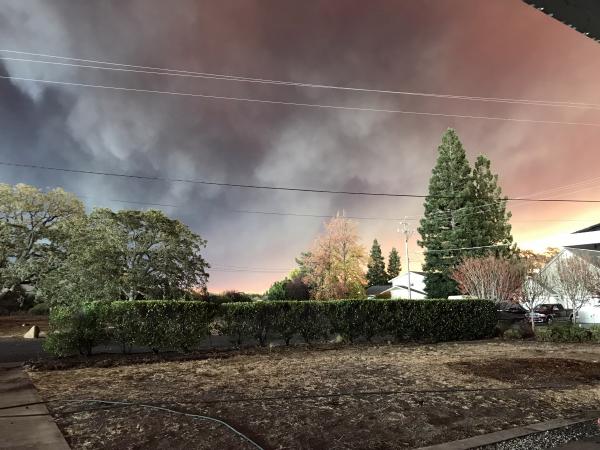 THE SOUTHER FAMILY

—Written by Christina Souther                           
Our home is in Chico, but the fire reached our neighborhood. Out of the 30 homes in my neighborhood, 10 burned. At about 10 a.m. on November 8, many of my friends and family evacuated to my house from Paradise.
By 1:30 that afternoon, we realized that the fire was moving in our direction, so we decided to evacuate. At 2:30, I packed up our car with our dog and cat, and headed to a friend's home that was farther away from the fire. The only road out of our neighborhood was packed with cars, all trying to evacuate from Paradise. At one point, the traffic control had us drive across a bike trail to another road because the roads were so backed up.
The scariest part was pulling away from our home, not knowing if I would ever see it again. Thankfully, it survived. The back and insulation were damaged, but the house is still standing. We were able to move back in about a month after the fire.
My husband is a UPS driver, and his route was not directly affected by the fire, so he went right back to work. I'm a realtor and mostly worked in Paradise, so now I'm helping people buy and sell homes in areas that are new to me.
We plan to stay in Chico and help our friends who are going to rebuild. Our neighborhood is not the same with many of the homes gone, but most of our neighbors plan to rebuild.
The surrounding communities were incredibly helpful and generous after the fire. Everyone was so kind and caring and helpful in any way that they could be. Several friends and family members shared their homes with us after we were evacuated. That was so helpful because we would have had no other place to stay. And our church set up a donation center.
If anyone finds him or herself in a situation like ours, which I hope no one does, I would offer the advice to look for the positive in everything around you. This fire has been so hard and sad and devastating, but there has been so much good from people around us—people helping other people, the kindness of strangers, and the first responders who saved so many lives, and even saved our home. It's OK to be sad and even scared, but it really helps to look for the good around you.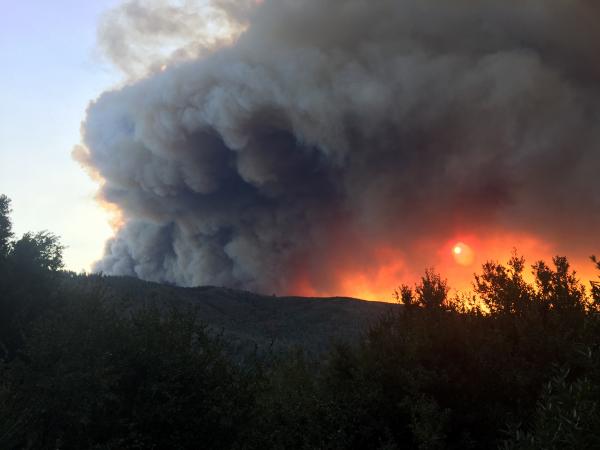 THE WENTLAND FAMILY

—Written by Deanna Wentland
We—our two boys, 14-year-old Dutch and 12-year-old Dominic, and I— had about 15 minutes to grab what we needed and anything else that would fit in our car. There were flames at the end of our street when we drove away. It took us about four hours to get out of town. We were fortunate that we didn't get trapped.
It took us about two hours to travel two miles. That was intense because we alternated between the smoke making it as black as midnight, or a bright orange glow. The fire created a swirling wind around us.
A little further down the road, we thought we were out of danger. The smoke had been clearing, and we were almost out of town. But when we came around a corner, there were flames on either side of the road, and a tree was dropping burning debris on us as we drove under it.
While we were driving, I didn't know if my husband, Luke, was alive. He was making sure that his grandmother got out, and his last text said that he had been driving through flames in gridlock. We didn't hear from him for almost four hours because cell service was down. He had to drive through flames several times, was turned around, was stuck in traffic, and was trapped for almost two hours, surrounded by fire, until a way was opened that allowed him to escape.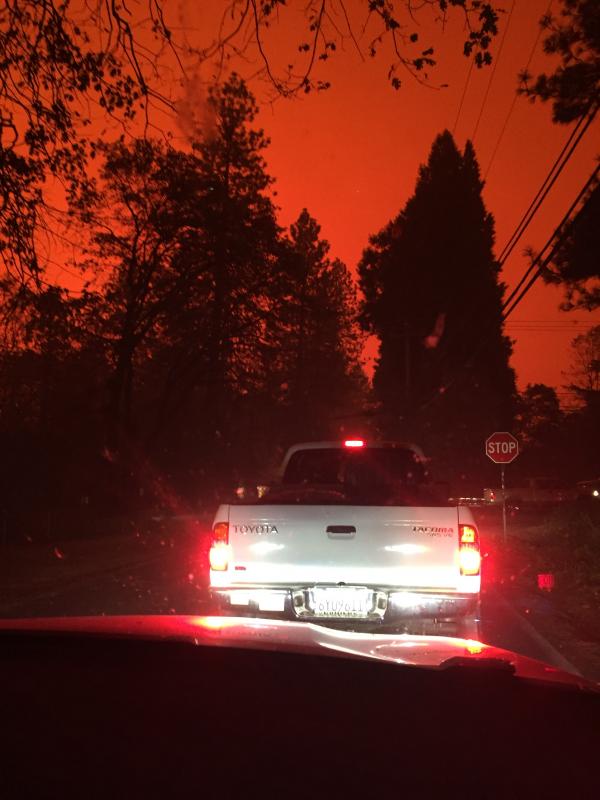 When we were finally able to go back to see our property, we pulled out a few items, but there's really nothing left. I thought digging through the ashes would be heartbreaking, but I found it quite fascinating. It was really neat to see what had survived.
Fortunately, we are homeschooling our boys and grabbed their curriculum during our escape. My husband is self-employed and was able to get his work things. He is an engineer and is able to work remotely. My job is to take care of our family and teach our boys.
After meeting in Chico the evening of the fire, we relocated to Redding. The people in Redding were very supportive and helpful, especially since they had experienced the Carr Fire a few months earlier. We got meals, blankets, shoes, clothes, gift cards, and many other items.
My parents, my husband's parents, and my husband's grandmother lost everything, too. So did many of our friends, along with our church family. We have been supportive of each other, cried together, shared stories, laughed together, and just tried to help and encourage one another. It helps just to be together.
My advice is to trust God, try to find the humor, allow yourself to grieve, and accept the help that others want to give.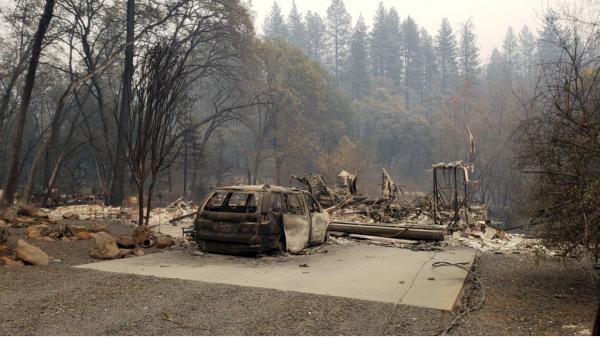 THE FISHELL FAMILY

—Written by Amy Fishell
I had just dropped our eldest son off at school and was on our way to drop my other son at preschool. When I pulled into his school, the field between the school and our house was on fire. I realized then that Paradise was on fire. We turned around and drove home quickly. We picked up our dog, and I grabbed my wallet off the counter. My little boy got a toy from his room. The fire was already coming up our backyard when we pulled out. It took almost three-and-a-half hours to get out of Paradise because there was so much traffic.
The scariest part was trying to get to our oldest son, who attended second grade across town. My husband, who was at work when the fire started, was able to drive back up from Chico and get our son. He also took two of our friends' children, whose parents were trapped at the time and didn't make it to safety until later that evening.
The fire came though our property so hot that we found only a handful of items. The car and metal tools in the garage melted into the concrete floor, and the foundation was cracked.
After the fire, our older son's school restarted in Chico. Our preschooler isn't attending a new preschool. He stays home with me for now. My husband's job is in Chico, so he still has a job. I'm in direct sales, and my inventory burned in the fire. It will take a while for me to rebuild my business.
We haven't decided yet if we will rebuild the house. We will definitely keep the land, but we may relocate.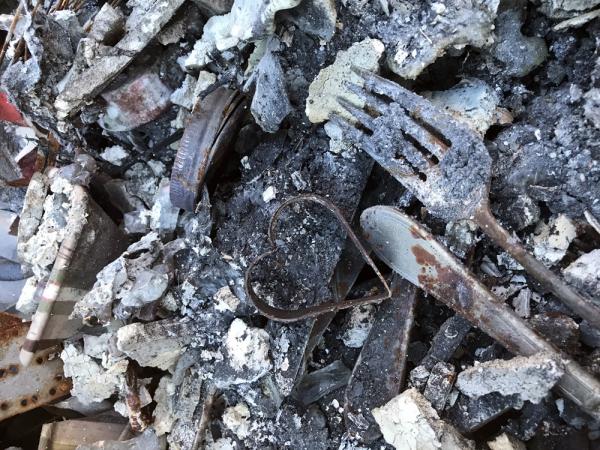 Lots of generous organizations have helped survivors throughout our community and surrounding areas. Our community is very scattered now. It's amazing when we can come together with friends to let the children play together. We're currently parking our trailer home at a friend's house. We feel very thankful for people's kindness—friends and strangers alike.
Having gone through such an experience, I realize that you can't make big decisions when you're still processing what happened. But you should know that this is not where your story ends. There will be beauty from the ashes.