Enjoying a Summer Reading Road Trip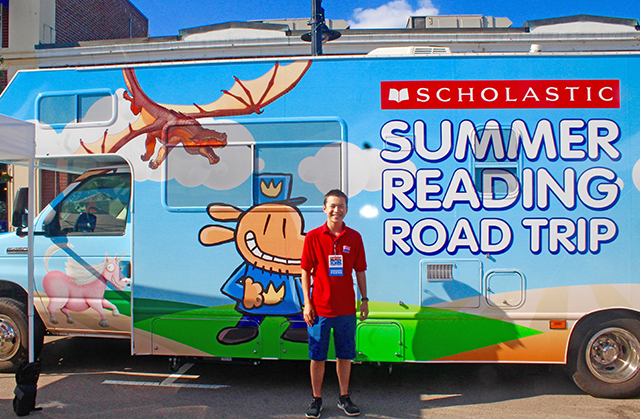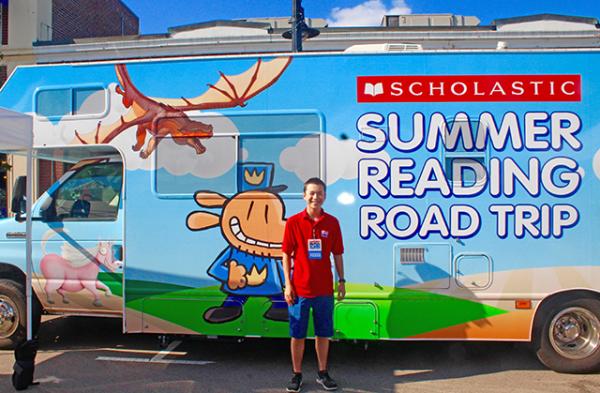 Beep! Beep! A Scholastic RV is traveling around the country on a summer reading road trip. This month, Scholastic is hosting 28 literary festivals in the United States. Joining the party are favorite authors, illustrators, and book characters, including Clifford the Big Red Dog, Geronimo Stilton, and Dog Man.
I visited Dedham, Massachusetts, on July 5, when the RV rolled into town. More than 300 people showed up for the festival, which included games, books, photo ops, and prizes.
At Blue Bunny Books, there were meet-and-greet opportunities with Troy Cummings (The Notebook of Doom, Can I Be Your Dog?), Gale Galligan (The Baby-sitters Club graphic novel series), Jarrett J. Krosoczka (The Jedi Academy, Lunch Lady), and Peter H. Reynolds (The Word Collector, Dot).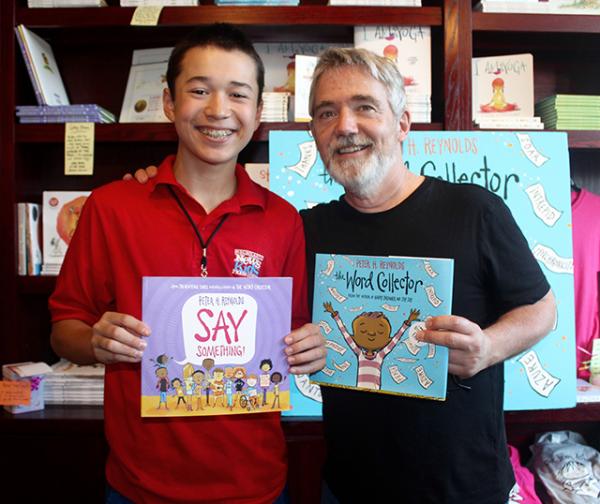 "It was an honor to host the event," said Reynolds, who owns Blue Bunny Books in Dedham. "It was amazing to feel the street festival energy buzzing in our downtown. Knowing that the excitement was all centered on books made us very, very happy."
Reynolds has written and illustrated picture books enjoyed by people of all ages. "There are some powerful messages [in my books] that are absorbed by readers, young and old," he said, "that very quickly can enlighten, inspire, and change lives."
Shay, 8, and Tara Modi, 10, were excited to meet Krosoczka. The author and illustrator visited their school in Westwood, Massachusetts, earlier this year.
"I like graphic novels because you kind of get to make your own movie," Tara said. "Our librarian makes funny voices for the characters."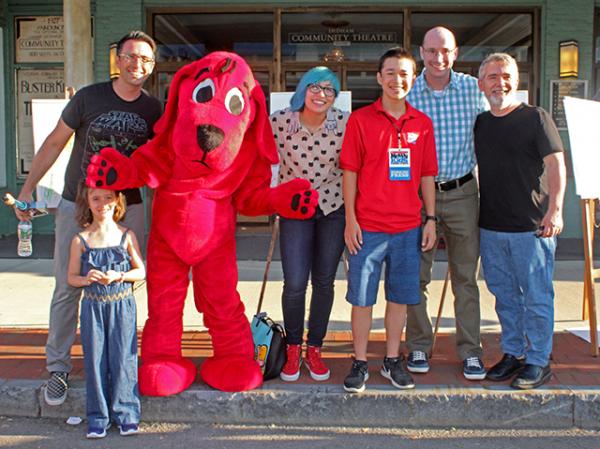 Charlie Allen, 7, traveled from New Jersey with his mother for the event. Charlie is a big fan of Cummings and his Notebook of Doom series. "I've read of all of his books, and I like to reread them," Charlie said.
The authors said that they enjoy meeting the kids who read their books. "I like to draw things for them," Cummings said, "and see the things they draw, too."
The finale of the party was a draw-off between the four artists. They set up their easels outside. Kids shouted the names of different animals—turtles, cats, and dogs—for the illustrators to draw. The crowd cheered as the illustrators demonstrated their creativity and skills.
"I love the festive atmosphere and connecting with kids," said Galligan, who adapts Baby-sitters Club books by Ann M. Martin into graphic novels. "I also wanted to meet Clifford the Big Red Dog, and I got to do that."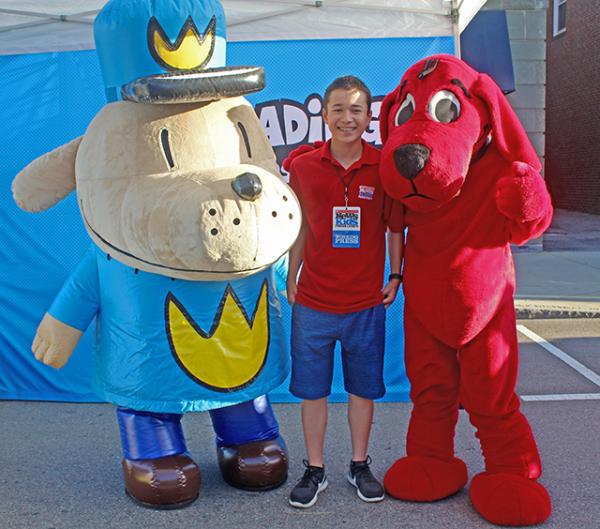 "TAKE NOTES"
I asked the authors their advice for aspiring writers and illustrators. Here's what they had to say:
Cummings: The first time you write or the first time you draw, it won't be perfect. Be really fast and sloppy, and just let the ideas go. That's kind of the fun part. You can go back later, and make it perfect.
Galligan: Enjoy life, and take notes. Bring a little book around to write in. Make sketches. Everything you're experiencing—the times you hang out with friends—is really valuable. You're going to be able to use it in your future work no matter how small it seems.
Krosoczka: Read, write, draw. Read, write, draw. Read, write, draw. And then repeat.
Reynolds: You'll know you're bound for success if creating stories becomes like breathing to you. If it brings you joy, you'll never stop. My advice: Keep going. The world needs your voice.
WANT TO MAKE A STOP ON THE ROAD TRIP?
Find out if the Summer Reading Road Trip is headed your way.
Photos courtesy of the author