Down to the Wire in New Hampshire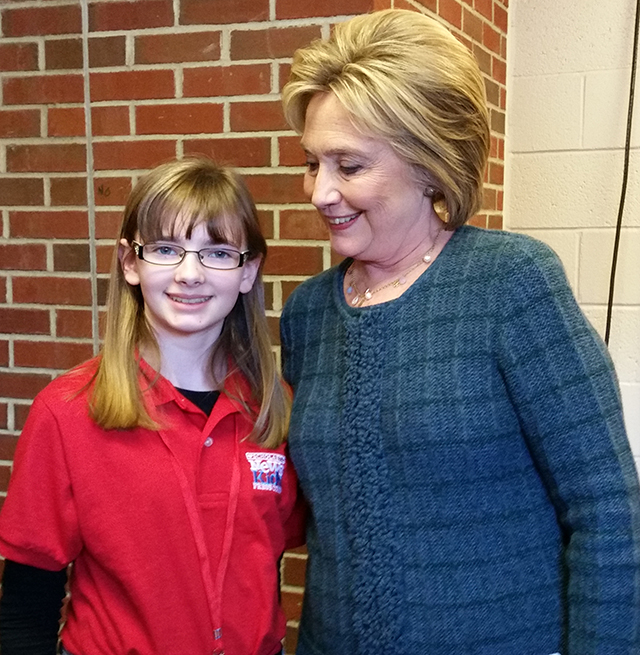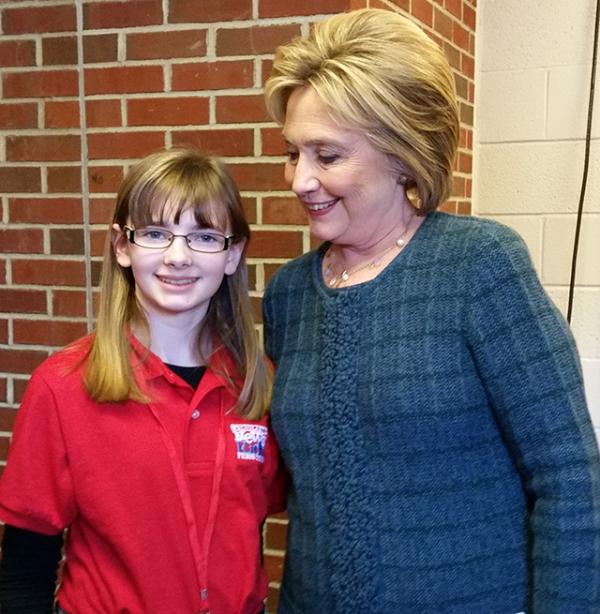 On February 6, with the New Hampshire Primary just three days away, former Secretary of State Hillary Clinton held a campaign rally at Rundlett Middle School in Concord, New Hampshire. Clinton came away with a narrow victory over Vermont Senator Bernie Sanders in the Iowa Caucus last week. But Sanders is favored to win New Hampshire's Democratic primary, so Clinton is doing everything she can to close the gap.
Before the Concord rally, I asked Jacob Ottaway-Velder, 12, why he supports Clinton. "She shares a lot of the values that I have," he said, "and I agree with a lot of her policies." Another Clinton supporter, Sean Powers, had come all the way from Washington, D.C., to attend the event. "We really like the fact that Clinton is someone who can actually get things done," Powers said.
While awaiting Clinton's arrival at the school, U.S. Representative Ann McLane Kuster, a Democrat from New Hampshire, led the crowd in a chant: "603 [New Hampshire's area code] for HRC [Hillary Rodham Clinton]! 603 for HRC!"
After Clinton took the stage to enthusiastic cheers, she spoke about growing the economy by building roads, bridges, and airports. She promised to "do more to bring manufacturing back [from overseas] so that we make things in America again." Clinton also talked about the need to ensure equal pay for women, invest in more renewable energy sources, and improve health care for everyone.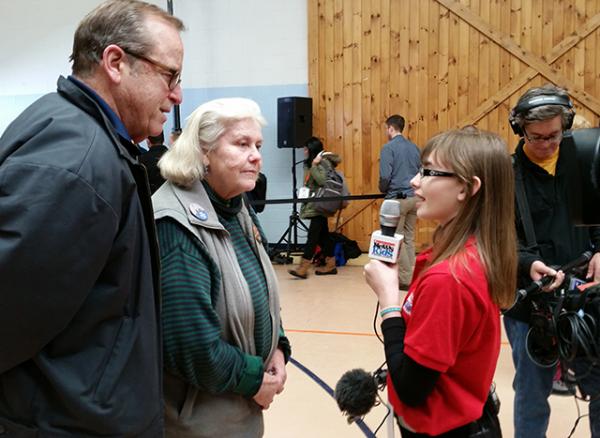 "SO MUCH FUN!"
Afterward, many people stayed to get a photograph with Clinton or an autograph. Amid the excitement, people were being pushed everywhere. I worked my way to the front to get in a question.
When I caught up with the Secretary, I asked her which issue facing the United States was the most pressing. "The most pressing issue is to get the economy to produce more good jobs for more people so that they can support themselves and their children," she said. "Then their children can do even better, because that's what supposed to happen in America. So I'm going to work really, really hard on that every single day."
Covering the campaign event is an experience that I'll always remember. As CBS News veteran Bob Schieffer said, "I can't think of anything that I would rather be doing [than] reporting. It's just so much fun!"
See excerpts from Kaitlin's interviews at the Concord rally.
Photos courtesy of the author