Democrats Face Off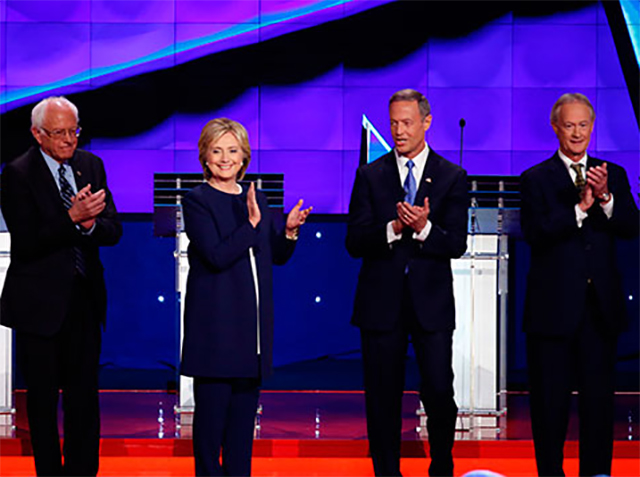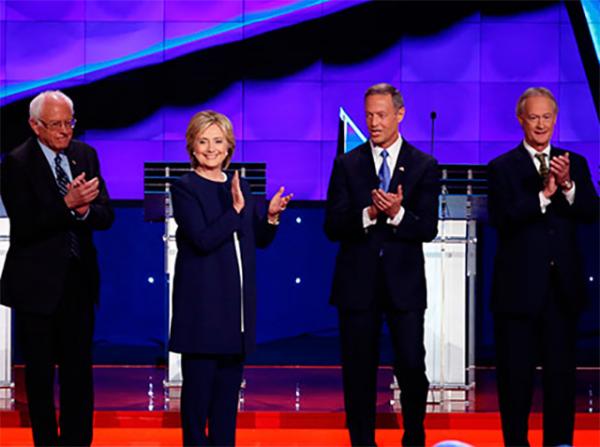 As the five candidates prepared to take the stage for their first debate of the campaign season, I spoke with Antonio Villaraigosa, the former mayor of Los Angeles who now represents former Secretary of State Hillary Clinton's campaign. "I think she'll make a clear and convincing case," he said of Clinton, who ran unsuccessfully for president in 2008.
Soon, Clinton joined Vermont Senator Bernie Sanders, former Maryland Governor Martin O'Malley, former Rhode Island Governor Lincoln Chafee, and former Virginia Senator Jim Webb onstage to discuss issues ranging from the economy to national security.
A DISAPPEARING MIDDLE CLASS
Sanders focused on income inequality. "The middle class of this country for the last 40 years has been disappearing," he said. "Millions of Americans are working longer hours for lower wages, and yet almost all of the new income and wealth being created is going to the top one percent."
O'Malley agreed. "Our middle class is shrinking," he said. "Our poor families are becoming poorer. . . . We need new leadership, and we need action."
Each candidate made the case for why he or she would be a great president. Webb said that his service as a U.S. senator, a secretary of the Navy, and a soldier in the Vietnam War enabled him to understand the challenges that everyday Americans face.
"I know how to lead," he said. "I did it in Vietnam, I did it in the Pentagon, I did it in the Senate, and . . . I am ready to do that for you in the White House."
Said Clinton: "I have spent a very long time—my entire adult life—looking for ways to even the odds to help people have a chance to get ahead, and, in particular, to find the ways for each child to live up to his or her God-given potential."
Villaraigosa's prediction about Clinton's performance turned out to be right. A HuffPost/YouGov poll found that 55 percent of registered Democratic voters watching the debate thought that she had won. Sanders came in second, with 22 percent saying that he was the best of the night.
LOOKING AHEAD
After the debate, I asked Chafee what he would do to ensure a better future for kids in the U.S. "We have to invest in all the things that help your generation improve," he said. "That means education, especially. Throughout my political career, that has been one of my top priorities."
With the presidential election more than a year away, the candidates will continue to participate in debates across the country. Republicans will take the stage again on October 28 in Colorado. For Democrats, the next debate is in Iowa, where they will face off on November 14.
Photo by Lucy Nicholson/Reuters