Cruising Into a New Era
It's not every day that a CEO bursts into song at a press conference. But Richard Fain did just that on June 26 in Fort Lauderdale, Florida.
"I can see clearly now, the rain is gone," Fain sang. "It's gonna be a bright, bright, bright, sunshiny day."
Fain is chairman and chief executive officer of Royal Caribbean Cruises Ltd., the parent company of Celebrity Cruises. On June 26, Celebrity Edge departed from Port Everglades amid much fanfare. Flags waved through the air, and the crowd cheered as tugboats spouted water into the air. It was the first cruise ship to carry paying passengers on a voyage since the coronavirus pandemic was declared in March 2020.
"Our objective was to make sure the cruise was safer than being in an equivalent place on land," Fain said. "Today, 99% of the people onboard will have been vaccinated. We have contact tracing capabilities. We have testing capabilities. Our ability to deal with COVID-19 here is better than almost anyplace you could think of."
The Edge has another first: Captain Kate McCue is the first woman in the United States ever to pilot a "mega" cruise ship. "When you hear the ship's horn," she said at the press event at Port Everglades, "I hope it reminds you that through any hardship, with hope, you can and will rise again."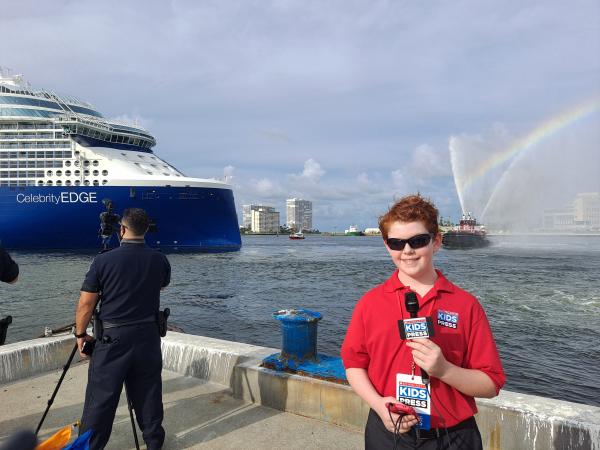 KIDS ON BOARD
Cruising in a vessel with thousands of other guests, large buffets, and kids' clubs might seem risky to some families whose young children aren't vaccinated yet. Children and young teens will still be able to participate in programs designed for them as long as they wear a protective mask.
"There will be lots of activities available for kids, and the Kids' Club will be open," said Patrik Dahlgren, senior vice president of Global Marine Operations for Royal Caribbean. "Celebrity Edge, with its revolutionary design and setup, and from an entertainment standpoint, is really an amazing experience for the kids on board. They're going to love it."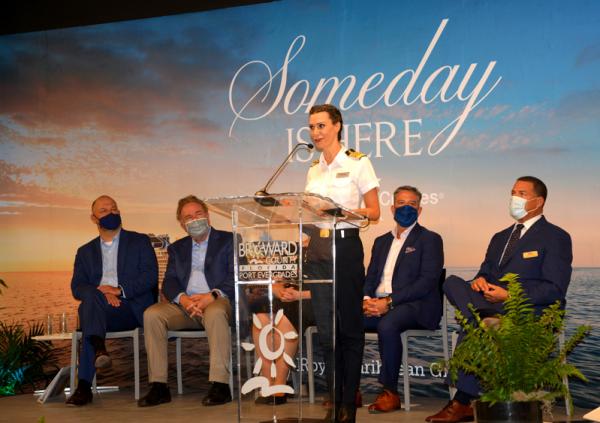 Top photo courtesy of the author; bottom photo: Port Everglades, Broward County