A Conversation With Jay Leno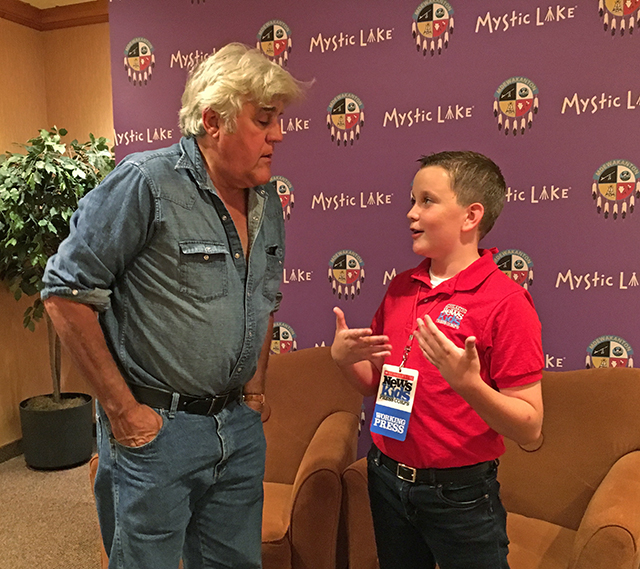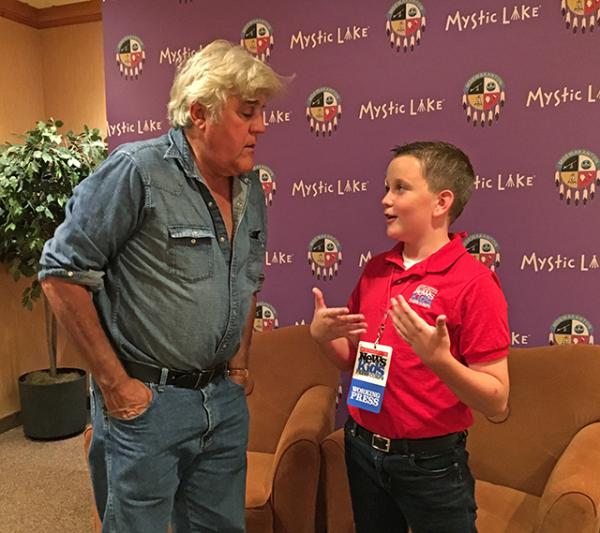 What does it take to make people laugh day in and day out? "It takes a lot of hard work," says legendary comedian and talk show host Jay Leno.
Leno, who hosted NBC's The Tonight Show for 22 years, is one of the most recognizable comedians in the United States. At 66, he still travels the country, performing as a stand-up comedian two or three times a week. He also hosts a show about cars on CNBC.
Why is this established comedian working as hard as comedians who are still looking for their big break? "If you're not working at it," says Leno, "you're not getting better at what you do."
I recently caught up with Leno backstage at the Mystic Showroom in Prior Lake, Minnesota, an hour before he was scheduled to perform to a sold-out crowd. Since it was so close to curtain time, I figured that Leno would be nervous and rushed, but I found him to be calm and relaxed.
"They always say people's biggest fear is speaking in front of other people," Leno said. "But I never had that problem. The stage is not a normal place to be. If you do it all the time, it becomes a normal place to be."
Leno says that staying in a serious mindset is one of the reasons he has enjoyed such a long and successful career. "A lot of people who get into show business think it's a party," he said. "But it's not. It's a business. Show business."
"MAKE PEOPLE LAUGH"
Many of Leno's jokes have to do with current events, but the comedian insists that his jokes are not designed to sway peoples' opinions. "Your goal is to make people laugh," he said. "You never put your personal opinion ahead of the joke."
Even with all the political jokes that Leno tells, he doesn't reveal his own political views in his comedy set. "When I do political jokes, I make fun of both parties," he says. "My job is not to educate people into my way of thinking."
On November 30, Leno and his wife, Mavis, will celebrate their 36th wedding anniversary. The couple chose to be married on the same date as Leno's parents, who were married for 57 years.
What is Leno's best marital advice? "Marry your conscience," he says. "You should marry the person you wish you could be. If you have little quirks, you should marry someone who doesn't have those same little quirks."
One of Leno's not-so-little quirks is a great, longstanding, passion for cars. In fact, his collection of unique and valuable cars is so extensive, he has to house his approximately 150 cars and motorcycles in a series of large hangers at the Bob Hope Airport in Burbank, California. 
Leno currently hosts a show on CNBC called, "Jay Leno's Garage." He says that the show is designed to "get into the love affair of the car. We talk about horsepower and high speed and all that stuff, too, but to keep it interesting for everybody, we try to make it a little more emotional."
Leno often attends car shows around the country. He has a lot of interest in the development of vehicles that are primarily driven by computers instead of people. "Computers are just another safety feature," Leno said. He also pointed out that computer-operated cars would help with the number of distracted drivers on the road. "When I go down the road, most cars are driving themselves anyway," he said. "People are putting on lipstick. They're texting. They're eating a sandwich. Most people aren't paying attention anyway."
Driverless cars are similar to airplanes that fly on automatic pilot, Leno said. "If it's good enough at 30,000 feet," he added, "it's probably good enough on the ground."
Since a comedian's gift is knowing how to make people smile, I asked Leno what he would tell kids who are having a hard time feeling optimistic. "If you're feeling depressed, find somebody you admire and write them a letter and tell them what you think," he said. "I bet you'll get a response."
See Ryan's conversation with Jay Leno.
Photo courtesy of the author