A Conversation With Alyssa Milano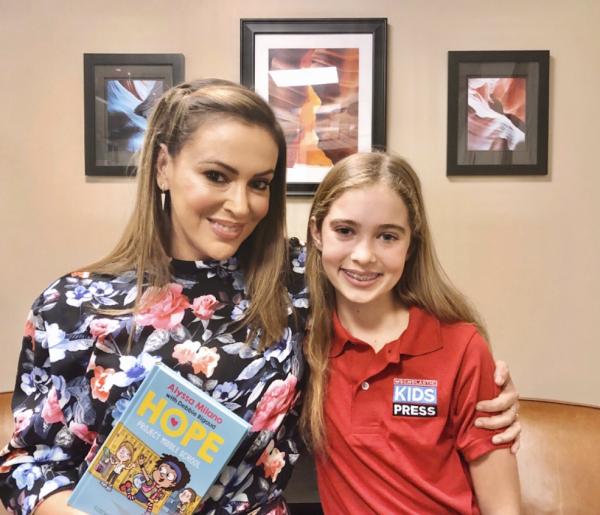 Alyssa Milano is an actress and activist. Known for her breakout role as Samantha Micelli in Who's the Boss?, Milano went on to star as Phoebe Halliwell in the TV show Charmed. She is also credited with helping to raise awareness about the Me Too movement, a global campaign against sexual harassment and sexual assault. 
Milano recently added children's book author to her list of careers. On October 15, she published her first novel, Hope: Project Middle School (Scholastic). It is already a New York Times bestseller.
The middle-grade chapter book was written with the help of author Debbie Rigaud. The illustrations are by Eric S. Keyes, who is known for his work on The Simpsons and Futurama.
MEET HOPE
Project Middle School is the first of an anticipated series of books. It follows the main character, Hope, as she experiences her first year of middle school.
Hope loves her dogs, Galaxy Girl comic books, her best friend, Sam, and STEM (science, technology, engineering, and math). However, the transition from elementary to middle school isn't an easy one. 
Hope must navigate an unfamiliar environment, make new friends, and lend support in her science club as they compete in an annual competition. Will she be able to pull it together?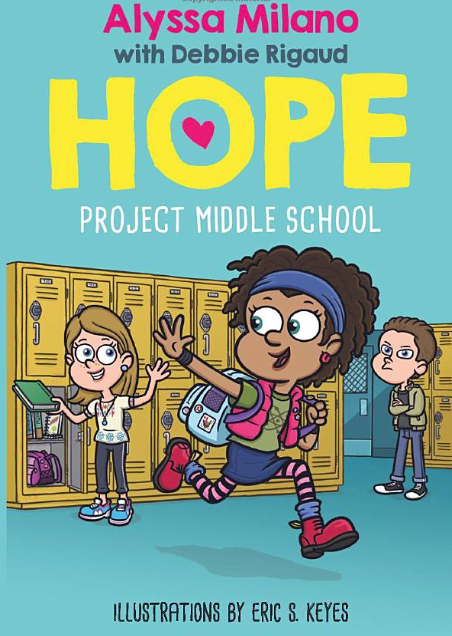 I spoke with Milano at a Barnes & Noble in Los Angeles, California, before her book signing. Here are highlights from our conversation: 
Did your own experiences in middle school influence the character of Hope and/or the story? 
No, because I didn't even go to school. I was tutored on the set. I started acting when I was seven years old. If anything, I think my writing this book was about really using my imagination, but also, what I wish I had gone through had I gone to middle school. 
Do you think your acting career helped you to write this book? 
Yes. I think acting kind of helps with everything, because as an actor you have to be a really good observer. You have to watch everybody, and you have to be empathetic. Empathy is a big deal, especially when you're an actor, because you want to look at people and be able to put yourself in a character's shoes. Writing is similar. You want to give characters depth and create something that people respond to and love. 
What is the moral behind Hope: Project Middle School, and what do you want readers to take away? 
There are so many themes in the book that I hope people take away. Ultimately, the feeling of not fitting in is one I relate to, and Hope feels that way for a lot of reasons. One of which is she's really into science. We rarely get to see girls portrayed as science people in books, and I hope that little girls are inspired. 
Top photo courtesy of the author