Clinton Campaigns in Central Florida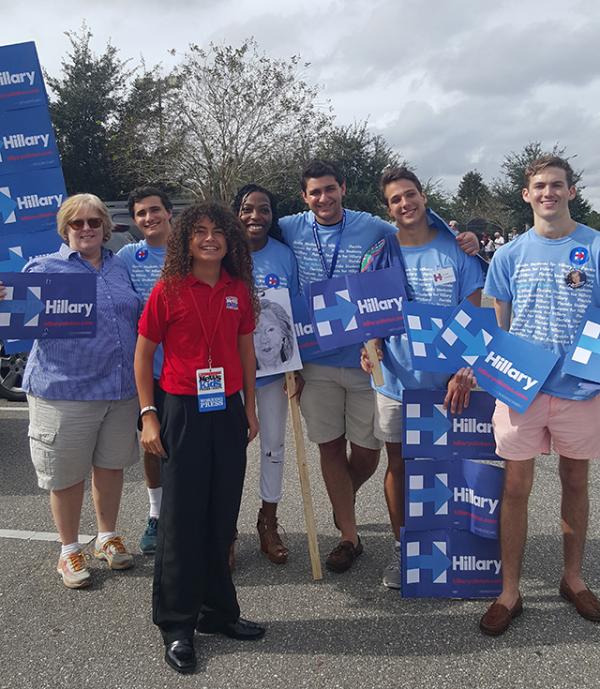 Hundreds of supporters gathered in the Meadow Woods Recreation Center in Orlando, Florida, on December 2 to hear Democratic presidential candidate Hillary Clinton speak. It was Clinton's first stop in Orlando since announcing that she would run for president, and her fourth campaign stop in Florida that day.
Before Clinton took the stage, attendees chanted "Hillary! Hillary!" while listening to Katy Perry's "Roar" over the loudspeakers. Supporters held up signs that read "Latinos for Hillary," "Puerto Ricans for Hillary," and "Fighting for Us."
Young people missed a day of school for the opportunity to hear Clinton speak. "She could be the future president, and she's a woman," said 14-year-old Rhiannon D., an organizer for Courageous Kids Network, a group that helps young people growing up in abusive homes.
"THE VOICE OF THE MIDDLE CLASS"
Speakers at the event included former Orange County Mayor Linda Chapin and Dr. LaVon Wright Bracy, a former college administrator and the first African-American student to integrate the public schools in Florida's Alachua County in 1964.
"We have the best candidate running," Bracy said of Secretary Clinton. "She's the voice of the voiceless, the voice of the middle class, and the voice for you."
Clinton emphasized that the diversity of Floridians reflects the fact that the United States is a nation of immigrants: "Florida is so much a symbol of America: diverse, dynamic, optimistic." She also addressed other big issues, including repairing America's aging roads, bridges, and airports; broadening access to high-speed Internet; and addressing climate change by expanding solar energy and other alternative energy sources.
"Down in Miami, we're already seeing streets that flood at high tide on sunny days," Clinton said. "Drinking water wells around the state are being inundated with salt water, [making them] unusable, and that's without a major hurricane hitting in recent years."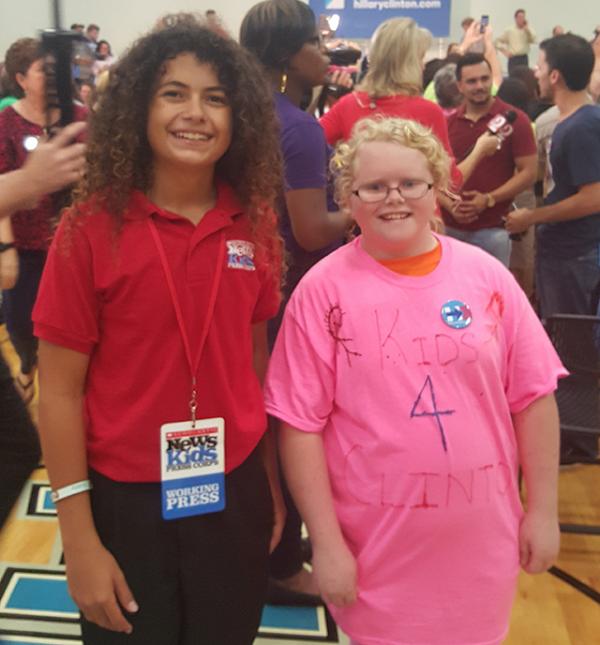 "PROMISE AND POTENTIAL"
During her speech, Clinton talked about the need to improve education for everyone and make college more affordable.
"My daughter is only four years from college now, and I have no clue how I am going to pay for it," said Jennifer Dotson, an employee at a 7-Eleven in Orlando. "I'm so happy that someone is finally thinking about it."
As Clinton spoke, a small group of protestors held up signs that, together, read, "Show us your immigration plan." They yelled, "Where's your plan?" Clinton ignored the hecklers, but did promise to keep immigrant families together by providing a path to citizenship.
Clinton ended her speech on an optimistic note, addressing the future for her granddaughter and all the young people in America, saying, "I want to make sure that not just my granddaughter, but all the young people in America have the same promise and potential that I believe is there waiting for me."
Photos courtesy of the author