Clinton Campaign Kick-Off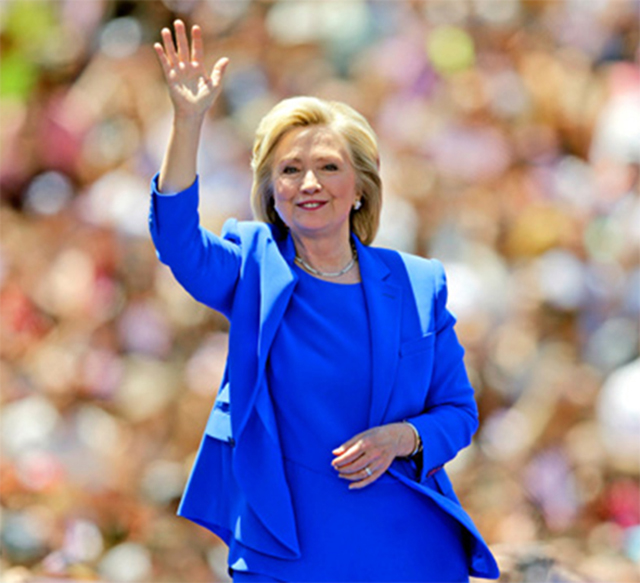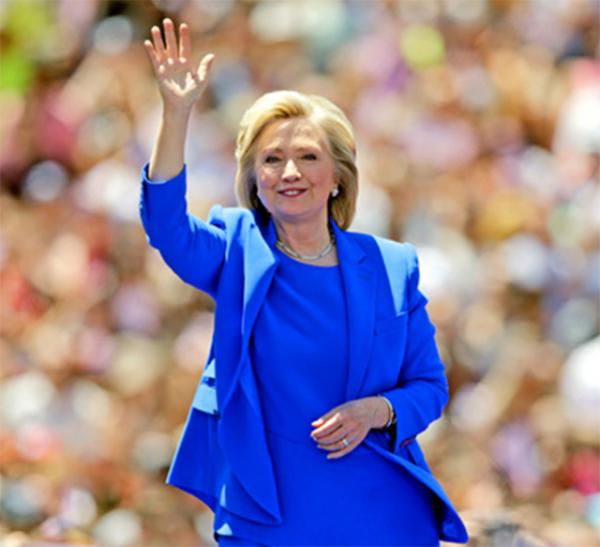 Last Saturday, thousands of people packed Roosevelt Island in New York City despite the heat and humidity. They filled Four Freedoms Park, which was built in honor of President Franklin D. Roosevelt, to hear former Secretary of State Hillary Clinton deliver her first major speech in the 2016 presidential campaign.
American flags and Secret Service agents in sunglasses were everywhere. The extra security measures could be explained by the presence of former President Bill Clinton. He arrived with daughter Chelsea to support his wife's historic run for the presidency.
"I may not be the youngest candidate in this race," Mrs. Clinton, 66, said. "But I will be the youngest woman President in the history of the United States! And the first grandmother as well." Last September, Chelsea Clinton gave birth to a baby girl, Charlotte.
If Mrs. Clinton, a Democrat, wins the 2016 Election, she will be the first woman ever to become President of the United States. But she is facing competition for her party's nomination from Vermont Senator Bernie Sanders and others. On the Republican side, a dozen candidates and counting are vying to win their party's nomination. The top candidates will square off in the general election on November 8, 2016.
"A LADY PRESIDENT"
Before Mrs. Clinton took the stage, I spoke with her staff members and supporters on the sun-drenched lawn. Isabelle, 11, and Zachary, 7, two of Clinton's youngest supporters, were excited about the possibility of "a lady President."
"I want to see Hillary Clinton talk about her family," said nine-year-old Sheldon. "I would like to hear what she says [about the issues] and think about if I should vote for her for President or not."
Former professional figure skater Michelle Kwan was also in the crowd. The two-time Olympic medalist now serves as the Outreach Coordinator for the Clinton campaign. She said that it's never too early for kids to get involved in public service. "To be engaged in their communities, in the country, and to be able to give back and help others," she added, "is an honor."
A LIVELY CROWD
Music boomed from the loudspeakers all morning, and people shouted and cheered when Taylor Swift's "Shake it Off" played. After performances by Timothy Kelly, the Brooklyn Express Drumline, and Echosmith, candidate Clinton took the stage. She said that she was happy "to be here in this beautiful park dedicated to Franklin Roosevelt's enduring vision of America, the nation we want to be." The "Four Freedoms" that President Roosevelt championed were: freedom of speech; freedom of worship, freedom front want, and freedom from fear.
Clinton told the boisterous crowd that she would fight for all Americans, especially those who are struggling to support their families. "America can't just be for billionaires and corporations," she added.
Clinton, who is a former U.S Senator from New York, told hometown supporters that her mother's example inspired her to pursue a life in public service. "My mother taught me that everybody needs a chance and a champion," Clinton said. "She always told me to fight back against bullies."
After the speech, Secretary Clinton and daughter Chelsea spent a long time shaking supporters' hands. Former President Bill Clinton then did the same, greeting—and taking selfies with—person after person. As I left the park, I could still feel the energy of the crowd in the air.
Photo by Frank Franklin II / AP Images