Children's Book Stars Come Together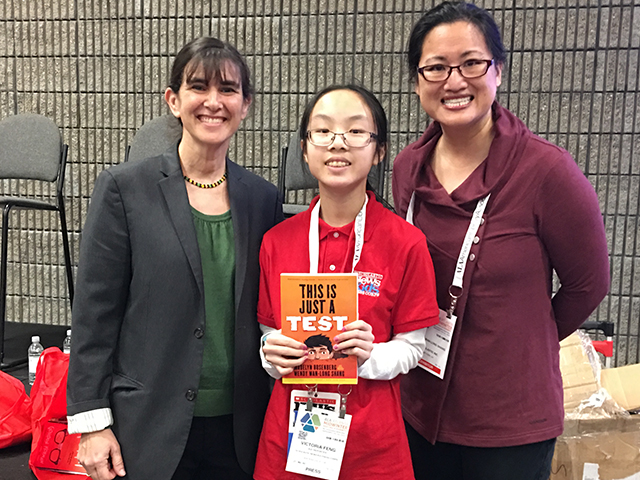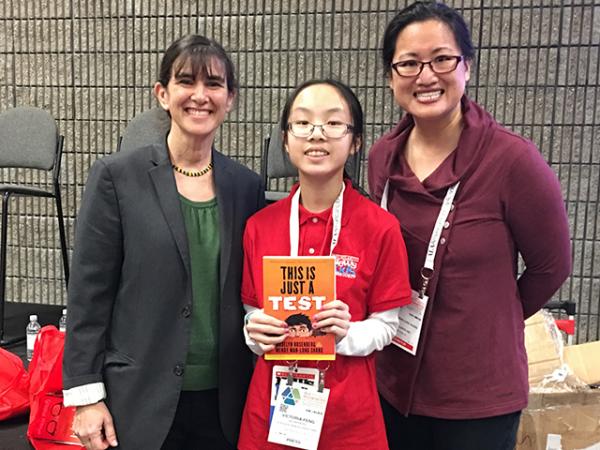 Since 1908, the American Library Association's (ALA) Midwinter Meeting has been celebrating the power of libraries and literature to change people's lives. The annual meeting took place at the World Congress Center in Atlanta, Georgia, from January 20-24.
Each year, the event honors the past year's outstanding works of fiction and nonfiction. Kelly Barnhill won the John Newbery Medal, which recognizes the most oustanding contribution to children's literature, for a middle-grade fantasy called The Girl Who Drank the Moon (Algonquin Young Readers).
The Radiant Child: The Story of Young Artist Jean-Michel Basquiat (Little, Brown Books for Young Readers), won the Randolph Caldecott Medal for the most distinguished American picture book for children, as well as the Coretta Scott King (illustrator) Book Award. Radiant Child was written and illustrated by Javaka Steptoe.
March: Book Three (Top Shelf Productions), won four awards, including the Coretta Scott King (author) Book Award. March, which also won a National Book Award last November, was written by U.S. Congressman John Lewis and Andrew Aydin and illustrated by Nate Powell. The memoir recounts Lewis's heroic efforts for racial equality during the civil rights movement.
NIGHT WITCHES
While at the event, I spoke with Kathryn Lasky, author of the upcoming Night Witches: A Novel of World War II (March 28, 2017, Scholastic), and Madelyn Rosenberg and Wendy Shang, co-authors of the upcoming This Is Just a Test (June 27, 2017, Scholastic).
Night Witches is based on a feared brigade of women who served as fighter pilots during World War II. This Is Just a Test tells the fictional story of a boy growing up in a Chinese-Jewish-American family. Here are excerpts from my conversations with the authors:
What inspired you to write a novel about Russian female fighter pilots?
Kathryn Lasky: It was my son who first told me about the Night Witches, as they were called. I thought, That would be a great idea for a book. I tucked it away in the back of my mind. About two months later, I read the obituary one of the Night Witches, Nadezhda Papova, in The New York Times and thought, I've got to do this. This is so incredible. What a story.
What was the biggest obstacle for the young women who joined the Night Witches?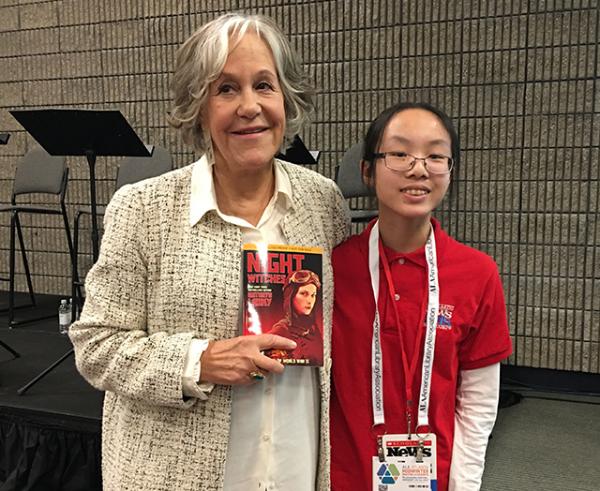 KL: There were many. The cold during the winter, which was terrible, and they were flying in those open cockpit planes. Sometimes, it was so bitter that all of them—when the planes were on the ground—could be tipped over by heavy winds or snow drifts. 
The tarps on the wings would protect them, so the women actually started sleeping on top of the wings when they were on the ground. But I think the biggest obstacle was the fear of dying. They were so brave, but they feared that their friends wouldn't come back. It was terrible for them if their friends didn't come home.
You've written more than 45 books. Which one is your favorite?
KL: That is always a hard question because it's like saying, Who's your favorite kid? It's easier to say my favorite kind of book, which is historical fiction.
David's grandmothers both want him to follow their cultural traditions. Are the traditions described in the book inspired by personal experiences?
Madelyn Rosenberg: Part of the Jewish side is certainly inspired by some things that were from my life. My grandmother was always saying to me, "I want you to marry a Jewish man." It's something that grandparents always say, which I did not do. But a lot of the traditions in the book are things from our own lives. Even the Thanksgiving tradition of going around and saying what you're thankful for, which isn't Jewish or Chinese, is something I took from my own family.
Wendy Shang: I am Chinese, but my husband is not. There is always that kind of struggle to keep things in balance and have your children influenced by both sides of the family.
How did setting this book during the Cold War help shape the story?
WS: It was the engine of the book, because first we were relying on more superficial inspirations, like Trivial Pursuit, like the music.
MR: When we were growing up in the 1980s, we were truly afraid that there was going to be a nuclear war. We were afraid that the tensions were going to get out of hand. That was the shadow of our childhood. One thing we realized while we were writing is that everybody's childhood has a different shadow.
Do you have any interests like the ones David's trivia team has?
WS: I love visiting bookstores and libraries. I've been to a bookstore in Maui. It's kind of neat to see how they're all different. The one in Maui has the most gorgeous view. 
MR: I'm not sure I have anything like that. I pick up rocks from every place I go.
WS: She knows more bands that I don't know about.
Are there any children's books that you enjoy reading?
MR: That is, in fact, most of what we read. We read more kids' books than books for adults. The Phantom Tollbooth is easily my favorite book of all time.
WS: You read that book, and it changes the way you think. 
MR: It does. The book made me like the way you can play with words. In adult life, I've read a lot of Daniel Pinkwater.
WS: I love reading books set in historic America—The Great Brain books, for example, which are set in late 19th century Utah.
MR: And The Little House series by Laura Ingalls Wilder. 
Photos courtesy of the author