A Chef Helps Create "Edible" Schoolyards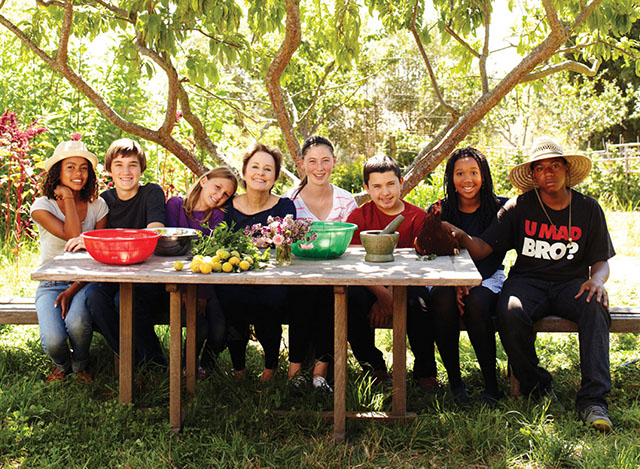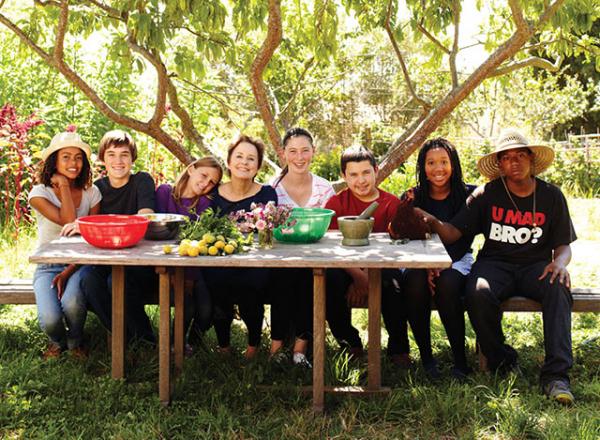 At schools across the United States, students often sit down to cafeteria lunches made from processed foods that are high in fat, sodium, and sugar. But kids at Public School (P.S.) 216 in Brooklyn, New York, have a different dining experience. Principal Donna Neglia reports that her "students love eating fresh fruits and vegetables. Especially kale!" 
P.S. 216 participates in the Edible Schoolyard Project, a nonprofit program founded by Chef Alice Waters in 1995. "Food is the one central thing about human experience that can open both our senses and our conscience to our place in the world," says Waters, whose renowned restaurant, Chez Panisse, is located in Berkeley, California.
The program that Waters created helps public schools across the country start on-site gardens and weave principles of healthy eating into the curriculum. Students grow and maintain crops, harvesting the fruits and vegetables for cafeteria meals.
"CONNECT WITH FARMERS"
In a recent interview, Waters expressed her passion for the principles of the farm-to-table movement, which she pioneered at her restaurant decades ago. She advised schools to "connect with the farmers in their area, [and] change their buying practices" when planning meals for students.
"Instead of having a hot dog or a pizza that comes from a fast-food vendor," the chef said, "schools should buy a real hot dog that is organic, and they should buy a pizza from somebody who cares about where the ingredients come from."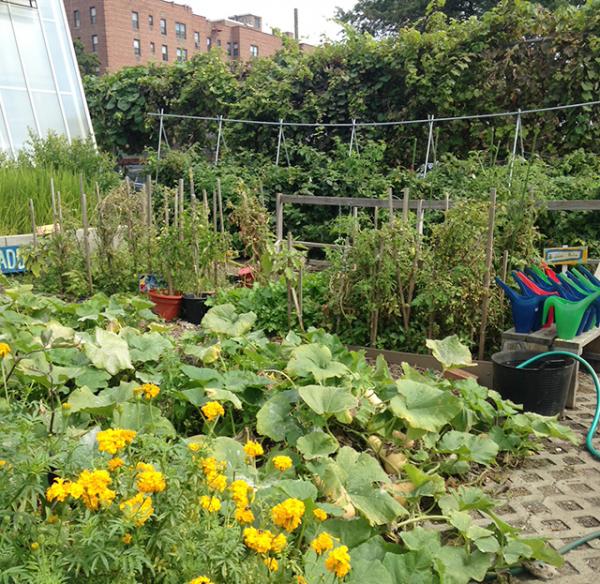 "WILLING TO IMPROVISE"
Waters has long been inspiring people to care about where their food comes from. In 1993, she pitched the idea of a White House vegetable garden. It was First Lady Michelle Obama who committed to such a project nearly two decades later, when her husband was elected president. 
In March 2009, a few months after Barack Obama's inauguration, Mrs. Obama started the garden in the backyard of the White House. She and members of the kitchen staff spent hours tending to the garden, often with help from local schoolchildren. 
"That gave people a sense that she cared about children and cared about where our food comes from," Waters said, praising the former First Lady's dedication to young people's health. "We are just building this movement, and it is very exciting."
Waters acnowledged that maintaining schoolyard gardens, especially in urban areas, can be challenging. "You have to be very willing to improvise," she said.  
"THE FUTURE OF THE PLANET"

The students and staff at P.S. 216 work collaboratively to sustain a garden and farm despite being in the middle of New York City. "Students are involved in all of the most important tasks," said teacher Cecilia Galarraga, "including watering, planting, mulching, harvesting, weeding, and making compost." 
Through the Edible Schoolyard Project, students also learn about the benefits of healthy eating in the classroom. Neglia said that P.S. 216 is teaching kids about "careers in the food industry—such as farming and agriculture, nutrition, food safety, and the restaurant business." 
Similar classes are taking place around the country. So far, the Edible Schoolyard Project has reached more than 1 million students in more than 367 schools. 
"I'm thinking about the future of the planet," Waters said. "I'm doing this for your generation."
Top photo by Amanda Marsalis; bottom photo courtesy of P.S. 216