Celebrate International Dot Day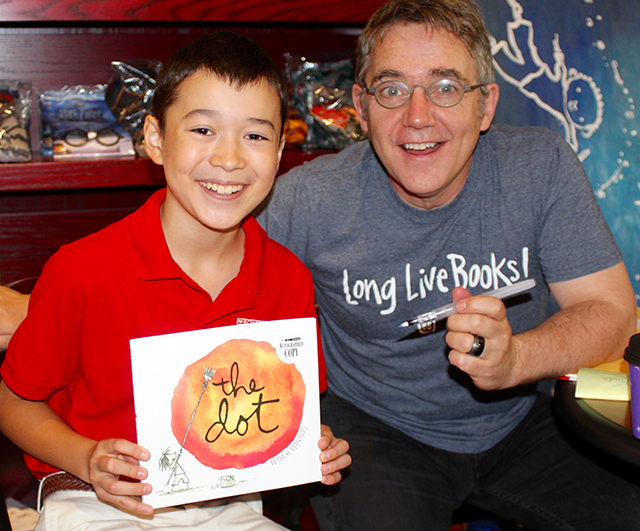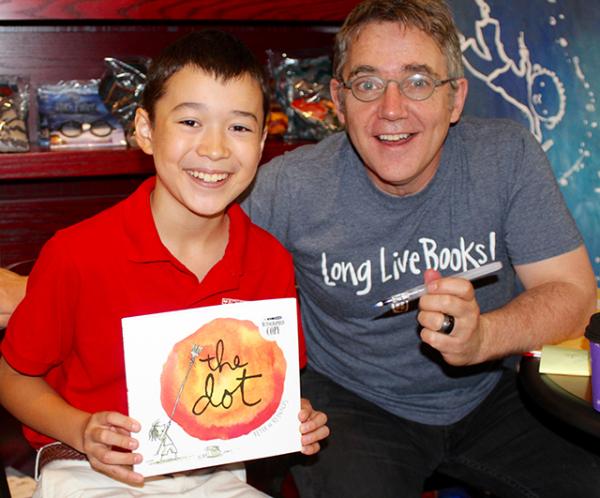 A dot can make a difference, and this idea is spreading like wildfire.
The dot reference comes from the children's book, The Dot (Candlewick, 2003), written and illustrated by Peter H. Reynolds. The book has been translated into 20 languages, plus Braille. It even went to space in a rocket with a real astronaut.
"What's really cool is that our planet is a big blue dot," Reynolds said at a Dot Day celebration last Saturday at The Blue Bunny Bookstore in Dedham, Massachusetts.
Blue Bunny is owned by Reynolds and his twin brother, Paul. Kids and adults came to the party dressed as dots. They enjoyed reading books, drawing, and sharing snacks and ideas.
DISCOVERING YOUR HIDDEN TALENTS
The Dot is about a little girl who does not have confidence in her ability to draw. Then her kind and caring teacher encourages her to be brave and make her mark. That is the start of her journey to self-discovery and expression.
International Dot Day, which takes place on September 15, originated when a teacher in Iowa, Terry Shay, introduced his class to The Dot and its powerful message. This year, more than 6 million people representing 133 countries have registered to participate in the worldwide celebration.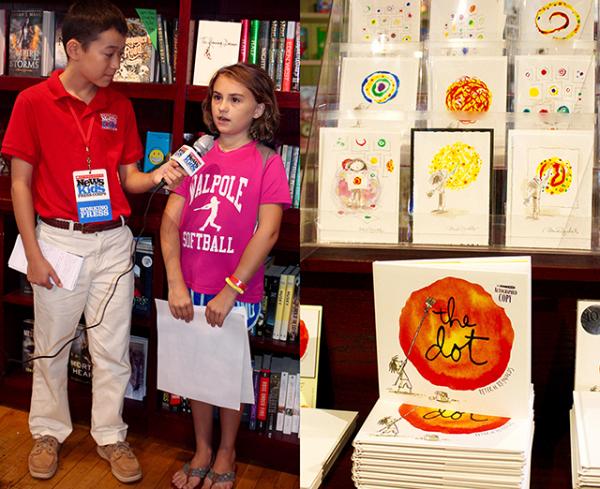 I asked Reynolds what he wanted kids to know about International Dot Day. "It's really important that people realize it's not just about art," he said. "It's about creative thinking and creative problem-solving."
Reynolds also talked about the importance of connecting the dots. "We have to find friends, or what I call 'kindred spirits,'" he said. "We can't do it alone. But together, we can change the world."
Reynolds started the Dot Club, and he encourages kids and adults to join. It's free, and everyone is welcome. All you have to do is draw a dot and sign your name. Reynolds offered three rules: "Be creative. Help those around you to be creative, especially those who can't draw. And use your talents and gifts to make the world a better place."
CONNECTING THE DOTS

Many schools and libraries have adopted International Dot Day as part of their curriculum. "It's a time to put tests and homework aside," Reynolds said, "and focus on creativity and fun."
At the Blue Bunny event, I enjoyed talking with teachers and kids about The Dot. Michelle Perron, a second-grade teacher in Walpole, Massachusetts, said, "The Dot's message inspires all learners to make their mark. Everyone has something amazing to contribute."
Rayna Freedman, a fifth-grade teacher in Mansfield, Massachusetts, said that, "Reynolds provides an avenue for students to take risks, create, imagine, and dream big."
Emily Perron, 10, who is also from Walpole, showed me her artwork. She made a rainbow with her dots. I asked how she was going to make her mark, and she answered, "I like to do gymnastics, I like to volunteer, and I like to draw."
Finally, I asked Reynolds for advice for aspiring authors and illustrators. "Put your pen to paper and move it," he said. "Keep moving it, and never stop." 
Photos courtesy of the author