Captain Underpants to the Rescue!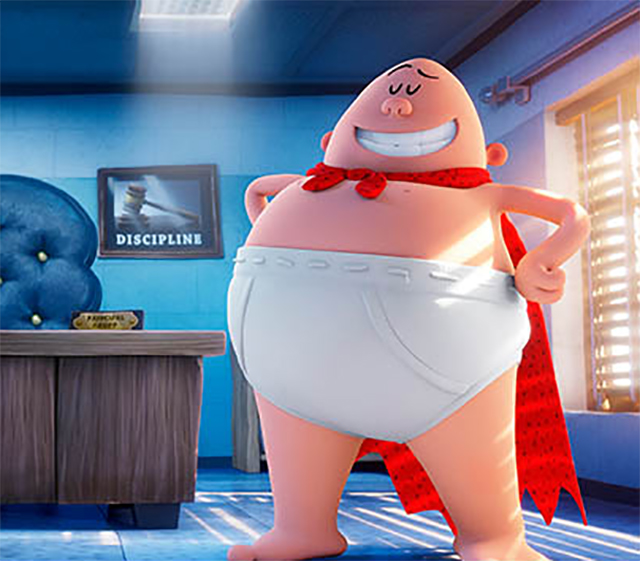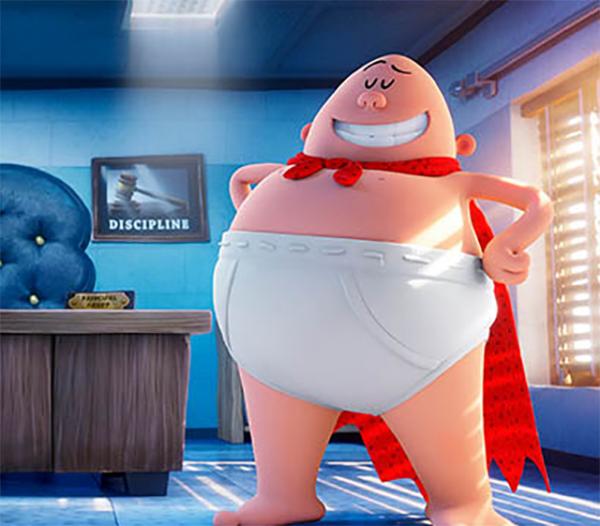 Captain Underpants: The First Epic Movie brings the popular book series by Dav Pilkey to the big screen. The computer-animated comedy recounts the adventures of best friends George Beard (voiced by Kevin Hart) and Harold Hutchins (Thomas Middleditch).
As the movie begins, the fourth-grade misfits are in trouble at Jerome Horwitz Elementary School in Piqua, Ohio. Failing in school, they retreat to their tree house to draw and tell stories. The boys end up creating a superhero named Captain Underpants.
After George and Harold hypnotize their mean principal, Benjamin Krupp, he accidentally becomes Captain Underpants. This scares the fourth-graders. But they learn how to control the character and use him to thwart the evil Professor Poopypants.
"ALWAYS PULLING PRANKS"
Pilkey's best-selling series is based on experiences in his own childhood. When Pilkey was in second grade, his teacher used the word underwear. The word made everyone laugh, so Pilkey drew a superhero in a red cape and underwear. He called him Captain Underpants.
Drawing and telling stories served as a creative outlet for Pilkey, who didn't do well in school. He struggled with dyslexia and ADHD (attention-deficit/hyperactivity disorder).
"I was very much like George and Harold," Pilkey said at a recent press event in Los Angeles. "I was always pulling pranks, always making comics."
Many parents credit the Captain Underpants series with motivating their children to read. Inspiring kids to enjoy books, Pilkey said, "is one of the greatest thrills and honors of my life."
THE IMPORTANCE OF FRIENDSHIP
Film director David Soren worked hard to bring the series' emphasis on friendship and creativity to life. "We really wanted to make sure that we captured the spirit of what Dav created," Soren said, "like suddenly these characters had leapt off the page onto the big screen, without losing any of the charm or fun they had in the books."
Ed Helms, who voices both Captain Underpants and the villainous Principal Krupp in the movie, observed that "we all have sort of a good side and a bad side." Helms added that he wants kids to understand the importance of "being a helpful, benevolent person. That's what Captain Underpants is all about."
Hart hopes that young viewers will recognize the value of friendship. "You need somebody you can always talk to," he said, "and who will be there for you." Just like Harold and George are there for each other.
See Ben's interviews with Pilkey, Soren, and cast members of Captain Underpants: The First Epic Movie.
Photo by 2017 DreamWorks Animation