Captain Underpants Hits the Big Screen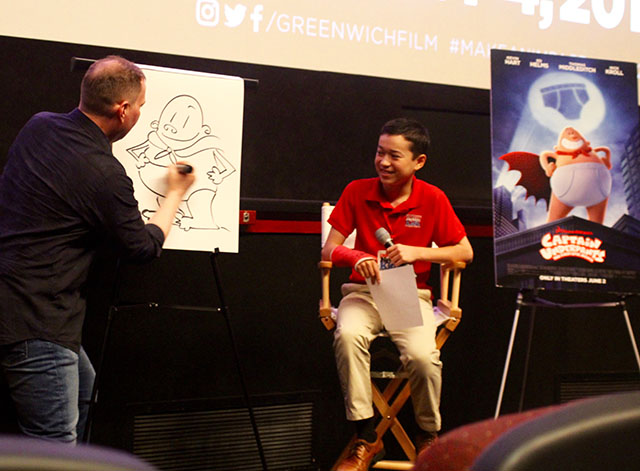 WATCH THE VIDEO
Click below to see clips of Maxwell's interview with author and illustrator Dav Pilkey.
"Tra La LAAAA!" At the third annual Greenwich International Film Festival, which opened on June 1, kids and adults enjoyed a screening of Captain Underpants: The First Epic Movie. The animated film is based on the bestselling series by children's book author and illustrator Dav Pilkey.
Produced by Dreamworks Animation and directed by David Soren, the movie features such comedy superstars as Kevin Hart, who voices George Beard, and Ed Helms, who voices Captain Underpants and Principal Benjamin Krupp.
The story revolves around best friends George and Harold, who are creative and fun-loving pranksters. They hypnotize their principal into believing that he's the incredible Captain Underpants.
By the end of the film, George and Harold learn that the world is more than about themselves and their antics.
"Empathy is the greatest superpower," Pilkey told kids who attended the film festival in Greenwich. "We have to see what the world is like from other people's point of view, and that's how we can make the world a better place."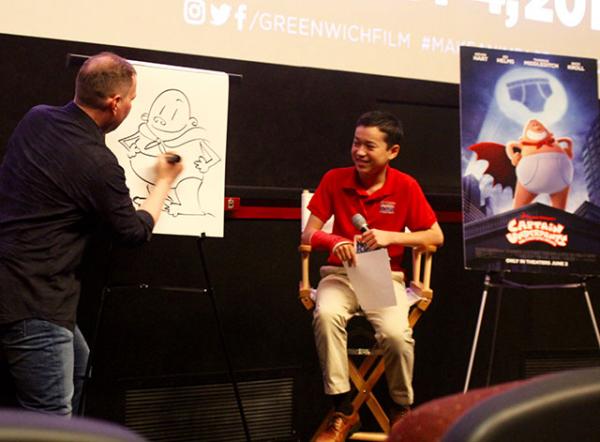 After a screening of the movie, I had the opportunity to interview Pilkey in front of a live audience. Below are highlights from our conversation, which include my questions and some from Pilkey's young fans.
How does it feel to see Captain Underpants come to life on the big screen? It is kind of the story of my life. When I was a kid, I got in trouble a lot like George and Harold. I would get sent out into the hallway. I had nothing to do there but draw pictures and make up stories. Kids all over the world love Captain Underpants, and that makes me happy.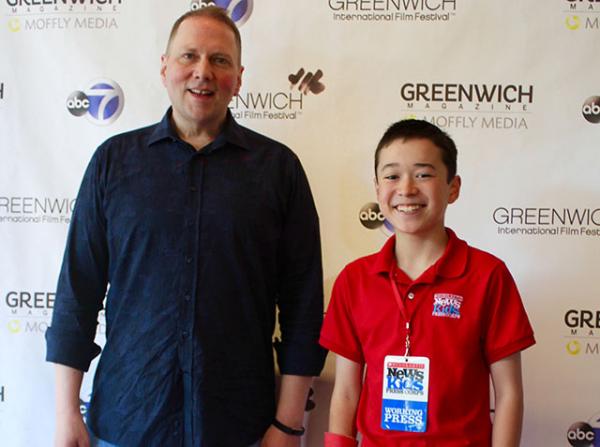 How involved were you in the making of Captain Underpants: The First Epic Movie? I was very involved in the beginning because it was really important to me that the characters in the movie remain the same as the characters in my books.
What is your favorite scene in the movie? I like the end when Mr. Krupp reaches into the garbage can and gives George and Harold their comics back. I think it shows the human side of Mr. Krupp. Unfortunately, that didn't happen to me. When I was kid, my teachers ripped up my comics.
What inspires you to write? I'm still kind of writing for my second grade classmates and trying to make them laugh. I'm writing for the kid I used to be and for my friends.
How did you get the idea for Captain Underpants? It comes from my second grade teacher. She was telling a story and said the word underwear. We started laughing. The teacher said, "Boys and girls, underwear is not funny!" We laughed even harder. That's when I realized that words like underwear have power.
Why does Captain Underpants wear underwear? You cannot have Captain Underpants without the underwear or else he would be Captain Naked. That would not be a PG-rated movie.
How do you make villains both funny and scary? I try not to go too scary. I think the most effective villains are the ones who have a short fuse, especially when they get annoyed by children.
How do you come up with ideas like giant toilets? If a toilet is funny, a giant toilet is even funnier. Just like in Texas, make it bigger.
Why does Professor Poopypants want to rid the world of laughter? He got his feelings hurt because people made fun of him. It made him mad. When I was a kid, sometimes people made fun of me.
What happens after the movie? If the movie does well, there will be a sequel.