Captain Underpants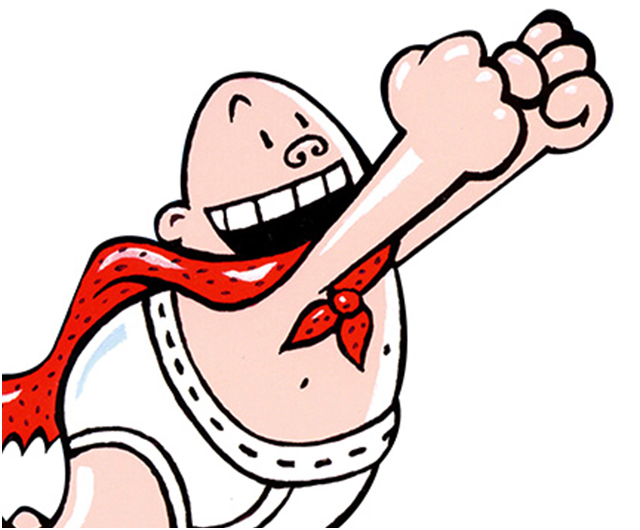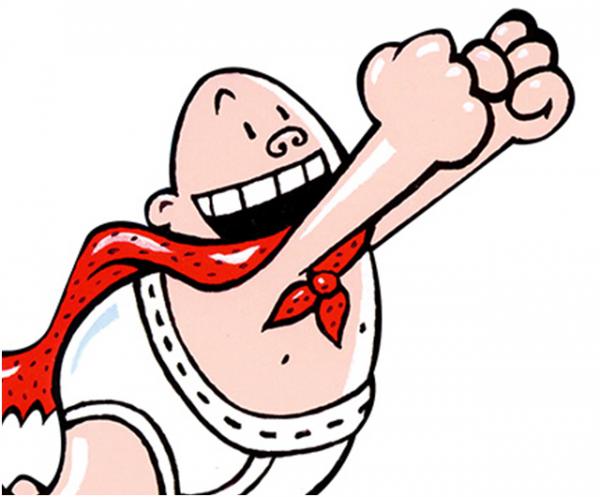 Pilkey, who is the author and illustrator of more than 50 books, struggled in elementary school. He was "willful and disobedient," in part because he had dyslexia, a learning disability, and ADHD (Attention Deficit Hyperactivity Disorder). The rebellious protagonists of his Captain Underpants series, George Beard and Harold Hutchins, grapple with the same issues.
In Sir Stinks A-Lot, Captain Underpants fans will be happy to meet up with the boys again. They still live in a town called Piqua, Ohio, with their doubles, Yesterday George and Yesterday Harold, and are "smart and handsome and stuff." They also like to cause trouble. In their defense, they have "the meanest principal ever." Their gym teacher, Mr. Meaner, is even worse. "Gym teachers," Pilkey writes, "are a lot like toddlers. You really have to keep an eye on them."
These days, kids everywhere are keeping an eye on Pilkey—and a certain superhero who flies around in his underwear. I recently spoke with Pilkey at Green Apple Books in San Francisco, California, where several young fans awaited an autograph. Here are excerpts from our conversation.
Kids Press Corps: Where did you get the idea for your latest book?
Dav Pilkey: When I was a kid, I always had trouble with my gym teachers. I was always the last person to be picked for the sports teams, and my gym teachers—they just could not stand me. I wanted to have a book where the gym teacher was the bad guy.
KPC: What message did you want to convey to kids with ADHD?
Pilkey: I wanted kids who have ADHD to know that there are good things about it. Kids with ADHD are often very creative, for example, and they often have very good leadership skills. I had mentioned that George and Harold had ADHD in one of the earlier books. I wanted readers to know that George and Harold were proud to have ADHD, that they wore it like a badge of honor because it felt like it meant that they were more creative.
KPC: Does that mean you're against ADHD medication?
Pilkey: No, I'm not against medication at all.
KPC: How personal is this story to you?
Pilkey: [All of the books in the series] are kind of personal to me because George and Harold are based on me when I was a kid. They both get in trouble at school. They both make comics, and they both have ADHD. So I think all of my stories are taken from my childhood. I never hypnotized my principal. I wish I had, but I didn't think of that at the time.
KPC: What do you find so appealing about the less-mature humor of the Captain Underpants books?
Pilkey: When I was a kid, I used to make comics. I was always trying to make my friends laugh. And I realized, in second grade, some of the less-mature humor was what got the biggest laughs. Even though I'm an adult now, I still feel like that's my audience, and I really tried to cater to my audience.
KPC: Do you ever write books for adults?
Pilkey: No, but maybe I will someday.