Breaking Boundaries
Even when she was a young child, Malia Hee began breaking boundaries.
"It was definitely trickier starting fencing," Malia said during a recent interview in Portland, Oregon. "Fencing was seen as sword fighting, which was regarded as more of a masculine sport."
The young champion discovered fencing through her sister, who is also a fencer. Malia, who is now a student at Temple University in Pennsylvania, took up the sport at the age of 6, after begging her parents, sister, and sister's coach to give her a chance.
"My sister's coach let me do a 10- to 15-minute lesson on the basics of fencing," Malia explained, "and it turned out that I had [a gift for the sport]."
"MY POTENTIAL IN FENCING"
When Malia was growing up in Vancouver, Washington, she balanced Taekwondo, lacrosse, and other sports with fencing. "But I saw my potential in fencing," she said.
Malia has already won five national titles. In 2014, when she was 16, she qualified for the Junior Olympics, winning gold in the cadet (under 17) and junior (under 20) categories. A year later, she won the national championship for the juniors.
While reminiscing about her greatest victories, Malia recalled her very first tournament. She competed against just one boy—and placed second. "It was in this old, kind of decrepit, gym," she said. "But I was really happy just to win a medal or bring home a ribbon, even though there were just two of us."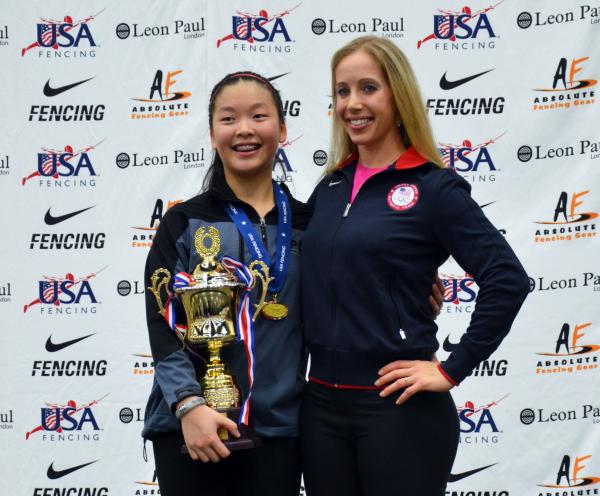 THE ELITE 90
Malia fenced throughout high school. Her skills earned her scholarships to several colleges. "I was approached by Ohio State, Penn State, Notre Dame, Harvard, Columbia, Duke, and Temple," she said. "The reason I chose Temple was because I'm a very artsy person, and out of all the programs I was offered, Temple had the most solid arts program."
Malia is now majoring in graphic design and advertising at Temple. Between academics and fencing, she is doing very well. This past year, she won the Elite 90 Award in the National Collegiate Athletic Association (NCAA) Division I Women's Fencing Championship. The award is given to athletes who have reached the highest point in national competition in their respective sport, as well as the highest academic level among their peers. Malia has a perfect 4.0 grade point average.
While many of her fellow competitors are aiming for the Olympic Games, Malia is placing her emphasis on academics.
"Moving forward, I'm not going to take fencing as seriously," she said. After college, she hopes to work in the sports industry as a graphic designer or marketer. She wants to live near a fencing club, where she can compete recreationally.
Wherever her career takes her, Malia will always be remembered as an individual who broke boundaries.
Top photo courtesy of the author; bottom photo by Claire Randall/PDX Fencing