Big Papi's Memoir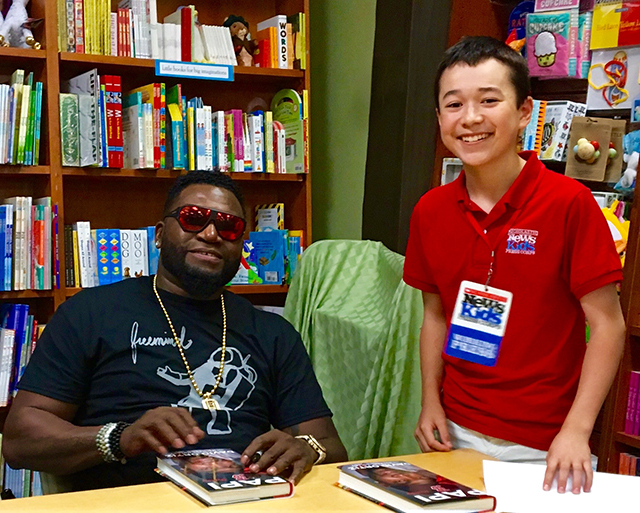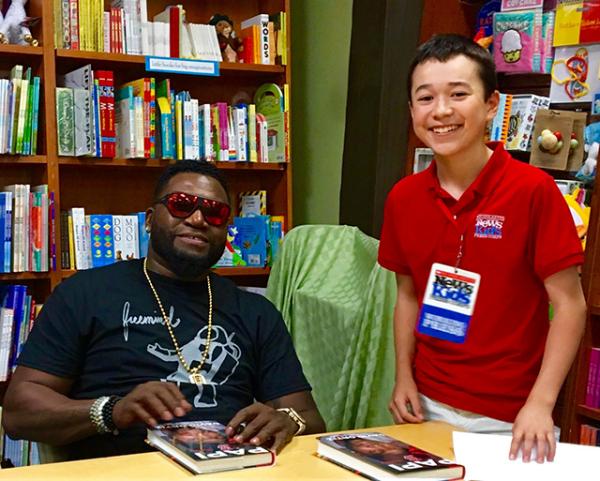 "There's nothing in baseball that is [harder] than my childhood," says Boston Red Sox clutch hitter and three-time World Series champion David Ortiz. "I'm thankful for everything that's happened to me, but the hard days are over."
Ortiz worked with sportswriter Michael Holley to craft a memoir about his extraordinary life and career. It's called Papi: My Story (Houghton Mifflin Harcourt, 2017).
Ortiz, who retired from baseball in 2016, is affectionately known among his fans as "Big Papi." The superstar slugger is a ten-time Major League Baseball All-Star and holds the league's records for most home runs, RBIs (runs batted in), and hits by a designated hitter.
THE ATHLETE AND THE AUTHOR

Ortiz's new memoir covers his childhood in a poor and violent town in the Dominican Republic, his legendary 14-year career with the Boston Red Sox, and his 2016 retirement tour.
In May, I got a chance to meet the slugger at a book signing at Wellesley Books in Wellesley, Massachusetts. It was special to me because Ortiz is one of my baseball heroes.
Last month, I met Holley at Barnes & Noble in Framingham, Massachusetts, where he led a discussion about the memoir and the writing process.
"When I write a book, I always think this chapter will be easier than the last one," said the author, who has written three other books. "It turns out, during the writing process, there is always something that makes it difficult, but makes it worthwhile."
"WILLING TO SHARE MORE"
It took two years to complete Papi. Ortiz and Holley had agreed to meet at Ortiz's house for 20 hour-long interviews. They estimated that 20 hours, one for each year of Ortiz's career, would be enough. It ended up taking more than twice that amount of time.
Interviews turned into conversations as the two men built up a level of trust. "Because Ortiz was at the end of his career," Holley said, "he was willing to share more about his relationships, positive and negative, and also more about his hitting secrets."
Holley talked about three points that stood out to him. First, Ortiz has great respect for his parents. When Ortiz, at age 17, signed his first professional contract with the Seattle Mariners for $10,000, he gave all of the money to his mother and father.
In 2002, Ortiz's mother passed away unexpectedly. Thereafter, every time the slugger hit a home run, he pointed to the sky to honor her.
Second, Ortiz was able to deal with rejection and make the most of it. Just after Ortiz was released from the Minnesota Twins in 2003, he happened to run into his friend, Red Sox Hall of Famer Pedro Martinez. Martinez said that the cut was a good thing because the Red Sox needed a first baseman.
Ortiz was willing to work on his weaknesses after being cut. He got into better shape and studied how to hit left-handed pitchers.
Third, Ortiz learned to deal with critics and not let their words consume him. "The impressive thing was that he was able to use the critics as inspiration," Holley said.
GETTING IT RIGHT
Holley also highlighted Chapter 7, "The October of Ortiz," in which the hitter talks about memorable moments of the 2004 American League Championship Series. The Red Sox defeated the New York Yankees and became the first team ever to win a seven-game series after being down three games to none. It was their first World Series Championship in 86 years.
"He remembered all the details," Holley said. "I checked it out, and he got it all right."
At the end of the book discussion, Holley fielded questions from the audience. I asked what advice he had for aspiring journalists. "Read as much as you can, and write as much as you can," Holley said. "Two things that are really important: One is being accurate, and two is really listening to people and understanding where they are coming from."
Photos courtesy of the author