Bernie Sanders: "A Future to Believe in"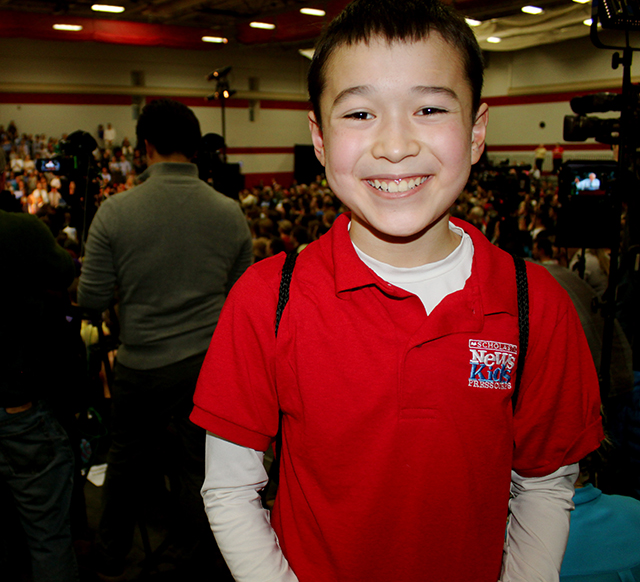 On February 29, Vermont Senator Bernie Sanders held a campaign rally at Milton High School in Milton, Massachusetts. The Democratic candidate for president drew thousands of supporters. A banner on the wall of the packed gymnasium trumpeted the theme of the Sanders campaign: A Future to Believe in.
Before the event, I talked with some people in the crowd. John and Danielle Azzariti from Cambridge, Massachusetts, who wore "Students for Sanders" buttons, expressed concern about the cost of higher education. "He's the candidate to point us in the right direction," John said of Sanders. Danielle added, "He listens to the people."
Nina Truog, 9, from Milton, said, "I think it's cool that [Sanders] is coming here because it's where I live." Nina explained that she had read about some of the candidates in school.
"POLITICAL REVOLUTION"
Sanders got a standing ovation when he entered the gymnasium. He began his speech with a proclamation: "Your state led the American Revolution, and now it's time to lead the Political Revolution."
After more cheering, Sanders commented, "This is a raucous crowd!" He went on to say that his campaign was for all people. "We're going to create an economy that works for working families, not just the [top] 1 percent."
After the rally, supporters said that the candidate had been "engaging" and "energizing."
"Sanders is looking out for young people," said Niall Curley from Norwood, Massachusetts. "As a high school senior who is going to college next year, I'm glad to know that we won't be drowning in debt."
Sanders is currently trailing former Secretary of State Hillary Clinton in the race for the Democratic nomination. He says that he is pleased, however, that people are responding to his calls for change. "This campaign is not just about electing a president," he said on Super Tuesday in Vermont. "It is about making our great country the nation that it has the potential to be."
Photo courtesy of the author