Behind Dog Man: The Musical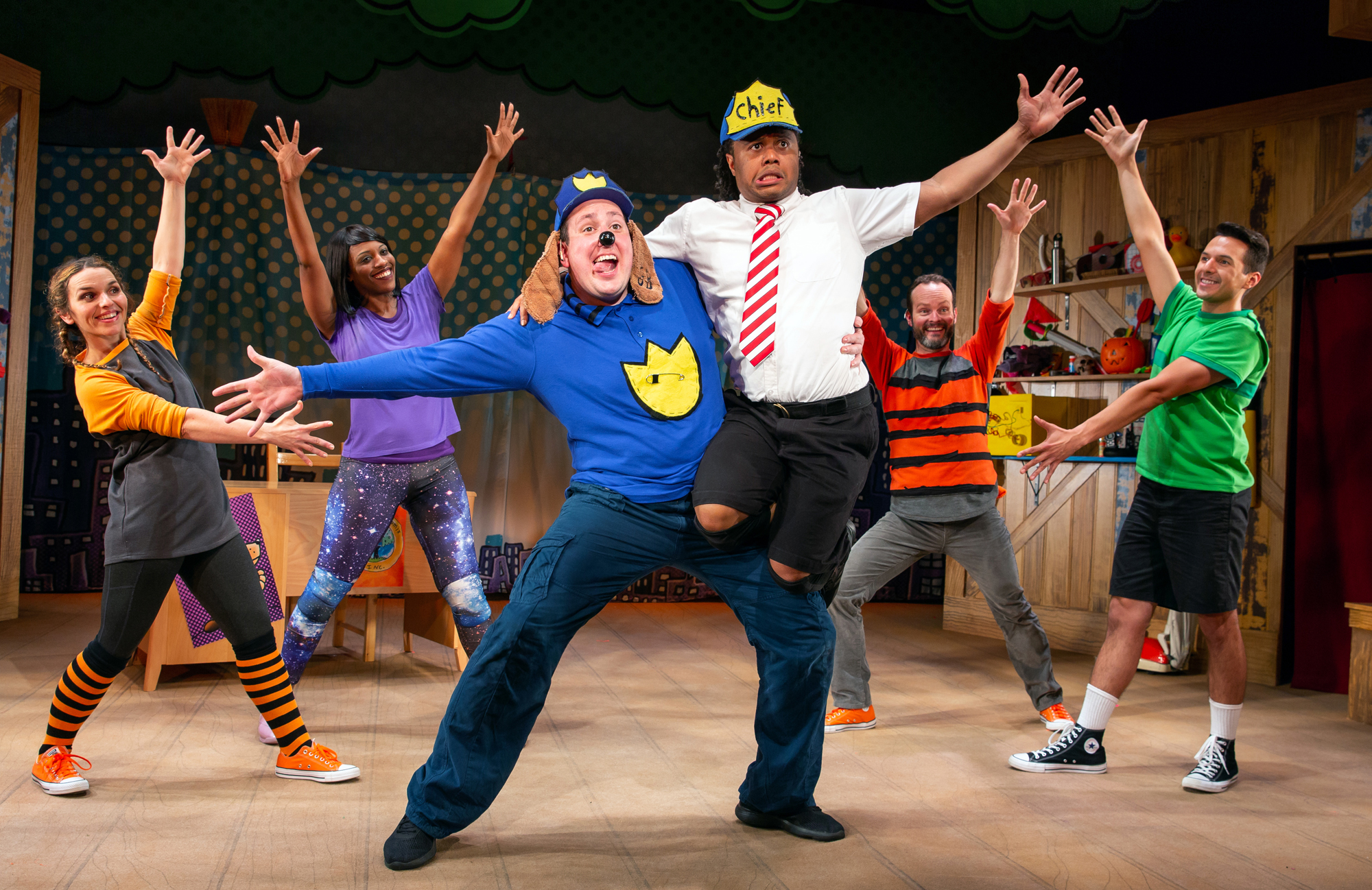 WATCH THE VIDEO
Click below to see highlights from Dog Man: The Musical.
An unlikely hero is singing and dancing his way onto the stage at New York City's Lucille Lortel Theatre. He is part man, part canine, and 100% hilarious.
Sure to delight young fans, Dog Man: The Musical is adapted from A Tale of Two Kitties, one of the wildly popular graphic novels in the children's book series by Dav Pilkey. The stage production brings the lovable hero to life as he fights crime and tries to save the city.
Before the show opened, I sat down with the creative team behind the adaptation, writer Kevin Del Aguila and composer Brad Alexander, at TheaterWorksUSA in New York City.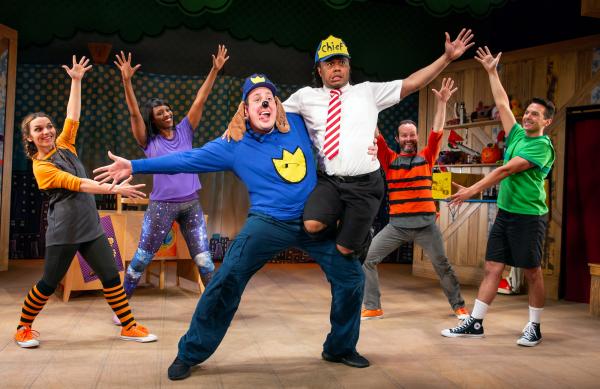 The Emmy Award-winning duo also collaborated on PBS's Peg + Cat and the upcoming Clifford the Big Red Dog television series. Here are highlights from our conversation, which has been lightly edited for brevity and clarity:
How did you get your start in the theater?
Del Aguila: I started as an actor. When I was a kid, I enjoyed acting, and when I was in college, I wrote a one-act play. I kept writing and enjoying it, and I got my classmates to perform some of the plays I wrote. 
When I moved to New York, I spent a lot of time unemployed, like a lot of actors do. My friends said, "Kevin, why don't we just put on these plays you've written?" We had nothing better to do [laughter]. People enjoyed them, and pretty soon, people were producing my plays. I suddenly had two careers—I was an actor, and I was writing plays. That's me.   
Alexander: I grew up on pop and rock and roll and had never intended to either act or write for the theater. In high school, I made all kinds of crazy videos with my friends, and I was in a rock band. I thought, "Why don't I just dabble in theater in college?"
After college, I did a big casting call. They saw on my resume that I had a lot of experience with piano and rock and roll, and they said, "We'd like to do some original songs with our plays." That's where I caught the bug.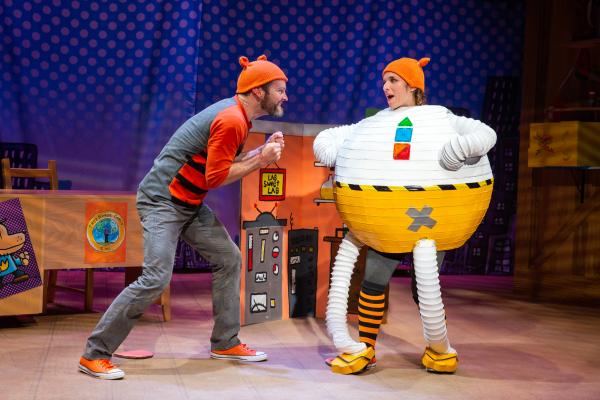 Where did your love of storytelling come from?
Alexander: I grew up a movie kid. I remember one summer in college, I worked for Blockbuster Video, and all I did was endlessly rent movies for free. I watched all the greats. I learned the most about storytelling through watching films. 
Del Aguila: When I was a kid, I had a babysitter who would tell me the plots of movies that I was too young to see. I would imagine the stories and think of the way they were told.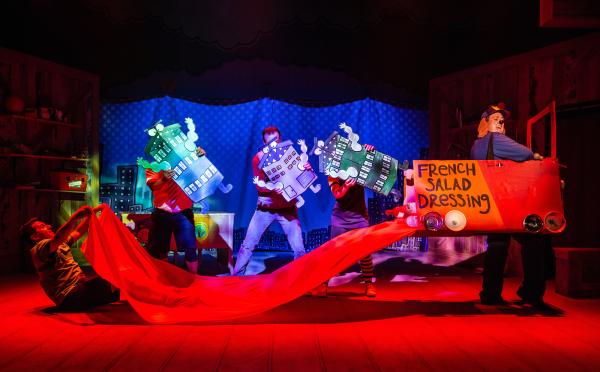 What challenges did adapting Pilkey's work for the stage present?
Del Aguila: This one had specific challenges because in the books, crazy stuff happens. There were a lot of thoughts in my mind of how we were going to do them on stage. How do you bring buildings to life and have robots take them down, and then have Dog Man drive a giant truck full of French dressing and spill it so that everyone slips all over the place? Just figuring out how we were going to translate the book to the stage in an interesting way and in a way that made sense was a big challenge. 
Alexander: The sound of Dog Man is unique because the stories themselves are told by the boys, [narrators] George and Harold. That story comes to the foreground with all of the wonderful characters they create. Trying to figure out what the sound of each character is if we went into George and Harold's minds has been fun. I think we finally figured it out this week, so we're getting very excited.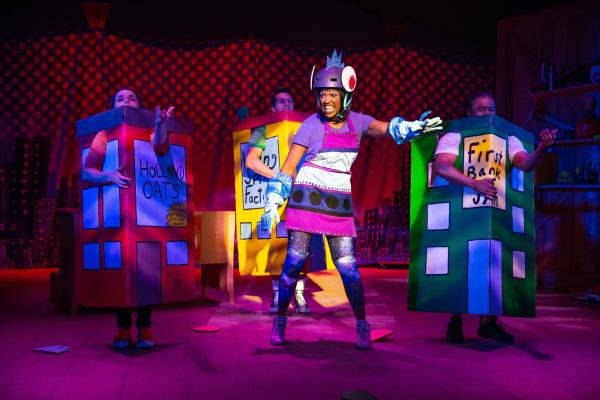 Can you tell us about the musical and songs that young fans can expect?
Del Aguila: The idea is, What would the boys do if they were in their treehouse where they write their comics, and they decided to put on a musical? How would Dog Man: The Musical come to life? It kind of takes place in their imaginations, but it's also taking place right there in front of the audience. We're super grateful to Dav for signing off on it. He came to see a run-through of the workshop, and he loved it. 
What is the greatest challenge writing as a team?
Del Aguila: Getting this guy to listen to the good ideas [laughter]. Really, being in the same room at the same time. We did write a lot of this sending things back and forth. We both have kids so it makes getting together challenging. 
Alexander: We're lucky because we've worked together before. We trust each other and have the ability to talk things out and say, "Oh yeah, that's interesting." Being the composer, I tend to be the sort of unwitting gatekeeper because if it doesn't make sense to me psychologically, I don't know if I could write a note of music. So we do a lot of talking. They say that musicals are talked into creation.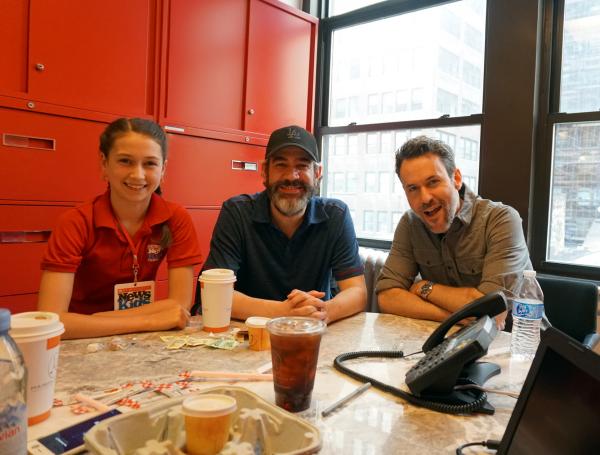 What is the best part of writing as a team?
Alexander: I love having a partner. I really do. I don't know how solo writers of music and lyrics do it. You have a very special gift if you can do it alone. I love having a second brain to bounce ideas off of. Otherwise, it can be a lonely process.   
Del Aguila: I write all the words, and he writes the music. I'll write lyrics for him, and it's great to see them through his prism. He records a demo, and I'll put it in my headphones and listen to it as I walk down the street. It's thrilling to hear something that you sat around writing suddenly come to life.
What is unique about writing for children, and what do you enjoy about it? 
Del Aguila: Writing for children is the exact same as for adults. If it's good, they'll watch, and if it's bad, they'll squirm. The only difference is that kids make it really clear when they've lost interest. They'll move around and make noise. You'll know right away if you've lost them.  
Alexander: Don't include a lot of ballads in children's shows. Kids generally get restless. As kids grow up and become more mature and understand the world around them, you can bend those rules. It's fun to challenge kids and throw in some jokes that not every kid in the audience is going to get. This one's for the parents, who might start laughing. Then the kids might start laughing, and then the parents can explain the joke to the kid. It becomes a family experience. 
Del Aguila: That goes the other way, too. Kids can laugh at things, and adults think, "What's so funny about that?"
What is your advice for aspiring playwrights?
Del Aguila: Write! Just write even if you don't think it's good, or even if you don't think you're ready to do it. I have a play that I wrote when I was nine years old, and I think I'm going to expand it into something now because it's a great idea. Dav Pilkey wrote the idea for Captain Underpants when he was in the second grade. Keep writing, watching, and listening.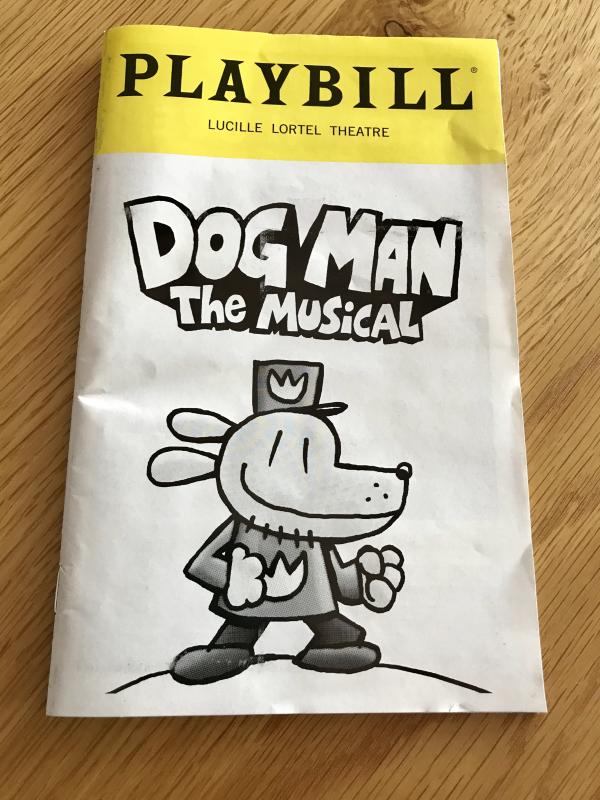 Photos of the musical: Jeremy Daniel; photo of Amelia with the artists: Suzanne McCabe