Banana Ball Is a Home Run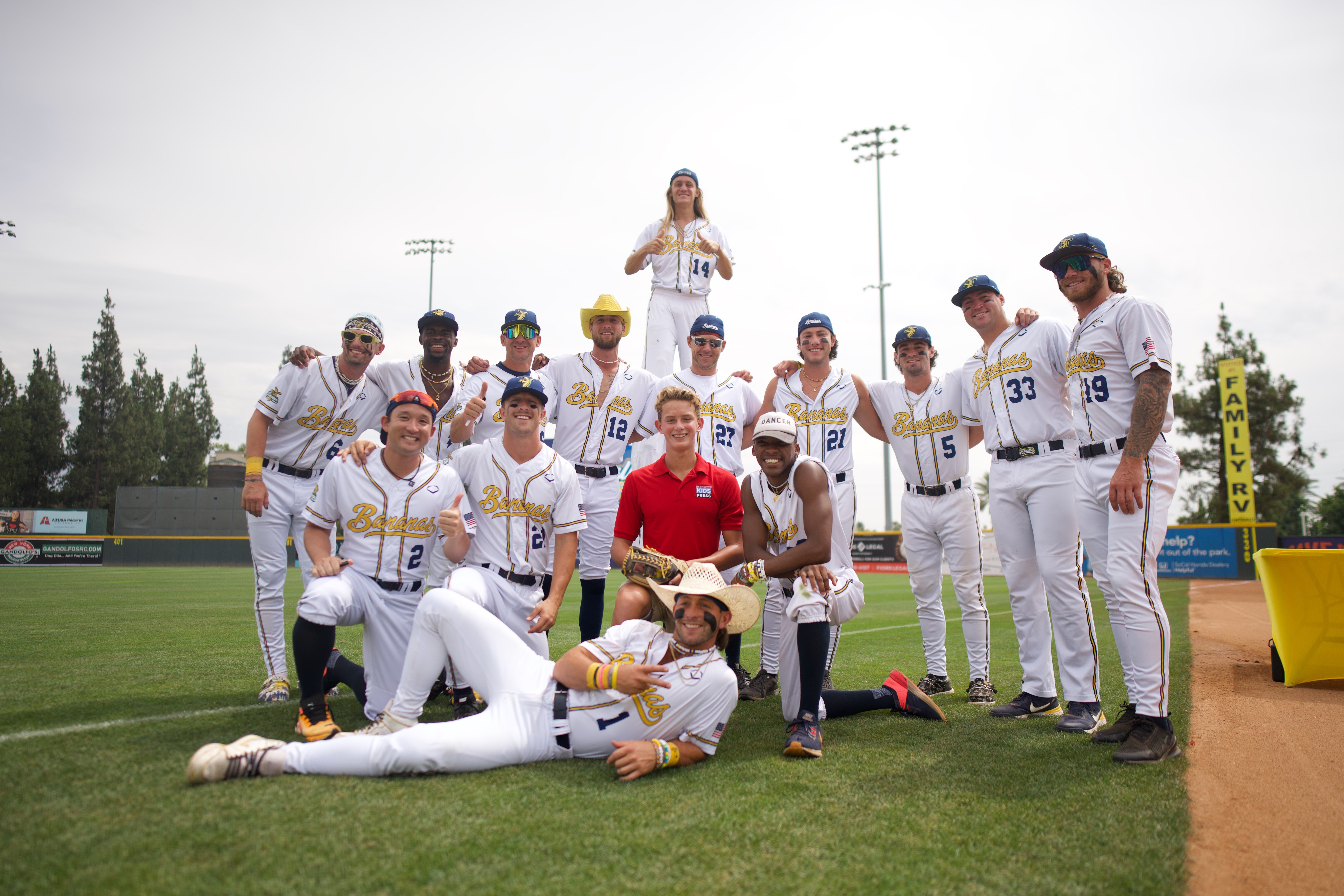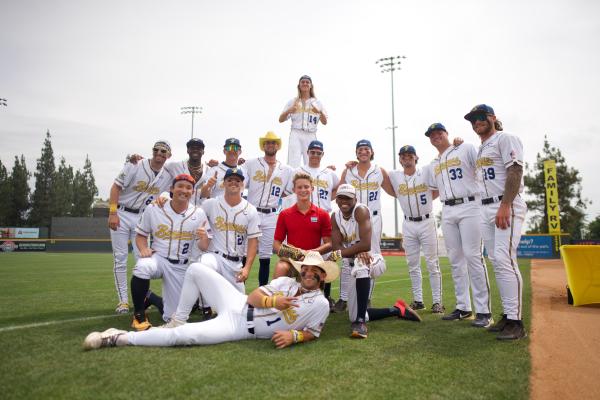 Has baseball gone bananas? Not really. The Savannah Bananas, a private exhibition team from Savannah, Georgia, are dazzling fans from coast to coast. Combining baseball with zany rules, dancing, trick plays, and stunts, the Bananas have quickly become popular with people of all ages.
Founded by Jesse Cole in 2016, the Bananas got their start as a collegiate summer team in the South. Their success led them to branch out and begin touring nationwide. During the 2023 tour, which ended in mid-September, more than 500,000 fans turned out in cities across the United States. More than 1 million people were on waiting lists to see a game.
"The goal is always to bring the game to more fans," Cole told me during my recent visit to Rancho Cucamonga, California, where the team was touring. 
Dressed in a bright yellow suit and top hat, Cole was hard to miss. He is the owner and ringmaster of the self-proclaimed "World Famous Baseball Circus."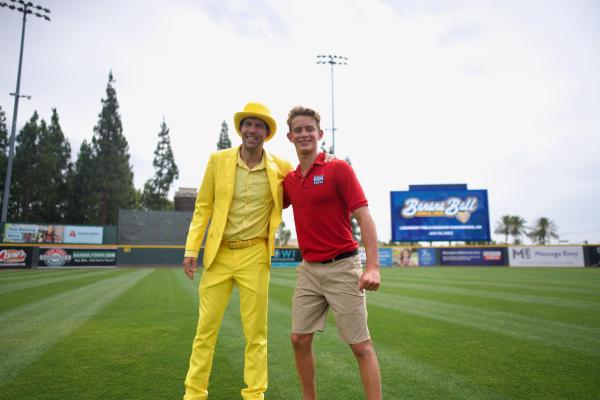 "DOING THE IMPOSSIBLE"
A lifelong baseball fan, Cole played competitively in college. He began to fill baseball stadiums in 2016 by transforming traditional games into entertainment experiences. Drawing inspiration from the late creator Walt Disney, Cole incorporated joy and creativity into every aspect of the game. He is determined to celebrate this hybrid sport with a new generation of fans.
"I've always been inspired by doing the impossible," Cole said. "Whether that means [performing in] Major League Baseball [MLB] stadiums or a new Banana Ball League, big ideas and big things are ahead for the Bananas."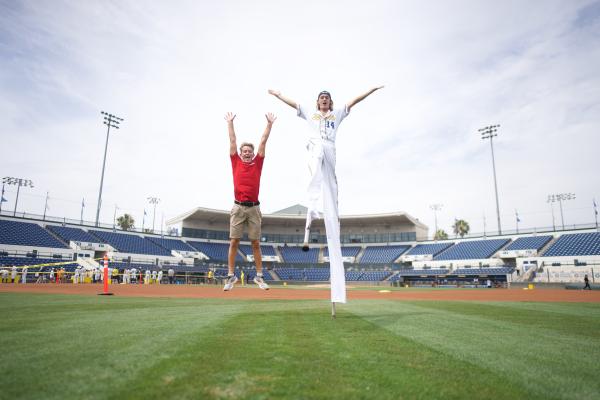 FUN FOR EVERYONE 
The team's popularity led to the creation of "Banana Ball." The goal of the game is to make the most routine aspects of baseball outlandish and fun. In Banana Ball, games have a two-hour time limit. This makes them fast-paced compared to MLB outings. Rules changes, such as no bunts or walks, are designed to speed up the game.
The fans are deemed honorary players. If a fan catches a foul ball, the batter is declared out. Between innings, there are stadium dance breaks and fan competitions.  
At a game I attended, brothers Dylan and Jayden Pauling of Victorville, California, were chosen to compete in a water-balloon hitting contest. "It's fun, crazy, and a once-in-a-life time experience," Jayden said.
Dylan agreed. "I'm a Savannah Bananas's fan because they've changed baseball in a fun way," he said, "and I think everybody should experience it."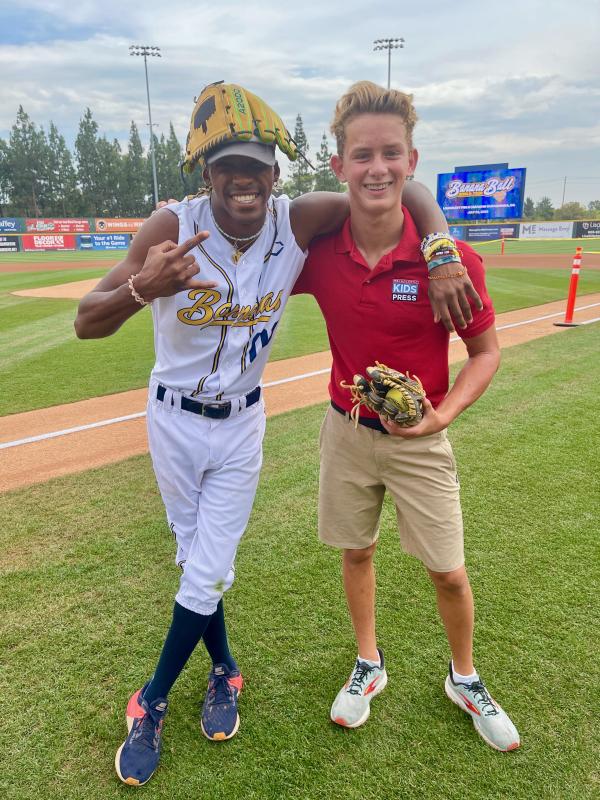 INTERACTING WITH FANS
The Bananas roster includes experienced athletes and entertainers who combine humor and skill to engage the fans. From "the world's tallest pitcher," to exaggerated calls by the umpire, the team motto is "Fans first, entertain always." 
"I love how they interact with the fans and entertain everybody with their TikTok dances," said seventh grader Amari D. The official TikTok account of the Bananas has more than 7.6 million followers, more than any other professional sports team in the U.S.
The social media account highlights choreography by the breakdancing first base coach, Maceo Harrison. After studying at the Joffrey Ballet School in New York City, Harrison became a teacher, performer, and choreographer. 
"My mom was a hip-hop dancer, so I started dancing as a kid," he said. "I'm still learning about baseball. But I can teach everybody to dance, so let's go have fun!"
For many fans, the excitement in the stadium is a home run. At one game, members of the Massey family from Chino stood on the first base line for the entire game. They wanted to interact with the players. When I asked 10-year-old Eli what he thought of the Bananas, he smiled. "I don't play baseball," he said. "But after seeing the Savannah Bananas, I want to give it a try." 
Photos courtesy of Jedediah Woods