Ballpark Mystery Man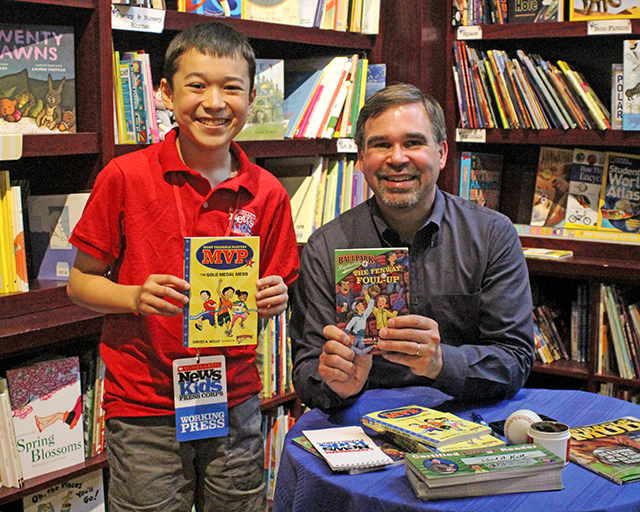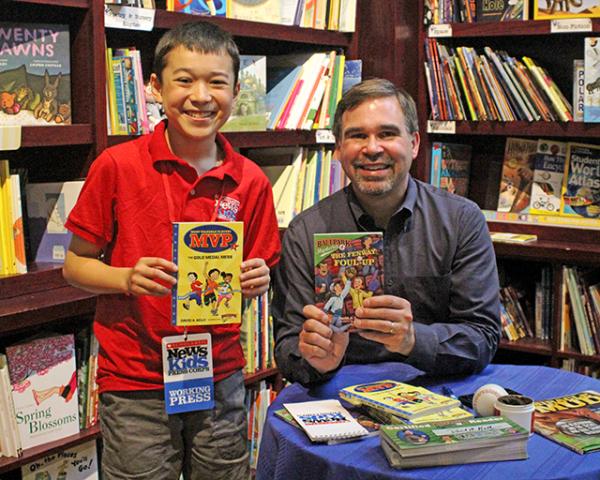 David Kelly is the author of The Ballpark Mystery series and the MVP series from Random House. In the Ballpark Mystery books, the main characters, Mike and Kate, solve mysteries on baseball diamonds around the country. In the MVP series, five kids at an elementary school have adventures playing different sports.
As a big baseball fan, I was excited to have the opportunity to interview the author, who lives near Fenway Park, the home of my favorite team—the Boston Red Sox. Here are excerpts from our conversation.
What inspired you to write The Ballpark Mysteries?
I started when my two sons were reading chapter books. I thought it was a good idea to combine sports and mysteries.
How do you come up with the characters in The Ballpark Mysteries?
I created characters with interesting traits that would be helpful in the books. Mike knows a lot of baseball, for example, and Kate knows a lot about lots of other things.
How long does it take you to write one of The Ballpark Mystery books?
It takes about 3 months. I spend about one month researching, one month writing, and one month revising.
Have you been to all of the ballparks that you've written about?
Yes, I visit the ballparks as part of my research. I will go to a game, take a tour of the stadium, take pictures, and tour the city. I never know what my characters are going to do.
What is your favorite team and who is your favorite baseball player?
The Boston Red Sox and David Ortiz.
Did you play baseball as a kid?
Yes, I played Little League, either right field or center field. I was not a great player, and I remember my experience when I write my books.
What is your best baseball memory?
I remember getting a ball signed by Hank Aaron. (Yes, Kelly still has it.)
What was the inspiration for the MVP series?
I wanted to write about other sports besides baseball.
What are your hobbies?
Reading, writing, hiking, and traveling. I write travel articles for about.com.
What kinds of books do you like to read?
I like nonfiction, history, and autobiographies. My favorite adult author is Nathaniel Philbrick. My favorite children's book is the Harry Potter series by J.K. Rowling.
What is your best advice for aspiring writers?
Keep trying. Ask other people for advice. Revise. Revision is very important. Also, write about what you want to know about.
COMING SOON
Stay tuned for three new Ballpark Mystery books: A fall special edition, which will be a World Series game between the Boston Red Sox and the Chicago Cubs; a book about the Washington Nationals (Mike and Kate will get to meet the president); and a holiday book about the Baseball Hall of Fame in Cooperstown, New York.
Photo courtesy of the author