Author Susan Verde Teaches Yoga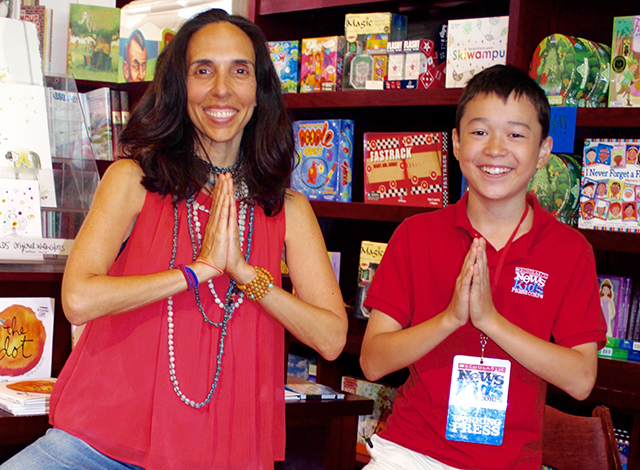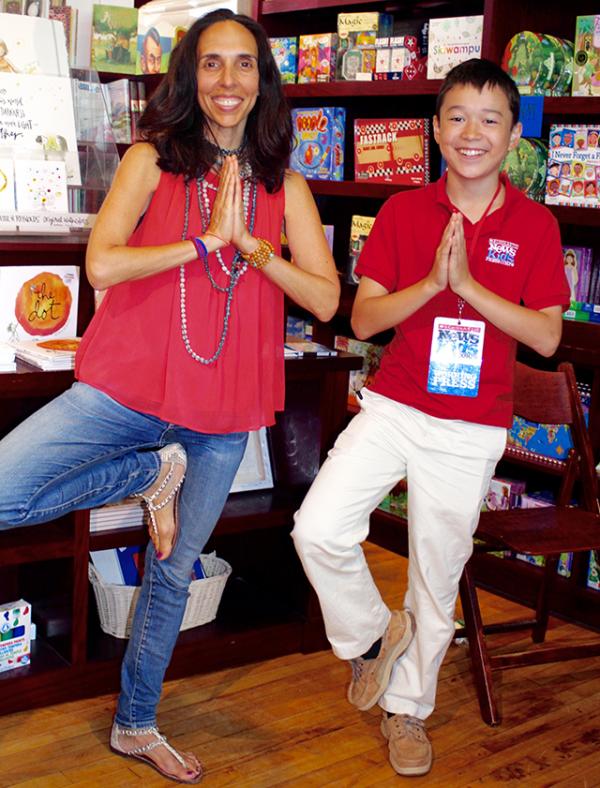 It's important for kids and adults to find balance and inner calmness in a stressful world. One way to do that is to practice yoga. And one book that teaches this type of exercise is I Am Yoga (Harry N. Abrams, 2015). Written by Susan Verde and illustrated by Peter H. Reynolds, the story centers on a young girl who finds peace through yoga. 
I recently had the opportunity to do some yoga and talk with Verde at The Blue Bunny bookstore in Dedham, Massachusetts.
"When you're doing the tree pose, then you're tapping into your creativity and imagination, and becoming a tree," Verde said. "You're not only doing the pose, but you become the actual animal or thing."
Here are more highlights from our conversation about yoga, writing, and how Verde catches her own breath. 
What was the inspiration for I Am Yoga?
I used to be teacher, and I noticed things that made kids anxious and stressed. I practice yoga to relieve my own stress. I became a yoga teacher for kids because I wanted to help them, too. I Am Yoga is about being mindful. It teaches us that everyone is special and unique. It reminds us that "we are enough."
Do you believe that yoga can help kids in school?
Yoga and any kind of physical activity is good for kids in school. When we feel balanced and peaceful, then we are more ready to learn. Yoga helps make room for imagination, creativity, learning, and self-expression. Athletes do yoga not only to strengthen their bodies, but also to clear their minds before a game.
Besides yoga and writing, what other things do you like to do?
I read a lot. I love music. I like to play tennis. I like to spin. I live near the beach, and I love to go there. Also, I am a mother of three kids. That is the best job of all.
What are some of your favorite children's books and authors?
I love Where The Wild Things Are by Maurice Sendak, The Snowy Day by Ezra Jack Keats, and Waiting by Kevin Henkes. I love all books by Peter H. Reynolds, Mo Willems, Oliver Jeffers, and Matthew Cordell.
What advice do you have for aspiring writers?
Just keep writing. Keep noticing. When an idea comes into your head, write it down. You may come up with a notebook filled with first sentences. Keep working, and don't be afraid of rewrites or rejections.
You have teamed up with children's author and illustrator Peter H. Reynolds to collaborate on You and Me, The Museum, I Am Yoga, and The Water Princess. Why do you think you two work so well together?
I think it is serendipity, one of my favorite words, which means that everything happens for a reason. I have pictures in my head. Peter connects so well with the words. If there's a piece that is unclear, we talk about it. I said to Peter, "Thank you for letting your art dance with my words."
Photo courtesy of the author