An Artist in His Studio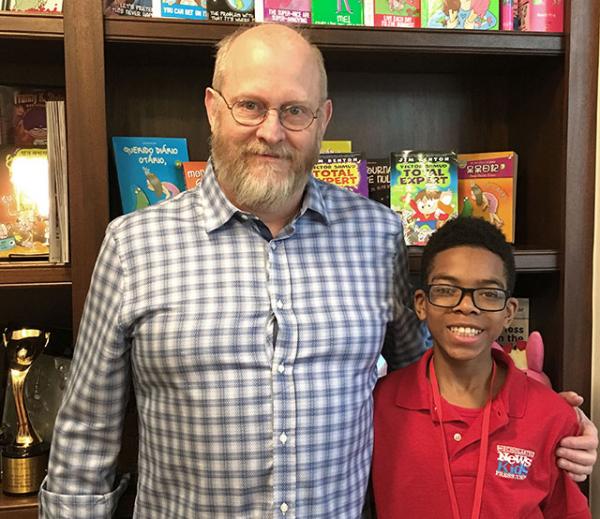 Jim Benton is the creator of Franny K. Stein, Dear Dumb Diary, and other beloved book series. I recently visited the author and illustrator in his studio in Bloomfield Hills, Michigan. There, he talked about his life and work.
Benton has been drawing since he was two years old. "I was a very busy child," he recalled, "so my parents gave me a pen and paper to chill out." 
What began as a childhood passion turned into a career. Benton now spends most days in his studio, drawing and illustrating. His latest book, Night of the Living Things (Scholastic, 2017), is the second in a series called Victor Shmud: Total Expert.
I asked Benton how he is able to create girl characters so effortlessly. The secret, he said, is not to focus on gender. "The last thing you notice about Franny and Jamie [Kelly] is that they are girls," he said. It's more interesting, Benton added, to focus on character traits.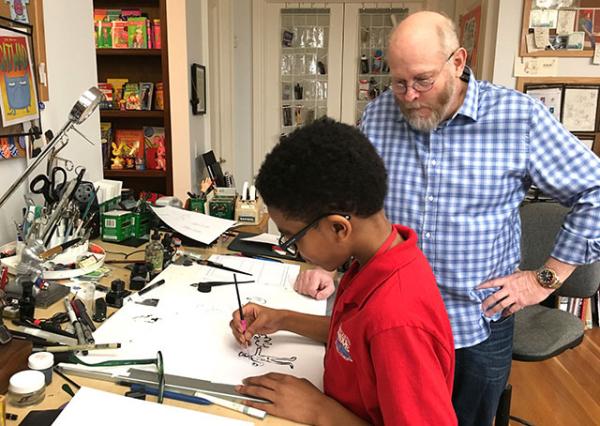 "THE DESSERT"
Benton's books are meant to be funny. "I'm perfectly fine with being the dessert," he said. By that he means that he doesn't have any big messages in his books. He just makes kids laugh.
Still, creating books, even funny ones, requires hard work and discipline. "Keeping the story flowing" is a challenge that Benton sometimes faces as an author. 
What about his fun, loose illustration style? "If you draw 100 lines, you can make mistakes, and no one will care," Benton observed. "But if you draw three, people will notice."
Making kids laugh, I learned, is not as easy as it looks.
Photos courtesy of the author