After the Presidential Debate, Uncertainty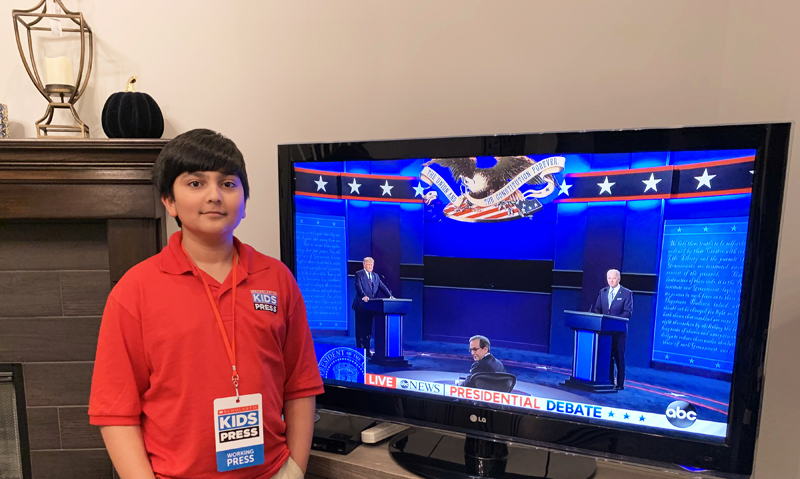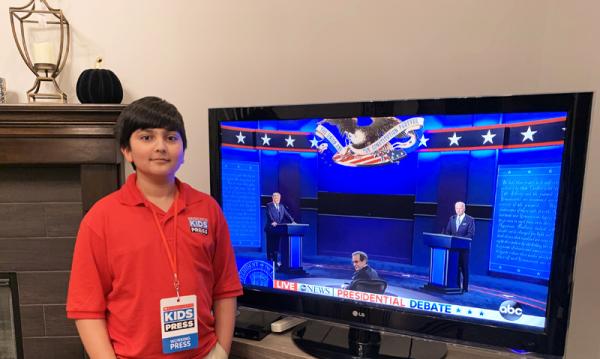 On September 29, President Donald J. Trump, a Republican, and former Vice President Joseph R. Biden, his Democratic challenger, debated the issues in Cleveland, Ohio. Fox News anchor Chris Wallace moderated the televised discussion.
Before the debate, I emailed Joe White, a political science professor at Case Western Reserve University, which hosted the event. He explained that the purpose of a presidential debate is to help undecided voters determine which candidate they will support in the election.
"The vast majority of people already know how they will vote," White told me. "But the debates will be one thing that the small percentage of voters who have not decided consider over the next few weeks." 
This year, Election Day falls on November 3. But many people have already begun to vote by mail or in person. Record numbers of voters are casting ballots by mail because of concerns about COVID-19, the contagious disease caused by the coronavirus.
A CHAOTIC EXPERIENCE
During the forum, Wallace asked about President Trump's recent appointment of Amy Coney Barrett, a conservative judge, to replace Justice Ruth Bader Ginsburg on the Supreme Court; the ongoing threat that COVID-19 poses to the country; the Black Lives Matter movement and racial injustice; and the ability to conduct a fair election during the pandemic.
Many viewers said that the debate was chaotic and disorganized. They found following the discussion difficult because the candidates often spoke over each other. President Trump, in particular, was cited for his frequent interruptions. At one point Wallace raised his voice, saying, "Please, let the Vice President talk!"
"I felt bad for Chris Wallace," Rebecca Jewell, 12, said afterwards. "They were like bulls charging a red flag. You couldn't stop it." 
Rebecca was not the only one to express such views. The Commission on Presidential Debates (CPD), a nonprofit, non-partisan group that sponsors the debates, has released a statement saying that they will restructure the format of the next two presidential debates "to ensure a more orderly discussion of the issues." 
A PANDEMIC AND DISTURBING CLAIMS 
During the debate, Biden criticized Trump's management of the pandemic, arguing that the country has "waited and waited," but that the president "still doesn't have a plan." 
In response, Trump said: "I'll tell you, Joe, you could never have done the job that we did. You don't have it in your blood." 
More than 210,000 people in the U.S. have died from the virus, and nearly 7.5 million have become infected. Recently, the president, himself, was diagnosed with COVID-19 and had to be hospitalized. 
Wallace asked President Trump if he would denounce violent groups that believe in white supremacy. Many viewers, including Heather Macalla of Bay Village, Ohio, were disturbed that the president did not give a more forceful response. 
"In addition to calling violent white supremacists to action, Trump made several attempts to discourage voters from voting and to discredit our safe, secure, and peaceful electoral process," Macalla said. "He continued to make false claims of widespread voter fraud through the mail-in voting process."
Indeed, Trump did not agree to accept the results of the upcoming election. He has repeatedly claimed, without evidence, that increased mail-in voting would lead to fraud. "When you have 80 million ballots sent in and swamping the system," he said, "it can't be done. You know it can't."
After the debate, Biden's lead over Trump in national polls grew to 14%. No one knows whether the second of three planned debates will take place on October 15, now that the president has tested positive for COVID-19. Nonetheless, he vows to continue his campaign for re-election. 
Photo courtesy of the author