A Visit to Graceland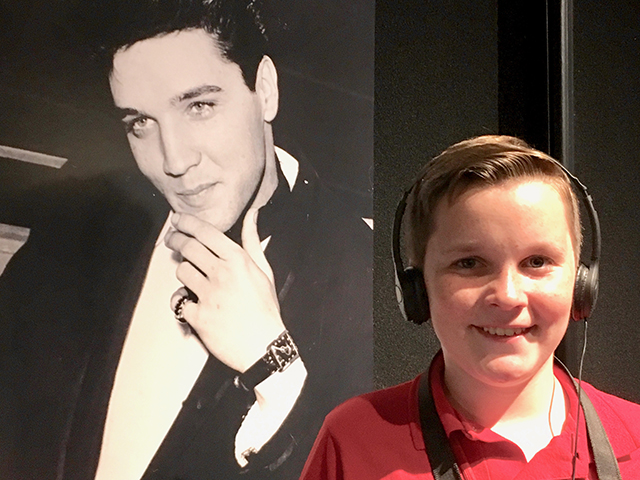 WATCH THE VIDEO
Click below to learn more about Ryan's tour of Graceland.
Graceland gets more visitors than any other private home in the United States besides the White House. The Memphis, Tennessee, estate and its former occupant, Elvis Presley, are still widely known around the world 40 years after the music legend's death.
It was at Graceland that Presley rose to superstardom, started a family, and died. His gravesite is on the property.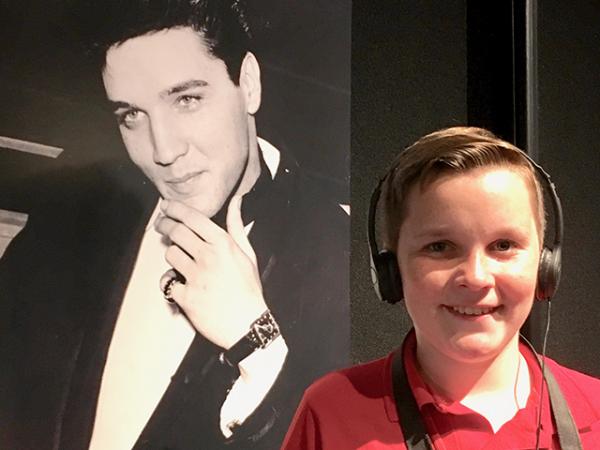 Built in 1939, the mansion originally had 18 rooms, totaling 10,266 square feet. During the two decades that Presley lived there, he expanded it to 17,552 square feet. He added several recreational spaces, including a shooting range, swimming pool, and racquetball court.
NEW FACILITIES
A new Graceland visitors' center and entertainment complex, which opened in March, cost $45 million. "We normally have about 10 percent of our archives on display," said Libby Perry, public relations coordinator for Elvis Presley Enterprises, Inc. "With this new space, we can display up to 25 percent."
Nearby, a $92 million resort inspired by the rock legend debuted in October 2016.
It is estimated that nearly 600,000 people visit Presley's home each year. The walls of Graceland and the visitors' center tell the story of the iconic American's passions, pastimes, and role in music history.
"Elvis is such an integral part of not just American history, but also worldwide history," Perry said. "It's really impossible to get to know all of that without coming and seeing it for yourself."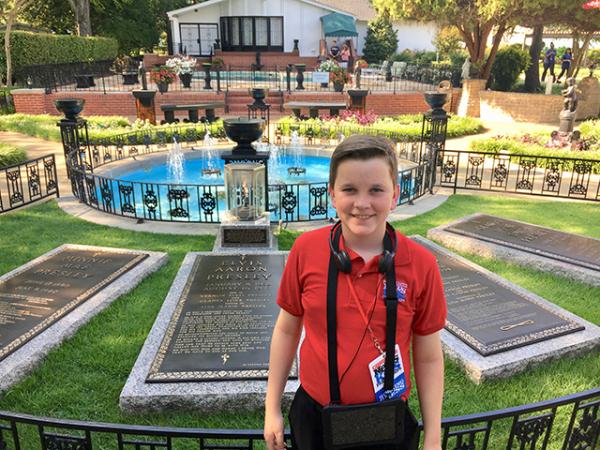 OVER-THE-TOP STYLE ICON
Nicknamed the "King of Rock 'n' Roll," Presley burst onto the music scene in the 1950s and captivated audiences almost immediately. His music was a combination of several genres, including country, gospel, blues, pop, and rock 'n' roll.
Presley was known for his rebel image, slicked-back hair, flamboyant style, and original sound. He earned 126 gold and platinum records, selling more than a billion albums worldwide. The idol's songs, 114 of which made it to the Top 40 charts, were not his only appeal. He also starred in more than 30 movies.
In 1957, when Presley was 22, he paid just over $100,000 in cash for Graceland. He soon began to redecorate it. "Elvis was very hands-on when it came to the decor of Graceland," Perry said.
Presley didn't go with just one motif, but rather developed unique themes in each room. Every design choice is more showy and elaborate than the last.
"I think he should get credit for coming up with the first 'man cave,'" Perry said. "The TV room in the basement is blue and yellow with lightening bolts on the walls. It's full of the latest technology, including four TVs."
The jungle room has a waterfall and green shag carpeting that extends up some of the walls and across the ceiling. Presley is said to have liked the buffering effect the carpet had, which made recording in the room possible.
"ELVIS WEEK"
In 1967, Presley married Priscilla Beaulieu. They raised a daughter together at Graceland whom they named Lisa Marie. Over the years, the Presleys had several interesting pets, including horses, monkeys, pigs, chickens, ducks, turkeys, peacocks, and donkeys.
August 16 marks the 40th anniversary of Presley's death in 1977, at the age of 42. Graceland is preparing for the largest gathering of his fans ever. A nine-day celebration known as "Elvis Week" will take place August 11-19. Events will include a concert in Memphis and a candlelight vigil at Graceland.
In addition to the weeklong celebration, Graceland welcomes fans year-round, hosting field trips and musical performances, among other activities. For first-time visitors and returning guests alike, the expanded space is sure to provide a deeper understanding of the King of Rock 'n' Roll.
"Graceland casts a great balance between everything you think it should be and more," said Perry. "People are pleasantly surprised. They also love the Memphis hospitality they experience here."