Students Stage School Walkouts Nationwide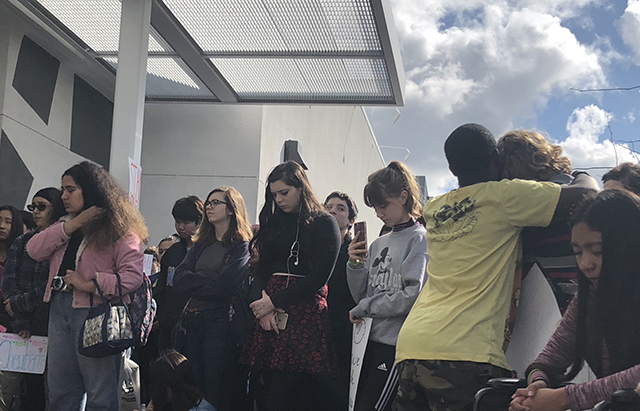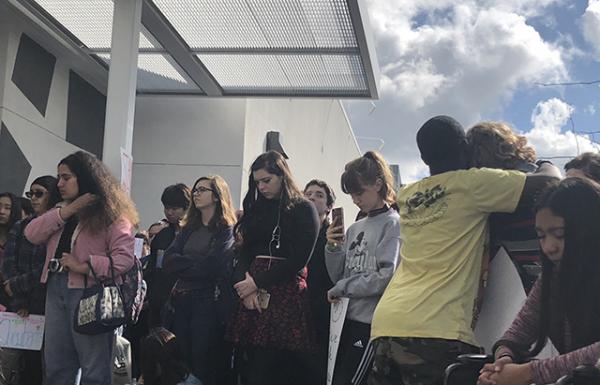 On February 14, a gunman opened fire at Marjory Stoneman Douglas High School in Parkland, Florida. The attack left 17 people dead, including 14 students.
The shootings sparked a "Never Again" movement in Parkland, which quickly spread across the country. Students spoke out to demand stricter gun laws and greater access to mental health care. The gunman in Florida was a 19-year-old former student who had a troubled history that was known to law-enforcement officials.
On the morning of March 14, tens of thousands of students across the United States left their classrooms for 17 minutes, one minute for each person killed in Parkland. The National School Walkout Day was designed to raise awareness about gun violence.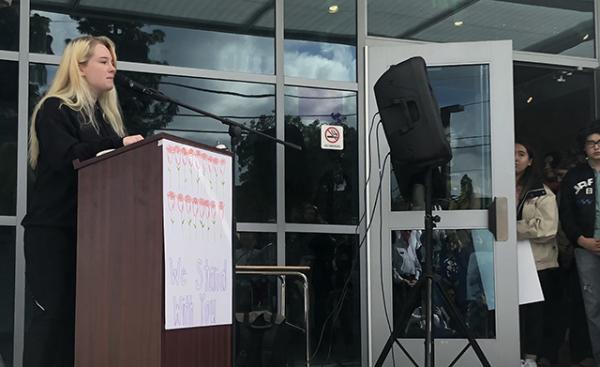 KEEPING KIDS SAFE
At the California School of the Arts in Duarte, young people participated in a student-led protest similar to others held around the country. It lasted less than a half-hour and was dedicated to the 17 people who were killed last month.
"Although I believe in the Second Amendment, I also believe that children's lives are more important than anybody's obsession with guns," said sophomore Madilynn Munns, 16. "Gun laws must be more restricted in order to keep everybody safe." She held up a poster that read, "My life is more important than your guns."
Not all students participated in the walkout. Some made signs instead of leaving their classes.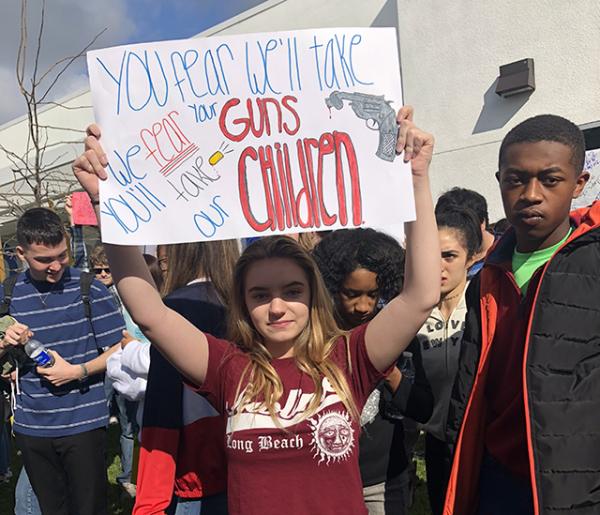 "I AM YOUR FUTURE"
Many people support the students' efforts to bring about change. Others, however, say that limiting gun access would violate the Second Amendment to the Constitution, which protects "the right of the people to keep and bear Arms."
Lawmakers are now debating measures such as arming teachers, increasing funding for mental health care, and raising the minimum age for buying firearms to 21. While the debate continues, many students are impatient for change and fear for their safety.
"This is not the time to be protecting your guns," says Sophie Dalrymple, 17, a California School of the Arts junior. "This is not the time to be arming our teachers. This is not what I need. This is the time to save your children, for I am your future."
An anti-gun-violence rally, which is being called a March for Our Lives, is planned for March 24 in Washington, D.C.