Holi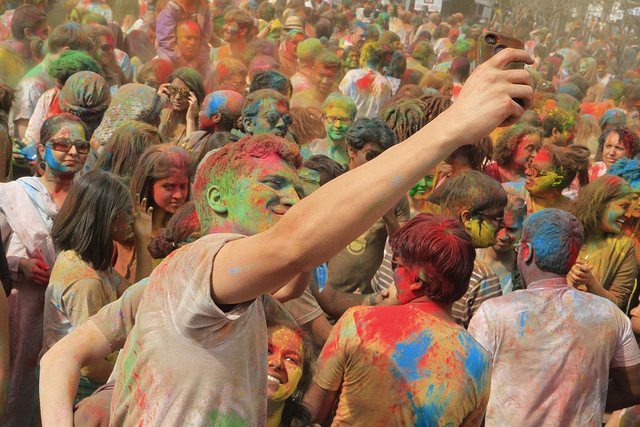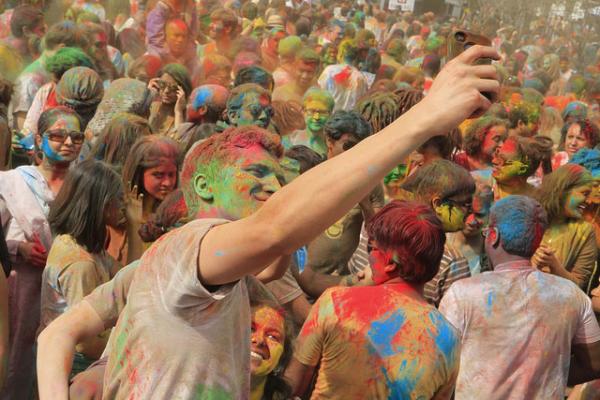 Holi, a two-day Hindu festival, originated in North India. Now celebrated throughout the South Asian country, it starts at the end of winter, on the last full moon day of the lunar month. The first day is called Chhoti Holi (in Hindi), or "Small Holi." Families, friends, and neighbors typically gather around a big bonfire in the evening.
 "My favorite part is to wear a necklace made of dried fruit, candies, and flowers, and dance around bonfire," says Shreya, my 8-year-old cousin.
The second day of the festival is called Rangwali Holi, or "Colorful Holi." People celebrate by throwing powder called "Gulal," and sharing such sweets as Gujiya, which is made from condensed milk and dried fruit. Some people spray colored water or throw water balloons at each other. An alternative is to play with flowers so as to avoid eye injuries.  
Pankaj Sharma, my uncle, says that Holi "is a time to reach out to people with the colors of joy. It is the time to forgive and forget animosity."
The festival celebrates life, joy, happiness, friendship, and love. It also signifies the victory of good over evil, the arrival of spring, and a good harvest.
AN ANCIENT MYTH

Holi has its roots in mythology. According to legend, a mythical king named Hiranyakashipu thought that he was a god and demanded to be worshipped by his subjects. Everyone obeyed the king reluctantly, except for his own son, Prahlada, who insisted on worshipping Lord Vishnu, a Hindu god.
To retaliate, the king asked his sister Holika to kill Prahlada. Holika covered herself with a nonflammable blanket and sat in a fire with Prahlada in her lap. However, as the myth goes, the blanket magically protected Prahlada. That is why people have huge bonfires on the first day of Holi.
When Hiranyakashipu found out that his son had been spared, he tried to kill him. But Lord Vishnu killed the king instead, ridding the land of evil.